AURORA | A local district court judge ruled in favor of Arapahoe County earlier this month in a public spat with the City of Aurora over how the county assessor tallies property taxes and how those dollars are divvied up.
Judge Elizabeth Weishaupl sided with Arapahoe County Assessor P.K. Kaiser in a decision handed down June 10 stipulating that Kaiser appropriately interpreted state tax law and is correctly valuing properties around the city.
"The assessor's actions at issue were required by and compliant with the urban renewal law," Weishaupl wrote in her 24-page ruling granting Kaiser a summary judgement and nixing the city's remaining claims. "Accordingly, (the) Aurora Urban Renewal Authority's remaining claims stemming from its interpretation of the meaning of 'general reassessment' fail."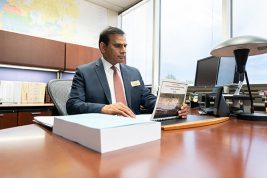 The city's urban renewal arm sued the county assessor's office in 2018, claiming that officials were shortchanging the entity by regularly appraising and adjusting various local properties instead of keeping the valuations "frozen." The adjusted valuations result in the local redevelopment organization receiving less money to spend on new or existing projects.
The Aurora Urban Renewal Authority oversees more than a dozen designated redevelopment areas in the city that have legally been deemed blighted, which makes them eligible for special taxation. Portions of property tax increases in these zones are siphoned to the urban renewal authority for up to 25 years so the entity can pay off bonds and underwrite ongoing projects. School districts, special districts and county governments miss out on a portion of the taxes over that same time frame, though officials argue that strategy, known as tax increment financing, is overall beneficial as it eventually buoys the value of property in large swaths that would otherwise be derelict.
In their initial claim, the city had argued for a more nuanced interpretation of the term "general reassessment" in state tax law, which ultimately would have granted the urban renewal authority more incremental revenues over the life span of an area approved for tax increment financing.
Weishaupl rejected that argument, writing that "general reassessment .. refers to the regularly occurring reassessment of property," under state law. That translates to every year for personal property and every two years for "real property."
Still, Aurora City Attorney Dan Brotzman said he plans to appeal the decision.
"The Aurora Urban Renewal Authority filed this lawsuit to challenge a tax increment revenue financing calculation methodology being applied by the county assessor that is required by a manual published by the state," Brotzman said in a statement. "This methodology results in many mathematical absurdities and undermines the purpose of the Urban Renewal Law to spur redevelopment in blighted city areas. These absurdities are documented in the trial brief. The Arapahoe County District Court, unfortunately, believed it did not have authority to consider the methodology in the State's manual. We disagree and plan to appeal."
Brotzman's team will have to file their appeal by July 29.