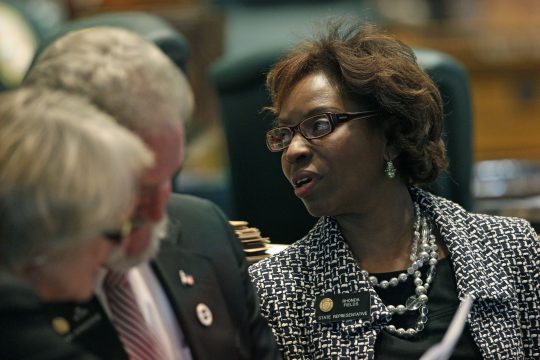 AURORA | After a bullet smashed her living room window last month, state Sen. Rhonda Fields paid a surprise visit to the Aurora City Council's March 13 meeting to urge members to do more about gun violence.
"My window was shattered. My feeling of security of being safe at home has been shattered," she said Monday. "I don't feel safe in my own home. And I'm quite sure I'm not the only one who feels this way."
Aurora police spokesman Matthew Wells-Longshore later wrote in an email that police dug part of the bullet out of a wall in Fields' home last week and stored it as evidence.
He said police believe the bullet strayed from the scene of a Feb. 20 road rage shooting, which occurred in the 1100 block of Sable Boulevard. Fields lives in the Chambers Heights neighborhood of Aurora, nearby the location of the shooting.
While no one in Fields' home was hurt, the bullet struck a china cabinet, and Fields said a wall had to be further damaged to remove the projectile. She said she wasn't home when the shooting happened and contacted police after she returned and realized what had taken place.
Aurora experienced more than 150 non-fatal shootings and close to 40 murders involving a gun last year, according to police. Shootings have become a frequent topic of discussion at council meetings since 2020, as rates of gun violence have crept upward.
Fields said Monday that officers and schools should have the resources needed to be able to prevent crime. She later said she would like to see Aurora police make greater use of license plate readers and consider introducing gunfire detection technology like Denver's ShotSpotter system.
"I'm personally hearing gunfire too often," she said. "And so that would be one thing I would like for the city to do is to invest in that kind of technology."
Councilmember Dustin Zvonek, who chairs the council's public safety policy committee, said Tuesday that a technology similar to ShotSpotter was being considered for Aurora and that a vendor would present at the next committee meeting. The committee discussed the possibility of rolling out ShotSpotter in Aurora last year.
Fields also mentioned the importance of making sure public schools are fully staffed and said council members should be more willing to acknowledge and prioritize the problem of gun violence.
During this year's legislative session, Fields has supported gun control bills that would raise the age for buying firearms and make it easier for victims of violence to sue gun manufacturers. She said she is also sponsoring bills that would crack down on "ghost guns" and restrict access to assault weapons.
While Fields said she trusted the police to investigate the incident, she mentioned how she has faced threats of violence in the past and found the shooting at her home "unsettling."
"I can tell you it's very traumatic," she said.