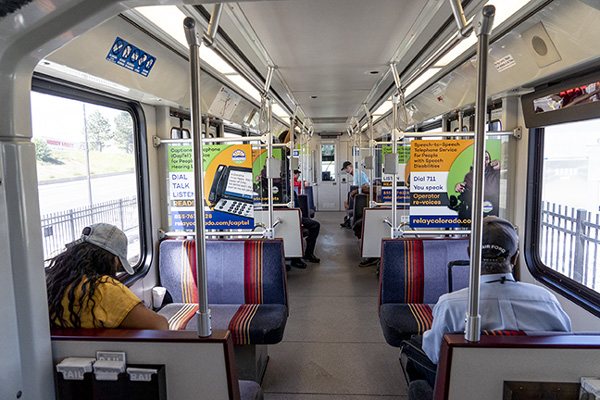 Hopping on the R Line these days requires a little less personal space. The line typically has two cars carrying passengers on the north-south corridor through Aurora, but the Regional Transportation District is limiting the line to one car, for what they say is continued lagging ridership.
The one car can be a squeeze, rider Betsy Pike said. She takes the commute from the Lincoln Station up to the CU Anschutz campus Monday through Friday. "It's super crowded," she said plainly.
"It was pretty spacious before."
Pike, who lives in Castle Rock, said the light rail is a necessity for her, as the commute to work wouldn't be realistic with the lease on her car that limits the number of miles she can drive.
"I have a 45 minute commute just on the train. So to me comfort is key," she said. "I like to scroll on my phone. Now people can easily see my screen. I understand that's part of the deal when you take public transportation. But it's a noticeable thing."
RTD Senior Rail Service Planner Kimberly Kinnison said the decision to limit the line to one car is, like all service changes, based on ridership. The agency has a service standard of about 110 people per car. On the R Line, most trips accommodate about half of that number.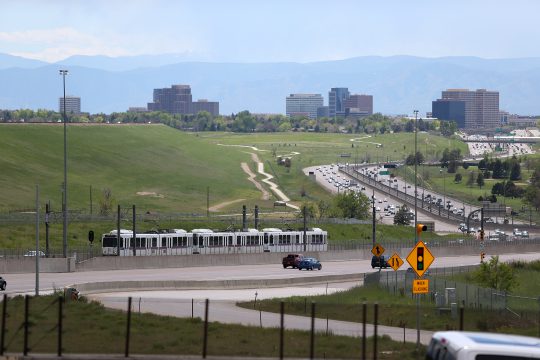 "The busiest R Line trip on the Monday-Thursday schedule has a maximum crowd of 50 people," she said. "The busiest trip on Fridays has a maximum crowd of 70 people."
But it's not just the people that make the commute trickier and less comfortable, Pike said. She notices lots of people taking the R Line to get to the airport. Unlike the A Line, which connects directly to the airport, there isn't extra space for luggage. There's also less space for bikes. Pike said that adds to the frustration of the crowded car.
With one less car, the area for cyclists has also decreased by half, forcing some people with bikes to stand in the aisle.
Kinnison said the change does end up saving RTD money with one car, but it's more about properly distributing resources.
"The cost for vehicle hours, miles, and traction power decrease; but we adjust train car length depending on ridership," she said. "We want to make sure we are properly allocating vehicles where they are needed the most, and the cars were allocated across the district according to need."
The R Line has hardly been near where transportation officials hoped they would be in early 2017. Some of that has been attributed to slow development around the R Line.
"The ridership has stayed pretty steady at just 6,200 riders per weekday or more than 50 percent of the projected numbers of 12,000 average daily boardings," Kinnison said.
That low ridership prompted RTD to consider significantly cutting service on the line last fall. But outcry from the public prevented those cuts from taking place. Local leaders also criticized RTD then for what they said was a lack of communication from RTD and local governments.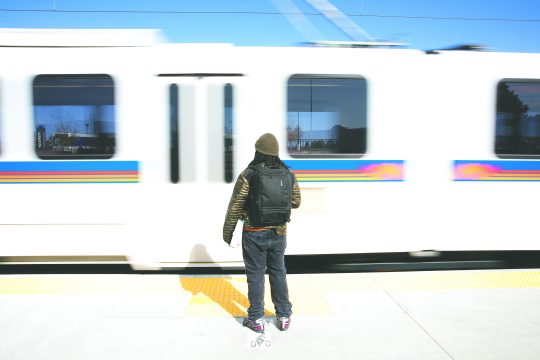 Former Mayor Steve Hogan said the city hadn't even been approached by RTD about service changes and was disappointed with the marketing of the line. Hogan said in a letter to RTD commissioners that cuts to the line were premature as the VA Hospital was about to be completed and would host 3,000 jobs and 1,600 daily patient visits — that's in addition to the existing 25,000 workers on the campus and 1.6 million patient visits each year.
The hospital, located on the Anschutz campus, opened in July.
RTD ultimately decided against the service cut, which would have eliminated trips outside of peak times.
After fighting off one change only to endure a different one, current Aurora Mayor Bob LeGare said he hopes things begin to look up for the line as apartment buildings begin to take on more residents. He added that the city isn't in favor of the car reduction.
Even so, LeGare said he understands the changes in service.
"They can't create revenue where it doesn't exist," he said. "I'm hesitant to be too critical."
For Pike, abandoning the R Line isn't an option. She said she'll continue to make the crowded trip to and from work.
"I hope they'll really listen to people and realize it is crowded," she said. "They're doing a good job and providing a good service. Overall I'm a fan, but RTD, what happened?"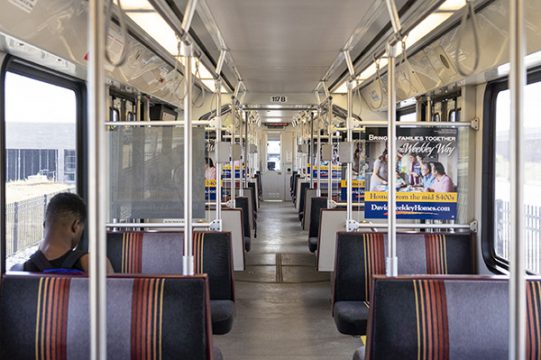 Rough ride for the R Line
But any bump in R Line ridership — the likes of which could spur RTD to add another car and more space for riders like Pike — will continue to take time, according to local officials.
Tom Tobiassen, former RTD board chairman, said Aurorans need to be patient for housing developments along the city's infant rail line to come online. He said that as apartments and townhouses are built in the areas surrounding the line's eight new stations, ridership will steadily swell.
"We need to give it more time so that the development that's going in along the R Line can get finished," Tobiassen said. "Public transportation is all about density — it's the people living close to public transportation that are going to use the system."
He said developers were only interested in starting new projects after the some $687 million rail line started operating in February 2017.
"The developers along the R Line were not interested in building high-density housing, or even businesses for that matter, until they had the train done," he said. "Now that the train is finished they said, 'OK, let's build.'"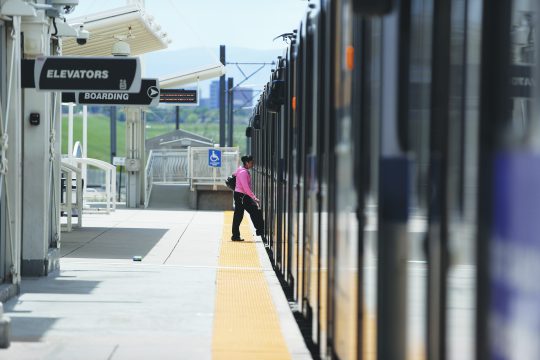 Now, the long-anticipated housing options along the line are beginning to fill up, according to Bob Broom, the current RTD representative for east Aurora.
"There was very, very little development along the R Line with these (Transit Oriented Developments), but now you can see literally hundreds of apartments that are under construction and occupied," Broom said. "The ridership is really starting to pick up."
Broom said the number of people riding R Line trains has steadily been increasing in recent months, but it will likely take "a couple" years before trains see the 12,000 daily riders that were expected to flock to the new line not long after it first opened.
In the short-term, Broom said, RTD's new fare structure could exacerbate dips in ridership across the district.
Formally approved this week, RTD's complicated new fare structure, which won't take effect until 2019, will raise rates roughly 10-percent in an effort to make it cheaper for the metro area's poorest residents to use the RTD system. There are some 60 different fare equations, depending on riders' age, destination and method of payment, according to Broom.
Claudia Folska, the RTD board director for the bulk of Aurora west of Interstate 225, said she was flumoxed by the convoluted new system.
"I think this whole fare structure is so over complicated; it's mind-boggling," said Folska, who originally voted against the new fare proposal. "I'm bewildered by it."
She said children under the age of 12 should ride for free — the new proposal only offers free rides to children younger than 5 years old — and RTD should offer additional discounts to riders with disabilities.
Broom said the chore of fare restructuring, which RTD usually takes on every three years, typically results in about a five-percent dip in use of public transportation.
"Then after about a six-month period, the ridership picks up to where it was and then you go on from there," Broom said. "I would anticipate, just based on past history, there probably will be a drop-off in ridership when the fares go up."
Under the new fare system, which was devised with help from a roughly 25-person study committee, riders who pay in cash will be charged $3 for a three-hour pass. It's 20 cents cheaper for riders who load rides onto a reusable card. The same reloadable pass will cost $1.80 for low-income riders who live at or below 185 percent of the federal poverty level. That equates to an annual income of about $22,400 for an individual, or an income of about $46,400 for a family of four, according to the U.S. Department of Health and Human Services.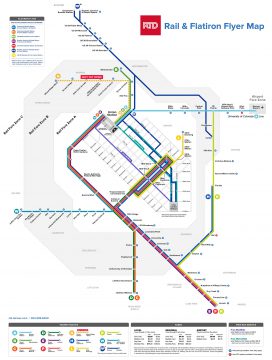 Young riders between the ages of 6 and 19 will be eligible for an extra 70 percent discount, which could net a three-hour pass for less than $1, according to RTD documents.
Despite a lengthy development process, the new fare structure has retained a cadre of critics.
"It's really bittersweet; on one hand I'm happy for the income-based bus pass and the youth pass, and on the other hand, I'm really unhappy that they decided to raise fares, and not have the income-based pass monthly," said Jenée Donelson, transit organizer with 9to5 Colorado and founder of the Rocky Mountain Bus Riders Union. "It just doesn't make sense."
On top of the new fare increases, Donelson said she believes the RTD board started to neglect the R Line soon after its inception.
"I don't think (RTD) really cares too much about the R Line, and if you look at where it's going, it's the most diverse city in the United States, so it's really silly for them not to," she said. "…In general, it's a real tragedy what they've done to that line."
In the meantime, low gas prices and the metro's strong economy will likely keep many commuters sequestered in automobiles, said Ron Papsdorf, director of transportation planning and operations at the Denver Regional Council of Governments. That's even as the number of metro commuters in single-occupancy cars continues to decline.
Papsdorf echoed calls for patience and said the R-Line is still a young transit system, but he's optimistic that ridership will rebound.
"Light rail development just takes a bit of time," he said.