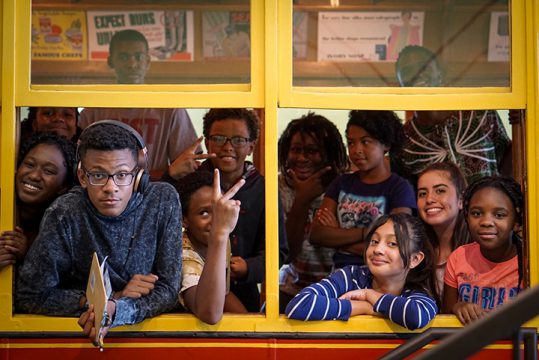 AURORA | The Aurora Public Schools board finalized approval of two charter school networks Tuesday, both offering unconventional programs for Aurora students.
One school will offer programs focusing on cultural arts and minority studies. The other school will focus on smaller classes, longer school days and offering a variety of social services for students and their families.
Empower Community High School and Aurora Community School, a K-8 school, plan to open next fall, capping off a months-long application processes.
APS board member Debbie Gerkin said Tuesday the approval process smoothed over concerns about charter schools that can be present in negotiations.
"We always want to make sure their bases are covered – that charter schools are not just acceptable, but stellar schools," Gerkin said.
Both schools will offer stark departures from traditional public school criteria.
ECHS will provide a unique school choice for underserved and diverse students, offering a four-year ethnic studies program and two hours per day of project-based learning study, said Executive Director Wisdom Amouzou.
The project-based learning style was inspired by the Mardale Jay Writing Center at Denver's Manual High School. Amouzou said students there would hold live readings of literature or musical performances for community members after social conflicts in neighborhoods – including a flashpoint over development last year when a cafe in Denver's River North neighborhood wrote "Happily gentrifying the neighborhood since 2014" on a sidewalk sign.
Amouzou said students performed music and poetry for community members then. ECHS students will dream up and lead similar programs.
Amouzou, 26, is a graduate of Gateway High School and a former teacher in the Denver Public Schools district.
He was born in Togo, in West Africa, and immigrated to Aurora when he was 10 years old. He said he was under-prepared by "12 years of conformity" in APS, which became apparent when he enrolled at University of Colorado at Boulder.
"I wasn't prepared to just succeed or exceed," he said, "and I was one of the top of my class."
Empower school came about from a lengthy period of community engagement, Amouzou said.
The school is negotiating a lease agreement for a space near the intersection of East Alameda Avenue and South Chambers Road. It will only enroll a ninth grade class next fall, but will add one grade of 120 students for three consecutive years, according to school officials.
Educators behind Aurora Community School said they also prioritized working with community members to cater to local needs.
Each class will have about twenty-five students, except for a twenty-student kindergarten class, Co-Principal Meredith Stolte said.
Co-Principal Jessica Martin said the school will offer social services for students and their families, including food pantries and mental health professionals such as social workers, therapists and counselors.
The school will be open from 6:30 a.m. to 6:30 p.m. five days a week, Martin said, so parents and students can enjoy services or simply be in a "safe space".
"For children to be successful, we have to support them as whole children," Martin said.
The school is working on partnerships with local organizations such as the Food Bank of the Rockies to stock cabinets with food for students and families.
The school is negotiating a building lease near the intersection of East Sixth Avenue and East Centretech Parkway, Stolte said. The school will eventually offer kindergarten through eighth-grade education but will begin by offering a kindergarten class and first, second and sixth grades next year.
The two schools are the district's latest-approved charter schools, which are autonomous, publicly-funded schools that can offer unconventional educational programs for students and secure private sources of funding.
Bruce Wilcox, President of the Aurora Education Association teacher union, said AEA supports the concept of schools offering social services – like Aurora Community School – but said charter schools divert funds away from traditional schools.
"The concept is something that we absolutely support," Wilcox said. "Did it have to be a charter school? We don't think so."
According to APS, the two schools will be the eleventh and twelfth charter schools in the district. Charter network Denver School of Science and Technology will also open a charter school next fall.