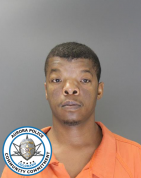 AURORA | A Mississippi man has pleaded not guilty to beating a homeless acquaintance to death in Aurora last year.
Corderio Lark, 32, is accused of murdering George Pappas, 61, at about 2:30 a.m. on March 24, 2018 in the parking lot of a U-Haul dealer near South Havana Street and East Colorado Avenue, according to police. 
Lark pleaded not guilty to a first-degree murder charge filed against him at an arraignment hearing on June 21, according to the 18th Judicial District Attorney's Office. He entered the same plea for a first-degree assault charge also levied against him. 
Pappas died of blunt force injuries and was pronounced dead at the scene when investigators found his body laying in a large pool of blood around 6:30 a.m. on March 24 last year.
Lark was arrested when police spotted him walking a dog on a sidewalk near the murder scene the following day. Once in custody, Lark admitted to beating Pappas. He told investigators he knew the man — who was a "known transient" along South Havana Street — and would often buy him food or give him spare change, according to an arrest affidavit.
Lark has been repeatedly arrested in the Hernando, Miss. area in recent years, including on a contempt charge about a month before Pappas was killed, according to local news reports. He is a Mississippi native, according to Colorado Bureau of Investigation records.
Defense attorneys for Lark had been waiting to enter a plea in the case until Lark underwent a mental competency evaluation at a State Department of Human Services facility. A judge ordered Lark be administered such an evaluation in March.
The results of the evaluation are suppressed, according to a court clerk.
A public defender for Lark had previously said a private psychological expert conducted a brief evaluation of Lark's mental state and expressed concerns he could have an "unspecified developmental disorder." The unnamed expert also told the defense Lark's IQ is low, and suggested his neurological functioning could be compromised.
If Lark had been found incompetent, he would have been remanded to the state Mental Health Institute in Pueblo, attorneys said in March. It's unclear whether his not entering an insanity plea means that investigators determined he was found competent. 
He is currently being held without bond at the Arapahoe County jail.
Lark is scheduled to next appear in court at 8:30 a.m. on Sept. 6.