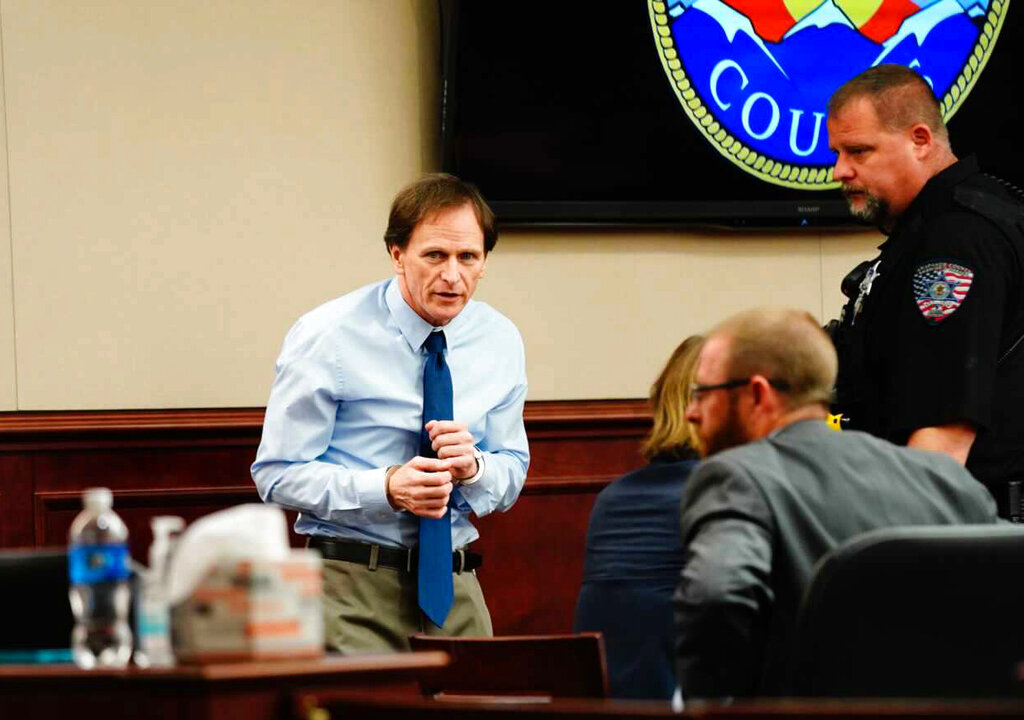 AURORA | Jurors seated for the Arapahoe County trial of Alex Christopher Ewing, who is accused of using a hammer to bludgeon three members of an Aurora family to death in 1984, began the second day of testimony by watching a 20-minute video of the grisly crime scene.
The panel of 16 possible jurors silently watched a flatscreen television for 20 minutes and 24 seconds as Aurora detectives walked around the Bennett family home at 16387 Center Drive, zooming in on various blood stains and the horrific wounds sustained by the slain.
The grainy video, recorded Jan. 16, 1984, showed the mutilated cadaver's of 27-year-old Bruce, 26-year-old Debra and 7-year-old Melissa Bennett, who Ewing is accused of brutally murdering with a claw hammer. Debra and Melissa were also sexually assaulted and found partially nude.
Another member of the Bennett family, 3-year-old Vanessa, survived the attack despite suffering multiple serious injuries. The right side of her face was bludgeoned with an object like her parents and sister, and she also sustained sexual trauma, according to court documents.
Bruce Bennett's 87-year-old mother, Connie Bennett, took the witness stand at the start of the trial Tuesday and outlined the moment she found her son's bloody body at the base of the home's staircase.
Verbal testimony Wednesday came from a trio of retired Aurora police detectives who helped investigate the case: Walter Moeller, Wilson Egan and Mary Axtell, who went by Mary Schumacher during the entirety of her 21-year career with the local police department.
Moeller, who was a crime scene investigator for Aurora police throughout the 1980s, testified for several hours detailing how he collected various pieces of evidence and took photos of the Bennett home. Jurors were able to examine and handle bloody bedsheets and a piece of carpet that were placed into clear plastic bags after they were taken from the bedroom of the two Bennett girls. Semen extracted from the bedroom items later helped investigators link Ewing to the crime.
One of Ewing's defense attorneys, Stephen McCrohan, endeavored to poke holes in how Moeller and other Aurora investigators handled the evidence collected nearly 40 years ago. On the stand, the detective who retired from a 30-year career with Aurora police in 2000 said a pair of jeans from the crime scene was inadvertently placed into a nearby hamper as a lieutenant gave a throng of police cadets a tour of the scene.
McCrohan further worked to cast doubt on when certain evidence was processed and how it was stored in the Aurora Police Department's property section. McCrohan asserted that Moeller, 74, testified at a hearing earlier this year that some of the bloody bedding was taken to evidence on Feb. 14, 1984, though he later said it was collected a month earlier.
Both Moeller and Axtell explained how some of the Bennett's blood-soaked bedding and clothing was allowed to dry in a storage area at Aurora police headquarters with a smattering of evidence from other cases before it was formally processed. The drying process was carried out so the fabric wouldn't become moldy, they said.
Axtell briefly wept on the stand after explaining how she collected DNA samples from the three slain Bennetts during their autopsies at the Arapahoe County Coroner's Office on Jan. 17, 1984. She gave their buccal and nail swabs directly to the Colorado Bureau of Investigation, she said.
Moeller is expected to be called back for further testimony when the defense begins calling their own witnesses in the coming weeks, Ewing's attorneys indicated.
Throughout much of the testimony Wednesday, Ewing, dressed in an olive dress shirt and gold tie, appeared to draw or write at a table seated beside his attorneys.
Colorado law enforcement officials used updated DNA analysis to accuse Ewing of the long-unsolved Aurora murders in 2018.
Ewing is also accused of sexually assaulting and brutally murdering a 50-year-old woman in Lakewood a week before the Bennett killings. He is slated for a separate trial in that case in Jefferson County District Court this fall.
On Wednesday, District Attorney John Kellner said he plans to introduce additional DNA evidence from the Lakewood killing in the current trial, saying McCrohan "opened the door" for the genetic material to be added to existing evidentiary pile during his opening statement Tuesday.
Ewing had been incarcerated in Nevada since the summer of 1984 after he escaped there while being transported to Kingman, Arizona, from St. George, Utah, for a court appearance on attempted murder and burglary charges. While on the lam, he severely beat a woman and her husband with an ax handle in their bedroom near Henderson, Nevada, according to court records.
Ewing fought extradition to Colorado, but he was eventually transferred to the Arapahoe County Detention Center to face charges in the state in March 2020.
The current trial is slated to run through Aug. 17.