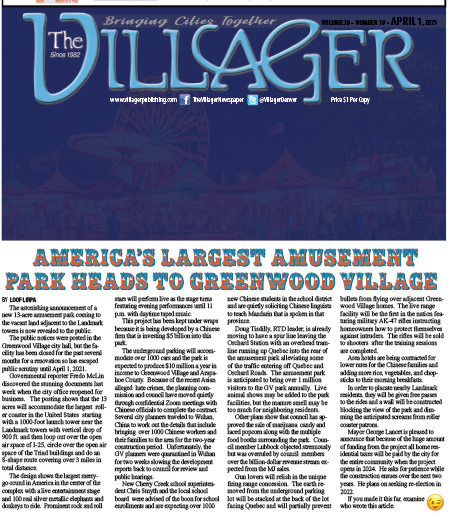 AURORA | The Greenwood Village City Council voted 6-2 on May 3 to transfer its legal notices from the Greenwood Villager to the Littleton Independent, following an April Fools' Day satire in the Villager that has drawn significant criticism from the Asian American community and others.
The Villager is a weekly community paper based in Greenwood Village that has served parts of the south metro Denver area for about 40 years.
In its April 1 edition, a fictional article on the front page was designed to look like a news story headlined, "America's Largest Amusement Park Heads to Greenwood Village." The satirical story discussed plans for a massive amusement park to be built next to Landmark Towers.
The article said that the park had been developed in secret with the Chinese in Wuhan. The article was peppered with stereotypical language and tropes about Chinese people and Asian Americans. It satirized that the Cherry Creek School District would begin teaching Mandarin due to the influx of Chinese workers and their families, and that local hotels were "adding more rice, vegetables and chopsticks to their morning breakfasts."
The article incensed local Asian American organizations as a tone-deaf and racist prank amidst a backdrop of rising hate crimes against people of Asian descent. Villager employees defended the piece as humor and said no slights toward Asian Americans were intended.
Local Asian American and Pacific Island activist groups demanded the Villager retract the story and apologize. Newspaper owners instead apologized to "those who were offended."
Local AAPI community leaders said couching racist tropes as humor denigrates cultures and communities and is often an offered justification for demeaning commentary.
Last week, three AAPI community organization leaders participated in a Sentinel Colorado ongoing narrative town hall meeting focusing on Asian hate crimes and abuses. Part of the program, still continuing, focused on the Villager satire and repeated appeals for an apology. 
"It was just a joke" is a defense that bullies use," Asian Chamber of Commerce President and CEO told participants of the Sentinel Town Hall last week. "It's a microaggression that communities of color have been hearing for ages. We can, and allies can, call it out when it happens. Don't let these types of statements slide. 'You're just being sensitive. I didn't really mean it. Just kiddin'…all of this is privileged rhetoric." 
The Nathan Yip Foundation, the Asian Pacific Development Center and the Asian American Chamber of Commerce organized a boycott of the paper, asking advertisers to stop placing ads with the Villager. Over 30 organizations have dropped advertising with the paper as of early May, according to Asian Pacific Development Center executive director Harry Budisidharta. 
"We are very happy with the outpouring of support that we have received from advertisers, government agencies, and other community leaders," Budisidharta said during The Sentinel town hall event. "The majority of the advertisers that we contacted have told us that The Villager article was very offensive and against their values. One advertiser even went so far as issuing a lengthy statement and contacting other advertisers to also get them to remove their ads."
At a May 3 Greenwood Village city council meeting, Villager publisher Bob Sweeney asked the city lawmakers to reconsider its threat to pull legal advertising from the paper, saying that the Villager provides a significant public service to the city. Sweeney cited ways in which the city had defended Greenwood Village and its elected officials in the past. In lengthy comments to the council, he suggested the newspaper's close and supportive relationship with elected leaders on the dais should weight their decision in his favor. 
The city budgets about $10,000 for publishing ordinances and other public notices, according to officials there. That makes up about 3% of the paper's gross revenue, Sweeney said. 
At the meeting, Sweeney expressed dismay that the city had distanced itself from the Villager (the city released a statement in April saying that it was not affiliated with the Villager and was "appalled and dismayed" by the article) and questioned the legality of allowing the Littleton Independent to run the city's legal notices, since it does not have offices inside the city limits. He incorrectly categorized the Independent as a free newspaper owned by a nonprofit, neither of which are accurate.
Greenwood Village city attorneys said that as a home-rule city, it could designate any paper it chooses to carry legal announcements. 
"I apologize for any of our sins," Sweeney said. "I ask you to stick with us, we've been here for 40 years."
His plea was ultimately unsuccessful.
On Twitter, Budisidharta lauded the news.
"The City of Greenwood Village has passed a resolution to no longer consider #RacistVillager to be their "legal newspaper." We are happy to see that taxpayer money will not be used to support a racist publication," he wrote.
Earlier this month, Budisidharta said on Twitter that the Development Center does not believe that any further attempts at dialogue with the Villager would be productive, and that the boycott campaign will continue until the paper changes ownership.
Sweeney did not immediately return a request for comment from The Sentinel about whether he is considering further action toward the city.
Asian-Pacific American community activists echo national concerns that bigotry and hate crimes toward AAPI people have long been dismissed and have increased dramatically in the region with the onset of the COVID-19 pandemic. 
At a virtual meeting in March to address the issue of hate crimes against Asian Americans, Aurora Police Department Chief Vanessa Wilson said the department  has increased patrols around Asian-owned businesses and houses of worship in Aurora in order to build connections with the community and act as a deterrent to potential perpetrators.
So far there have been 12 bias crimes reported to the department in 2021, according to spokesperson Crystal McCoy. Four were listed as anti-Black, two anti-other race, two anti-LGBT, one anti-gay, one anti-transgender, one anti-gender and one anti-Islamic.
The anti-Islamic report was a threat made to the Colorado Muslim Community Center following the mass shooting at a Boulder King Soopers in March.
In April, Mayor Mike Coffman met with local members of the Muslim community and tweeted that he intends to schedule a meeting similar to the town hall about Asian hate crimes. A date has not yet been set, according to a city spokesperson.