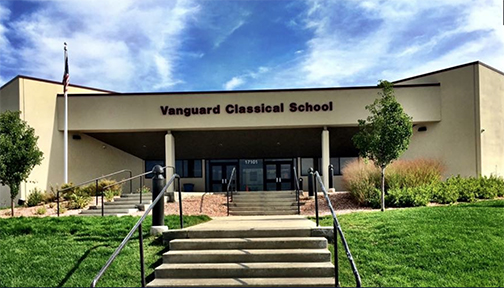 AURORA | Aurora Public Schools board members are considering potential conflicts of interest and unaccounted for funds at a local charter school ahead of a vote next week deciding whether the school will remain open for two more years.
Vanguard Classical School, a two-campus program serving 1,130 students, is authorized to operate in the APS district through this school year. APS Superintendent Rico Munn recommended last month to extend Vanguard's charter authorization for two more years because of their relative success educating an impoverished student population.
However, APS officials raised concerns that the school is controlled by what they say is a too-close relationship between the school and the umbrella non-profit organization that operates it. Officials also said the school's financial reporting did not make clear what more than $400,000 was spent on for a service contract that provides the schools everything from cafeteria lunches to administration and IT.
The district cited an independent audit of the school last year noting that its parent organization, Ability Connection Colorado, billed Vanguard more than $465,000 last year for ambiguous services – some of which district officials said they were already providing, according to the district.
Vanguard Board of Directors member Robert Fulton said there are no conflicts of interest, but that the school would meet district requirements to eliminate ACCO's influence on its school board, a major concern for APS. He said the school and its umbrella organization would also better account for spending, if the schools stay open.
Munn said this month that the concerns are serious, but he cited the schools' success for basing his recommendation not to shutter the schools.
"I've only heard positive things from parents students and staff there," said APS board member Dan Jorgensen, echoing Munn's sentiment. "Our concerns are with the finances and governance."
Over 70 percent of Vanguard students are eligible for free- and reduced-price lunches, a marker of poverty, compared with about 67 percent in the rest of the district. Even so, students there outperform the rest of the district in some test areas, according to the district's academic overview of the school presented earlier this month.
APS conducts an annual review of charter schools, which are public schools, and periodically considers whether to approve contract extensions. The district raised concerns last year that Vanguard was not meeting APS standards for internal financial reporting and imposed conditions – some of which were not met by Vanguard.
This year, the district scrutinized Vanguard's leadership structure and a potential conflict of interest benefiting ACCO.
ACCO President and CEO Judith Ham is also the President of Vanguard's Board of Directors. ACCO Chief Financial Officer, Syed Ahmed, fills a staff role for Vanguard advising the school board on financial matters.
ACCO has a long history in Colorado as Cerebral Palsy Colorado, going back to the 1940s. Ham said the organization branched out into mainstream charter school education as a way to further advocate for children with disabilities. But the schools do not focus on that population. Online information about the school only briefly mentions inclusion of educational opportunities for students with disabilities.
Addressing conflict of interest allegations, Ham said ACCO provides a variety of services to the two schools at below-market rates. Neither she nor staff at the school could provide details about such an analysis.
Ham would not directly answer questions posed by Sentinel Colorado, instead, pointing to on-line summaries of the APS concerns and replying by e-mail through an administrative assistant.
ACCO officials say they provide a wide range of services to the school not related to instruction including administration, building leases and school lunches. APS officials are critical of ACCO reports, saying the organization service agreements don't detail individual services and appear to duplicate services billed for, raising concerns that Ham and others influenced payments to benefit ACCO.
According to the independent audit of the school, Vanguard paid ACCO almost $2.8 million from June 2017 to June 2018. That included about $2.5 million in lease payments that are also scheduled for this school year.
Vanguard rents both its west and east campuses from ACCO, and its west campus is co-located in ACCO's headquarters. Its west campus was valued at over $12 million last year, according to county records. Its east campus was valued at over $9.4 million.
The rest of that payment included $350,000 for management services, funds for professional and administrative services and more than $8,000 for nutritional services including cafeteria lunches.
The audit found there were no invoices nor records of specific transactions between Vanguard and ACCO during this year.
In addition, APS officials said the school district provided almost $500,000 in services to Vanguard during that time.
APS scrutinized Vanguard's leadership and said Ham, in her capacity as Vanguard's board president, was unilaterally approving contracts with ACCO to provide building leases and a wide range of services to the school.
Sentinel Colorado reviewed Vanguard school board minutes from the 2016-2017 school year through January 2019 and found Ham did not hold voting power during that time. Another ACCO employee, Chris Jensen, did hold voting power. In a July 2018 vote to extend Vanguard's leasing and service agreements, Jensen and Ham recused themselves from any participation.
ACCO employees did not hold a majority of board seats at this time, but ACCO directly appoints two other board members – according to its bylaws – and held final approval over pilot elections last year to diversify the board, according to Fulton.
Jensen and Ham will step down from the board, regardless, said Ham and Fulton, fulfilling a possible APS-imposed deadline in May to reduce ACCO's influence on Vanguard's school board.
Fulton said there are no conflicts of interest at Vanguard and no missing taxpayer money. He said the previously un-accounted for $465,000 were used for cafeteria expenses, nutrition, furniture and payroll charges.
"To be certain, every taxpayer dollar has been accounted for," Fulton said. "There is no money missing."
Even so, the Vanguard school board will also implement better accounting of their service agreements with ACCO and others, he said.
APS school board members will decide whether to keep the school open at a public school board meeting Tuesday night.
It's a decision colored by the board's recent vote to shutter another high-performing charter school, Vega Collegiate Academy, this month over concerns with its special education program.
The school board meets at 6 p.m. Tuesday at the APS Professional Learning and Conference Center, 15771 E. First Ave.