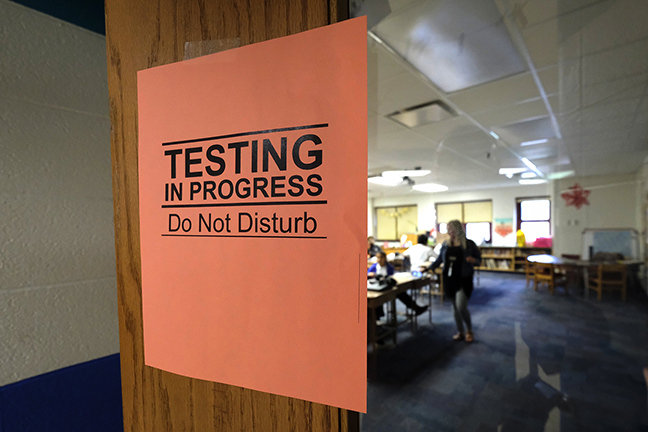 AURORA | Amid generally dismal standardized test results during the first year of the pandemic, many students in the Cherry Creek School District and Aurora Public Schools did not take statewide annual assessments, according to newly released data from the Colorado Department of Education.
The department released district and school-level results from the spring Colorado Measures of Academic Success tests, known as CMAS, on Wednesday. The tests cover English, math and science skills, with students in different grades taking different subjects. The tests were canceled in the spring of 2020 due to the disruption caused by the COVID-19 pandemic.
The tests given in spring 2021 were significantly scaled back from 2019. Colorado students in grades three through eight typically take literacy and math tests along with either a science or social studies test. This year, in a compromise between testing supporters and those who wanted to cancel the tests entirely, students in grades three, five, and seven took the literacy test, while students in grades four, six, and eight took the math test. Eighth graders also took the science test.
However, many students did not end up taking the 2021 tests at all. That has frustrated some educators' ability to gauge the level of learning loss that students experienced due to the coronavirus, although it isn't the only way students are assessed. Both APS and Cherry Creek have used the testing software iReady to measure students' skills throughout the year. 
For the math and English language arts tests, participation rates were between 61% and 32% depending on grade level and subject in the Cherry Creek School District, and 67% to 45% in Aurora Public Schools.
Between 30% to 54% of Cherry Creek students "met or exceeded expectations" on the tests, according to the results. Fifth-grade English language arts had the highest percentage. Sixth grade math results were the lowest.
Aurora Public Schools had low scores across the board, with the percentage of students who met or exceeded expectations ranging from as low at 9.7% in seventh-grade English language arts to just 26.8% in fourth-grade math.
Only 22% of eighth graders in Cherry Creek took the science CMAS test, and of those only 38.4% met or exceeded expectations. In APS, 42% took the test and only 12.3% met or exceeded expectations.
The department of education cautioned that the pandemic likely had a significant impact on performance.
"The COVID-19 pandemic had an impact on many aspects of education last year, including reducing or disrupting learning opportunities for some students, schools and districts," it said in a section labeled "interpretation considerations." "In addition, students across Colorado had to adapt to a variety of learning models over the course of the year, including in-person, remote and hybrid instruction. Due to reduced in-person instructional time, some districts may have had to adjust the content for students, and it's likely the impact of these learning disruptions was uneven within districts and across the state."
Scores were down statewide for most grades and subjects, according to Chalkbeat Colorado, especially for students from low-income families, Hispanic students, and those learning English.
Testing experts caution that participation lower than 80% makes results hard to interpret, especially for subgroups.
At press time, representatives for APS and Cherry Creek had not responded to inquiries about how the findings were shaping plans for the new school year. Both districts have previously expressed concerns about learning loss.
"We know we're not going to make this up in summer school or even just one year," APS Superintendent Rico Munn told the Sentinel about learning loss in May. "This has to be a really planned out developed resource intensive implementation of supports for kids."
Chalkbeat Colorado contributed to this report.