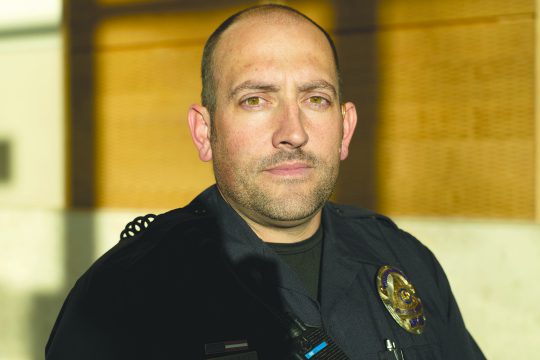 AURORA |Denver District Attorney Beth McCann on Thursday announced that she will not seek criminal charges against Arapahoe County Sheriff Tyler Brown stemming from a fight at a Greenwood Village bowling alley last month, though she condemned the Democratic sheriff's actions.
In a news release, McCann said that she would not be pursuing charges against anyone involved in the brawl at the Pindustry bar and entertainment venue on Aug. 21 due to uncooperative witnesses, the fact the people involved were drinking, and the unlikelihood of securing a conviction at trial.
"Having concluded that criminal charges are not warranted, I want to make it clear that the behavior of Sheriff Brown in this situation was irresponsible and unprofessional for an elected sheriff," McCann said in a statement. "I am not in a position to take any further action with regard to this situation as my role is to determine if criminal charges should be filed. I will leave any further action to the officials and voters of Arapahoe County."
Greenwood Village police originally recommended charging Brown with third-degree assault and disorderly conduct, both misdemeanors, records show. Others involved in the incident were recommended to be charged with additional counts of harassment, disorderly conduct and assault.
John Kellner, district attorney for the 18th Judicial District — which includes Brown's jurisdiction in Arapahoe County — last week asked McCann to review the incident.
Brown's office, tasked with running the largest county jail serving Aurora, is one of several agencies that regularly forwards cases to Kellner's office for prosecution.
The encounter began at about 10 p.m. on a Saturday night last month while Brown, 38, was duckpin bowling with his wife and three other couples for a birthday party at the newly opened Greenwood Village alley, according to police documents released to The Sentinel Friday morning.
Brown's wife, Kim, told investigators that a man asked for her phone number on an apparent "dare" from three other friends who were bowling with him, according to an arrest affidavit prepared by Greenwood Village police. She provided him a disconnected number and continued bowling.
A short time later, a different man from the same nearby group offered Kim money in exchange for her real phone number, at which point Tyler Brown told the man that he and Kim were married.
Witnesses said that the man then waved his own wedding ring around, saying that he, too, was married, "and that it did not matter," according to the arrest document.
Brown then took the man's cell phone, tossed it behind his shoulder and instructed him to leave, witnesses told authorities.
Various witnesses described the group of men bowling beside Brown's as "creepy," "predatory" and "menacing," according to the police records.
At some point, Brown told police that he perceived one of the men in the group reach toward one of the women in his group, though investigators never saw any such action upon reviewing security camera footage. A small fracas then ensued, in which Brown was punched twice in the head before placing one of the men in a "twist lock" and moving him to the front of the building by the neck. A bar manager later told police that "an Arapahoe County Sheriff had been 'cold clocked,'" according to the affidavit.
A bouncer then separated them and kicked the man Brown had held by the neck out of the building, according to the arrest document.
Brown later told authorities that he only made mention of his status as the county sheriff after he was punched in the head.
Upon leaving the building himself, Brown apparently threatened to revoke the bar's liquor license, which he later told investigators "was a 'hot-headed' statement."
Brown, who reported that he'd consumed five or six drinks over the course of several hours, "appeared to be intoxicated as I noticed bloodshot and watery eyes and slightly slurred and delayed speech," a Greenwood Village police officer noted.
After initially telling police that he wanted to pursue charges against the men who had engaged in the altercation — both of whom are in their late 20s — Brown later reneged and declined to seek prosecution.
The two men, who were at one point represented by a criminal defense attorney, fled the scene on foot after the encounter. But they left their licenses, which were collected as evidence.
Several Arapahoe County sheriff's officials eventually responded to the scene after Brown phoned an on-call commander to let her know what had happened. He told a captain with the sheriff's department that "he wanted 'someone in our agency to hear it before they hear it from Greenwood Village,'" according to the arrest record.
A spokesperson for Brown's office released a statement about 30 minutes after McCann made her announcement.
"Sheriff Brown would like to thank the Denver District Attorney's Office for conducting an unbiased review of the incident," Ginger Delgado, spokesperson for the sheriff's office, wrote in an email. "This was an unfortunate event that put the sheriff in the unwelcome position of having to protect and defend his wife. Sheriff Brown trusts the legal process and is looking forward to putting these events behind him."
Brown has served as Arapahoe County Sheriff since 2018, when he shocked a popular Republican incumbent in the federal midterm election. He previously worked as a patrol officer in the small Denver suburb of Mountain View.