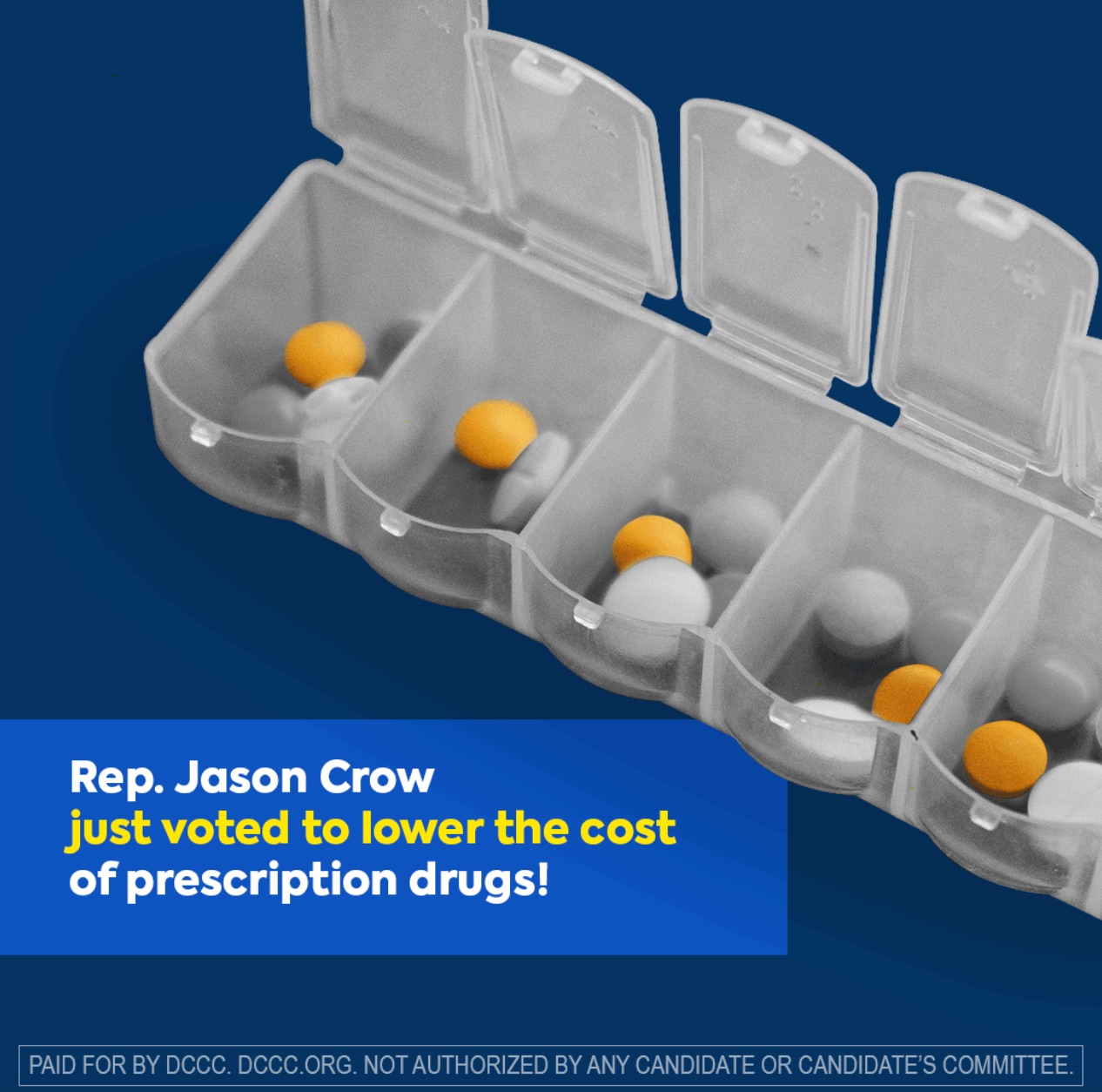 AURORA | National Democrats are touting Aurora Congressman Jason Crow's work on lowering the price of prescription drugs following a House vote on Thursday.
The Democratic Congressional Campaign Committee said in a news release its launching targeted Facebook ads in English and Spanish that will recognize how Crow "is working for a top priority of Coloradans while Washington Republicans are protecting the profits of drug manufacturers."
The Lower Drug Costs Now Act, introduced by Speaker Nancy Pelosi, passed the House on Thursday, largely along party lines. The White House said earlier this month President Donald Trump would veto the legislationif it makes it to his desk, claiming that the legislation would keep 100 lifesaving drugs from patients and prevent future drug development.
Democrats have claimed those are scare tactics.
The legislation package indicates how Democrats plan to lead on drug pricing, an increasingly important issue to voters across the political spectrum. Even with a sure defeat, Democrats saw a victory in the message their bill sends to voters.
"I think that it is going to be too hot to handle for the Republicans," Pelosi said.
She is claiming bragging rights because her bill would deliver on the promise that Trump made as a candidate in 2016, when he said he would "negotiate like crazy" to lower prescription drug prices for Medicare recipients. It's a pledge that Trump has backed away from as president.
"This targeted ad buy is a reminder that while Representative Crow continues to put the priorities of Coloradans first, Washington Republicans once again showed they will always prioritize padding the pockets of their special interest backers over the people they were elected to represent," DCCC spokeswoman Brooke Goren said in a statement.
The bill, 450 pages long, would allow the government to negotiate with drugmakers, limit costs to Medicare enrollees and keep drugmakers from raising prices as much as they want.
Crow signed on as a co-sponsor to the bill package and helped usher in the Freedom from Price Gouging Act.
"I'm proud to have helped introduce a provision to H.R. 3 that would prevent Big Pharma from raising the cost of prescription drugs past the rate of inflation," Crow said of the bill package on the House floor. "I stand here today for the 300,000 Coloradans with diabetes who will save 75 percent on their insulin. I stand here today for the 400,000 Coloradans with asthma who will save 80 percent on their prescriptions"
Republicans in the Colorado Congressional delegation — Reps. Ken Buck, Doug Lamborn and Scott Tipton — voted against the package.
— The Associated Press contributed to this report