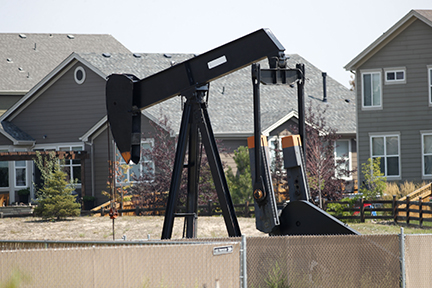 These days it's typical to find officials from ConocoPhillips or the Colorado Oil and Gas Association posted in the audience of an Aurora City Council meeting — even as the state has long been in nearly total control of regulating petroleum drilling.
That wasn't always the case. Polly Page, a former Aurora City Council member and Arapahoe County Commissioner, said she remembers a time when the oil and gas industry didn't have much interest in sitting through hours of watching municipal sausage being made.
But times have changed in Aurora, and things could change even more drastically if state lawmakers pass  Senate Bill 19-181, which would give local government the reins on approving oil and gas applications and regulating the industry.
Page sat on the state Public Utilities Commission — she was appointed by former Republican Gov. Bill Owens. She currently sits on the Aurora oil and gas advisory committee, and she's opposed to SB181 because she believes it could halt production in places like Aurora, disrupting the economy throughout the state.
The bill has been galloping through the Legislature. Senate Republicans attempted to tap the brakes this week by requesting the 2,000-page bill be read in full, a rule the Republican lawmakers, who are in the minority, said is the only tool they have that allows their voices to be heard on the legislation.
With local governments like the Aurora City Council invested with the power to approve or ban drilling within its city limits, city government races could become the main focus for the oil and gas industry if the bill is signed. In fact, the impact would reach far beyond regulation and into the fabric of city elections, board appointments and the local economy.
CAMPAIGN FINANCE
Oil and gas industry proponents and opponents alike are hesitant to say whether they plan to spend more on municipal elections under SB181, but spending is likely to increase at the local level if recent history serves as any indication.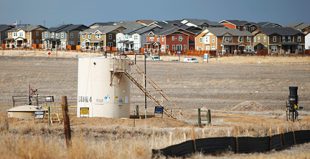 Oil and gas companies can support individual candidates through political wings and contribute funds to general advocacy groups including Protect Colorado, which opposed an oil and gas setback ballot initiative voters struck down last year. Protect Colorado spent over $37 million in 2018, according to state campaign finance records. Its designated filing agent was a senior tax accountant at Anadarko Petroleum, which contributed almost $7 million to the group. Extraction Oil and Gas contributed about $3.5 million, and PDC Energy spent over $2 million.
The localization of oil and gas regulation could split the big spending into individual city and county races.
A spokesman for Conservation Colorado, which typically endorses regulation-friendly candidates, told the Sentinel he wasn't aware of any conversations about whether the organization would ramp up spending on municipal elections.
In 2017, Conservation Colorado was the source of about $12,000 in the Aurora City Council race and made its first municipal endorsements ever: Nicole Johnston in Ward II and Crystal Murillo in Ward I. Both won in their respective races.
Likewise, Vital for Colorado, an advocacy coalition for the energy industry, dropped $100,000 in the final days of the 2017 municipal election in Aurora, but officials wouldn't say in emails to the Sentinel what's ahead for the organization's local government involvement.
Vital for Colorado donated $100,000 to a PAC called Aurora for a Stronger Economy in five $20,000 payments all dated Oct. 20, 2017.
The cash was used to primarily buy TV campaign commercials, robocalls and live calls to potential voters for at-large council candidates Tim Huffman and David Gruber, Ward II candidate Bob Hagedorn, Ward III candidate Marsha Berzins and Ward I candidate Sally Mounier.
Gruber and Berzins each won their races, and Berzins recently announced her bid for Aurora mayor.
In all, Vital for Colorado dropped nearly $330,000 in five municipal races across the Front Range in 2017, according to numbers crunched by the Denver Post following the election.
If SB181 passes and advocacy groups, both against and for the industry, start funneling money into the 2019 municipal election in Aurora — half of the seats, plus the mayor are up for grabs — it would largely be unknown how much money is being spent from either side until 90 days before the election, when the first campaign finance reports are due.
Council member Charlie Richardson took a stab at addressing transparency in campaign finance in December — which could limit influence, but that proposal has yet to make it to the full council for approval. Richardson said he tabled the measure because of the complexity of municipal campaign finance, and the city is working on an election code rewrite.
Had Richardson's ordinance passed, it would dictate that no candidate committee could accept more than $2,500 from a single donor, including in in-kind donations. The threshold for candidates for mayor is higher: a single donor cannot contribute more than $5,000.
That may not matter for mega-spending, like Vital for Colorado's, though. City attorneys said during a committee meeting on the proposal that PACs fall under federal law. Some members predicted that setting contribution levels lower would entice more PAC spending.
Tracking that money and influence overall could be difficult because it's different for each municipality, said Colorado Secretary of State campaign finance manager Steve Bouey, because local campaign finance is essentially a "patchwork" quilt of rules. What's the case for transparency in Aurora is not necessarily the case in Greeley or Fort Collins.
The state only oversees campaign finance for state and county races.
Separately, those electeds would have control over who is appointed to local oil and gas oversight commissions.
Johnston tried last year to change that board's make up. Johnston, who served on the committee before she was elected, suggested the committee drop from 11 members to 9 members, and that the makeup would require five residents, two industry representatives and two surface property owners.
Johnston said it would have provided more transparency and citizen input on the panel, but the majority of council members disagreed that any change on the commission was necessary.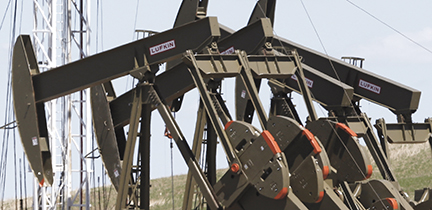 BIG CONSEQUENCES
In the meantime, local municipalities are left with deciding how to prepare for the change, which could ban oil and gas drilling in the city, if not the state, threatening industry profits and hundreds of thousands of dollars in oil and gas tax revenue the City of Aurora receives each year.
Last year, the City of Aurora brought in a total of $284,387 from oil and gas sector taxes, including local taxes and state and federal taxes allocated to the city, according to a city spokesperson. From 2014 through 2018, the City received over $1.7 million – $1 million of which was appropriated for affordable housing in the 2019 budget.
Johnston took an early interest in introducing a moratorium for oil and gas applications unless an operator agreement between the city and driller is met.
"We need to meet these new standards, we need an ordinance to address how we are going to process and accept, or deny, applications," said Johnston, who a few days later said she would wait to introduce any kind of ordinance related to oil and gas.
The decision to hold off on the ordinance, she said, is to see how state legislators would address the transition period following the passage of the bill.
In fact, the issue of whether the bill will include a statewide moratorium on oil and gas permitting, or whether it will allow local governments to outright deny any drilling in their jurisdictions, is a major sticking point for opponents of the bill including industry advocates.
As written, the bill prevents the state drilling permit agency, the Colorado Oil and Gas Conservation Commission, from issuing any permits until every rule legislated in 2019 is instituted.
If the provision survives the legislature, it could render any local moratoria unnecessary.
The implications are profound, industry advocates said. Notably, oil and gas drilling in Colorado is currently thriving, and operators are requesting permits at a breakneck pace. As of last month, the COGCC struggled under an over 6,400 permit backlog – in part because of an oil rush spurred by Proposition 112, the oil and gas setback ballot initiative that would have limited drilling but was rejected by voters in November 2018.
There are almost 1,000 active wells in Adams County, the bulk of which border Brighton and Commerce City, compared with 240 in Arapahoe County.
Adams and Arapahoe counties ranked fourth and fifth in the state for oil production last year, though production in northern Colorado Weld County dwarfed the rest of the state. Adams County ranked 12th in natural gas and coal-bed methane production last year, and Arapahoe County ranked 14th.
However, Adams County has the second-highest number of pending drilling permit applications: 650. In Aurora, there are almost 200 pending permits, according to documentation provided by the city.
Though the impact of the bill is uncertain, a moratorium would prevent the COGCC from approving those wells and future drilling sites.
The legislation would threaten big profits, oil and gas sector employees and the use of tens of thousands of interstate oil and gas pipelines, said Ben Marter, spokesperson for the Colorado Petroleum Council. The oil and gas industry accounted for 3.2 percent of the state's gross domestic product in 2016, or over $10.3 billion, according to the Department of Natural Resources.
Marter added that the COGCC rulemaking process could take years, resulting in a de facto ban on oil and gas drilling in the entire state.
Even if the rules were made more quickly, or if the provision is taken out of the bill, its purpose is to allow local governments control of oil and gas development. It would essentially legalize currently-illegal long-term moratoria cities and counties up the Front Range tried to establish to keep drilling out of their jurisdictions.
That's the fear of the Colorado Oil and Gas Association.
"The way this bill is currently constructed, local governments could use arbitrary and subjective claims, with no legitimate scientific expertise, to prevent development," said COGA spokesperson Scott Prestidge.
Prestidge did not specify which local governments could use the authority to flout development. Many municipalities and counties on the Front Range have tried to or have enacted moratoria in the past, including Boulder County, Longmont, Broomfield, Adams County, Erie and Fort Collin  before a 2016 Colorado Supreme Court decision that outlawed the bans.
In Aurora, Councilwoman Johnston could take advantage of the law change to enact a moratorium, but industry advocates including Marter point to state and local tax revenues from oil and gas activity that would be lost.
Short of a moratorium, the bill would require oil and gas operators to first apply for permits with local governments that decide to control the process, instead of the COGCC.
Currently, cities like Aurora don't have the authority to ban or even regulate most aspects of drilling, including where it takes place. The COGCC notifies Aurora when companies have applied to drill in city limits, and from there, city administrators approve the permits if the location doesn't conflict with development plans.
Johnston is hopeful that the city would develop its own system. It's the reason she eyed a moratorium to begin with.
Her moratorium did come with a "but." Oil and gas applications could be approved with an operator agreement, much like the process in nearby Broomfield.
City lawmakers have already flirted with that model.
In November, Conocophillips and the massive Aurora Highlands development project reached a deal to move and keep future oil and gas drilling away from homes and on a 1,300-acre "energy corridor." The clash between development and oil and gas company, which stemmed after the destruction of a home in Firestone, threatened to derail Highlands project, entirely.
Developer Carlo Ferreira said he wanted to work out an agreement that would balance "the rights of the mineral rights holders with the rights of residents to live in a healthy, safe environment"
Johnston, who represents the area of the city where the Highlands will be home to an estimated 23,000 families in the future, called the energy corridor "a creative, innovative strategy especially in undeveloped areas."
But with the new local authority of SB181, city officials could soon be considering whether to keep development out of the entire city.