AURORA | A con man who swindled businesses and contractors in Arapahoe County for more than $500,000 is currently on the lam after he cut off a GPS ankle monitor and absconded during a jury trial last week.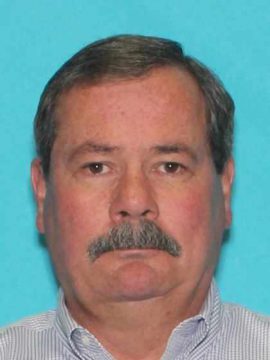 Larry McGee, 60, was on trial in Arapahoe County District Court for more than 21 counts — 15 of which were felonies — including identity theft, forgery and check fraud, according to a press release issued by the District Attorney's office.
Despite not being in the courtroom, McGee was convicted on all counts Sept. 14. The court issued a no-bond warrant for his arrest.
"There is no better way to signal to the court, the jury, the community, and the victims your complete disrespect for them and our laws than to run away before the jury renders its verdict,"  Arapahoe County District Attorney George Brauchler said in a statement.
As a condition of his bond, McGee had been released under court supervision and ordered to wear a GPS ankle monitor, which he later cut off.
McGee reportedly impersonated a local attorney, forged letters and produced bogus wire transfer records and deposit slips in an effort to remain a tenant at an Arapahoe County property. He was eventually charged with various counts of fraud in October 2014, but was able to delay the trial for nearly four years.
"McGee did not perpetrate this scheme to get money — McGee financially ruined a 65-year-old man and tricked numerous people into providing services and supplies for the sole purpose of making people think he was a wealthy businessman so they would treat him as someone special," Senior Deputy District Attorney Steve Fauver, who prosecuted the case, said in a statement. "None of the victims is likely to make a deal with only a handshake ever again, and that is truly a shame."
McGee could face a sentence of nearly 50 years in prison for the fraud convictions.