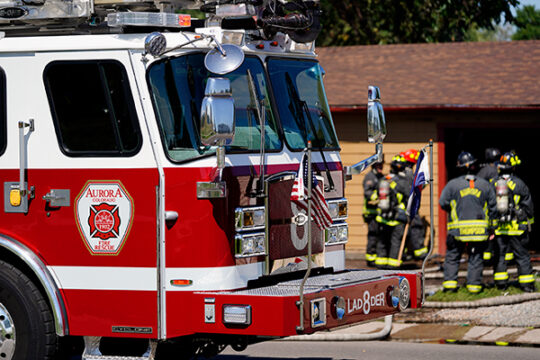 AURORA | Aurora firefighters and 911 dispatchers could soon share in the $8,000 retention bonuses extended to police under a new proposal sponsored by Councilmember Curtis Gardner.
The original decision to use cash payments to entice police officers into staying with the city's beleaguered police department was made by council in December by a 6-4 vote.
"I think, in general, fire and 911 are an equal part of public safety," Gardner said while explaining the new proposal Wednesday, mentioning the challenges posed by mandatory overtime and staffing shortages at the two non-police agencies.
Proponents of the police retention bonus plan said the program is in response to an extensive loss of Aurora police officers during the past two years. 
Council members who objected to the bonuses for police in December — Gardner voted in favor — had asked why the proposal excluded firefighters and other city workers. Opponents also questioned whether spending money on no-strings-attached bonuses would provide a good return on investment for the city.
While Gardner acknowledged that recipients of the bonuses could still walk away from their jobs with no penalties, he said he believed it would encourage employees to remain with the city.
"Money isn't everything, but it certainly signals from a policymaker's perspective that we recognize how hard their job is and that we'd like to keep them here in the city of Aurora," he said.
He also pointed out that the funds, which like the police bonuses would be paid out of the city's American Rescue Plan Act allocation, would be issued in two parts, in April and October, incentivizing employees to stick around at least until the fall.
According to Gardner, the bonuses for firefighters would cost the city $3.5 million in total and bonuses for dispatchers would cost $575,000. The police bonuses are projected to cost about $6 million.
Aurora Fire Rescue lost 23 full-time employees in 2021, the same number lost in 2020, agency reps told Aurora's Public Safety, Courts and Civil Service Policy Committee on Thursday. The attrition rate for the department was 5.3% in 2021 compared to a five-year average of 6.3%.
Mathew Wasserburger, business services administrator for the department, noted the department regardless saw a net gain of "a few" employees last year.
Professional development manager Bess Joyce of Aurora 911 said the city's dispatch center lost 21 people in 2021 and was about 72% staffed as of Thursday, with 24 positions open for call-takers out of 26 total vacancies.
The city's proposed budget for 2022 notes that the department was projected to run over-budget by $244,700 in 2021, including $174,300 of overtime pay for remaining dispatch center employees.
"With few applicants to fill vacant call-taker and dispatch positions and a record number in calls for service, increased overtime pay is the main driver of this overage," the document states.
In response to a question from the commission, she said the agency recently increased its starting wage to $25.34 to make it more competitive with other centers in the area.
The item is expected to come forward at the Jan. 31 meeting of the Aurora City Council.