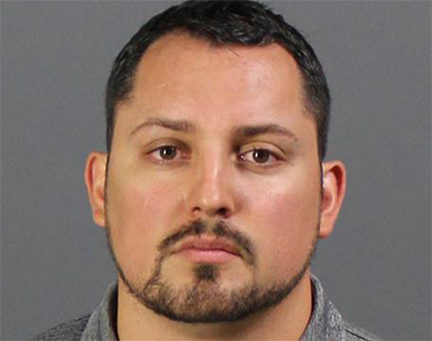 AURORA | Cherry Creek schools will pay $11.5 million to students sexually assaulted by former Prairie Middle school teacher Brian Vasquez.
The settlement was split evenly five ways, said Abbe Smith, a spokeswoman for the Cherry Creek School District. Each victim was awarded $2,300,000.
$2,000,000 of the settlement was drawn from school district insurance. The school board met Monday morning to approve the remainder of the settlement, Smith said.
Vasquez pleaded guilty to multiple counts of sexual assault in July and will be sentenced at the Arapahoe County Court on Friday. He faces a minimum of 40 years in prison.
"We acknowledge that no amount of money can right the wrongs committed against these students by Mr. Vasquez," school district officials said in a statement. " No student should ever suffer the injury and loss of innocence that these young women suffered as a result of the reprehensible actions of Mr. Vasquez. The district is committed to doing right by these young women and their families and hopes this settlement brings some degree of closure so that they can move on with their lives and continue the healing process."
"We are in awe of the strength and resilience of our five clients," said attorney Qusair Mohamedbhai of Rathod Mohamedbhai, which represented the five victims. "They are all survivors of unimaginable horrors, which occurred during their very young and formative years. Our clients appreciated the substantial policy changes and focused determination by Cherry Creek School District to ensure that their lifelong trauma will hopefully never be experienced by another student in Colorado."
The former teacher at the Aurora middle school has been in jail since his arrest in August 2017 on multiple counts of sexual assault against several girls at the school.
Vasquez stood quietly next to his lawyers Monday with his hands shackled at his waist and wearing a bright orange jail jumpsuit. He calmly relied "yes" or "no" to Judge Jeffrey Holmes' questions.
District Attorney George Brauchler said he expects Vasquez to apologize to the five victims at his formal sentencing Friday. The victims are also expected to address the court, Brauchler said.
One of the victims spoke briefly to the judge via phone during July's hearing and said she had hoped the case would go to trial so she and the other victims could address Vasquez.
"I want to speak my truth," said the girl, who was referred to by her initials during the hearing.
The girl, who referred to Vasquez only by his last name during her statement, said she now supports the plea agreement, but she was still irked that prosecutors didn't consult with her more before they accepted it.
Prosecutor Cara Morlan said the plea agreement happened quickly when Vasquez's defense team approached prosecutors and said the DA's office made some errors in explaining their plans to the victims but made sure they didn't make any decisions without their input.
Aurora police said in a hearing last year that when they went to Prairie to question Vasquez, they were initially only investigating accusations from one girl who said she had exchanged inappropriate text messages with the teacher. But Vasquez immediately offered the names of four other students, and said his relationship with the girls went beyond just texting and included sexual contact, police said.
Detectives subsequently interviewed the other girls over several days in August and largely confirmed much of Vasquez's story, police said.
In all, Vasquez faced 37 counts related to sexual contact and sexual communications between him and the girls. At Much of the illegal sexual contact happened inside the school, according to testimony, as well as in Vasquez's car at various spots around Aurora. One girl told police Vasquez groped her in class while he was teaching.
Another girl told police her relationship with Vasquez was limited to illicit pictures and she had to repeatedly rebuff his attempts to grope her. Many of the girls struggled to remember dates, McGinty said, but that girl remembered one incident because it happened around the time she had braces put on. Vasquez's lawyers argued that the lack of specificity on the date range — which stretches from early 2013 to August 2017 — was reason for the judge to drop some counts, but White rejected that.
Three Cherry Creek School District administrators were charged early this year with failing to report accusations against Vasquez to police.
Prairie Principal David Gonzales, Assistant Principal Adrienne "A.J." MacIntosh and counselor Cheryl Somers-Wegienka were charged with misdemeanor charge of failure to report and early this year. In the original indictment, the three staff members were accused of conducting their own investigation which included questioning the student with Vasquez present and repeatedly telling her that her accusations could ruin Vasquez's family and career. They also told the girl Vasquez was a "valued teacher."
After all that, prosecutors say the girl retracted her claims. School administrators eventually suspended the girl for what they deemed were false allegations. First, however, they made her apologize to Vasquez. And give him a hug.
Gonzales and MacIntosh have trials set for later this year and both remain on leave from CCSD. Court records show no pending cases for Somers-Wegienka, which could mean charges against her were dropped and the case sealed, or that she reached a plea agreement and the case was sealed.