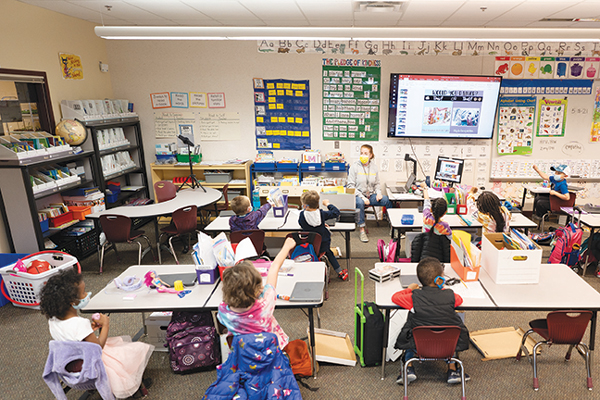 AURORA | Controversy over mask mandates in area schools continues this week in the region as the Cherry Creek School District expands its mask mandate, and counties in the region squabble about whether to heed limited school mandates imposed by the Tri-County Health Department, which oversees the southeaster region.
The Tri-County Board of Health has called a special meeting for today to discuss its tumultuous requirement imposing a limited mask mandate for area schools, yet allowing counties to disregard it, which two of three counties in the health-department co-op have now done.
Arapahoe County will also consider Monday whether to disregard the school mask mandate. officials said Friday.
Beginning today, Cherry Creek schools will now require all students in PreK, elementary and middle school to wear masks along with all staff who work in those buildings.
The district originally required students in PreK to sixth grade and accompanying teachers and staff to wear masks following recommendations from the Tri-County Health Department. In a Friday message to district families, Superintendent Chris Smith said that the shift is being implemented to keep transmission as low as possible in middle schools.
"We have seen increasing COVID-19 cases among students and staff, particularly at the elementary and middle school levels," Smith said in his letter. "While we have not seen significant spread in schools, the fact that COVID-19 cases are increasing in the community means we need to take stronger measures to protect schools where there are large numbers of students not yet eligible to receive the vaccine."
"Through working with our middle school principals, we have learned that the interaction of students at all levels in middle school, while minimal, is enough that masking all students and staff is the best strategy," he said.
Students and staff in high school are not required to wear masks, though Smith reiterated that they are "strongly encouraged" for everyone.
As of Friday, the Cherry Creek's COVID-19 tracking web page lists 86 students and 18 staff members as positive for the virus across the district.
Colorado has left decisions about COVID safety protocols up to local leaders, even as the Colorado Department of Public Health Environment adopted the CDC guidance that calls for everyone to wear masks in school settings, regardless of vaccination status. But most school districts and many independent charter schools have only recommended masks, not required them.
Denver schools requires all students and staff in all schools wear masks inside buildings.
Monday afternoon, Arapahoe County commissioners will consider disregarding Tri-County's limited school mask mandate. Last week Adams County surprised health officials by following an early move by Douglas County and "opting out" of those school mask mandates.
Douglas County commissioners have been talking publicly about seceding from the generations old three-county health department coop because of the board of health's stance on regulations to control the pandemic. Adams County, up until now, have followed closures, masking and other regulations imposed by Tri-County.
Colorado Community Media, parent company of the Douglas County News Press, reported last week that Douglas County commissioners are considering legal action against the health department board in an effort to undermine the mask mandate.
Douglas County lawyers, in Aug. 25 letter to Tri-County Health, said meetings leading up to the vote to impose a mandate violated state open meeting laws, because the board deliberated the measure in closed session, according to the News Press. Local governments in Colorado are restricted in what business can be conducted in executive sessions.
It's unclear whether Tri-County board of health will address the allegations Monday.