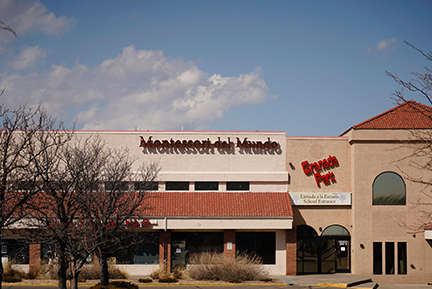 AURORA | Some parents at an Aurora charter school are concerned that cell phone antennas on the school's roof could cause cancer or pose other health risks to their children and other students, despite reassurances of safety.
Parents at Montessori del Mundo requested radiation tests from T-Mobile, the company that owns the three radiofrequency antennas used to transmit cellular phone signals. The radiofrequency waves have not been shown to cause cancer or other ailments in scientific studies, but parents point to media reports of children at other schools developing cancer after similar antennas were installed.
About 300 students were enrolled at Montessori del Mundo last year. T-Mobile began installing three antennas at the beginning of the 2018-2019 school year on the roof of the school, which is in a strip mall near the intersection of East Mississippi Avenue and South Chambers Road.
T-Mobile has not activated the antennas, and a school official said she does not know when they would be receiving and transmitting area cell phone signals.
That's cold comfort for Alondra Flores, whose son is a kindergartner there. Flores said the antennas' eventual operation worries her and she believes that there has not been enough scientific study of the radiofrequency waves' effects on humans.
The World Health Organization found radiofrequency waves to be a possible carcinogen in 2011, but called for more research. Radiofrequency waves are a form of radiation on the electromagnetic scale but a type that is not believed to cause cancer like radon and X-rays.
However, Flores cited recent media reports from Sacramento, where four children developed cancer attending a local school with a cell phone tower on its school grounds.
"I don't know if that is going to mess with brain cells," Flores said of the three antennas on Montessori del Mundo. "I didn't know enough about to to know if there even is a risk."
She said other parents are also concerned that the antennas could cause cancer. Flores added that she could remove her son from the school if the antennas are not disabled or removed, even though she loves the school and its hands-on, bilingual curriculum, she said. Montessori del Mundo is the only montessori-style school in northern Aurora.
Francisco Cisneros, another parent, said he would pull his two young children from the school if the antennas stay.
The antennas are owned by T-Mobile on space leased by the school's owners, property group Western Centers, Inc.
A T-Mobile spokesperson cited statements from the American Cancer Society and the World Health Organization that no research has found a definitive link between cancers and exposure to radiofrequency waves, which are emitted by cell phones and received by the radiofrequency antennas. The spokesperson also said that T-Mobile is well within radiation regulations imposed by the Federal Communications Commission and radiation scientists.
Brian Pesch of Western Centers said the antennas are safe for children and adults alike, and declined to say why the antennas were being installed at the beginning of the school year. He said Western Centers routinely leases rooftop space for antennas to cellular companies.
However, T-Mobile has conducted regular tests of the antennas to ensure that the radiation levels will be within the FCC's standards, the spokesperson said. Cisneros attended a test this weekend, he said, in which an engineer measured the radiofrequency waves with a wand that detects radiation levels.
The radiation levels were below what is considered harmful, Cisneros said, but he called for a longer-term, scientific study to allay his concerns.
Flores said she regretted the situation because her child loves the school so much. Classroom teachers employ both English and Spanish, and the school is split evenly between native English-speaking students and those learning English as a second language.
"We're really happy there," Flores said. "This situation stinks, because I do not want to remove my child from this school."