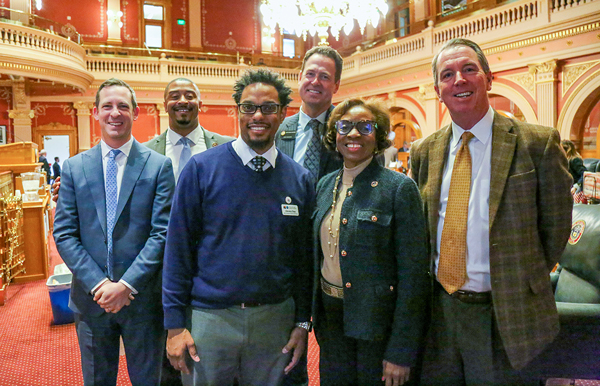 AURORA | APS band director Jimmy Day was honored Tuesday at the State Capitol as Colorado's 2023 Teacher of the Year.
Day, the band director and instrumental music teacher at East Middle School, was recognized by Aurora Senator Rhonda Fields during a session for the Colorado Senate. He was given a standing ovation by legislators and received a signed proclamation from Senate President Steve Fenberg.
"We are so inspired by your dedication in educating our students, your passion for helping young musicians develop their instrumental skills and your commitment to instill in them confidence and demonstrate life skills," Fields said.
Day was joined at the capitol by his family, East Middle principal Jacquelyn Brown and APS school board member Nichelle Ortiz and her two sons.
Day was one of seven finalists for the annual honor, and APS' first teacher of the year since 2012. He was named teacher of the year in a surprise ceremony at his school in October. 
A native of Detroit, Day has been with APS since 2017 and has been a teacher for 14 years. He was drawn to teaching through his love of music, and was praised by the Colorado Department of Education for his work rebuilding several band programs.