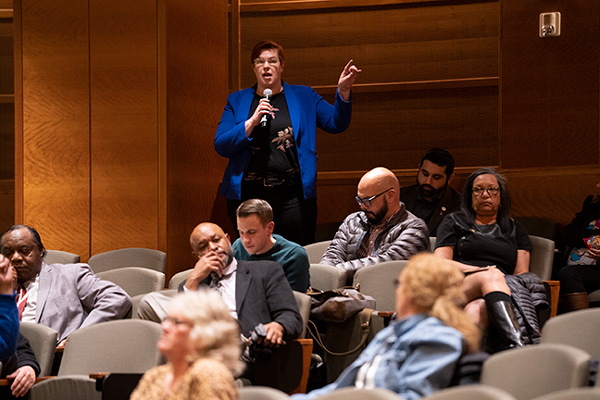 AURORA | Aurora residents likely won't know who will serve as the city's next permanent chief of police until much later this year due to the global coronavirus pandemic, according to Aurora city officials.
The city will pause its search for a police chief after a recruiter vets a round of finalists in the coming weeks, according to Deputy City Manager Jason Batchelor.
"He's going to conduct phone interviews, do more research and then come back to us with a recommendation for what a reduced list of finalists might be, whether that's three, four, five or six, we'll see," Batchelor said. "The plan at that point would be to probably go ahead and put the process on pause and see where we are with COVID-19."
That recruiter, Regan Williams with California-based firm Bob Murray & Associates, declined to comment for this story.
The city was originally expecting to hold community forums with a handful of finalists in late April or early May.
"That timeline's out the window," said Councilwoman Allison Hiltz, who serves as chairwoman of the city's public safety committee.
Batchelor declined to provide an updated timeline regarding when finalists for the chief's job may end up stopping through Aurora to meet with community members, citing the global uncertainty related to the spread of the new coronavirus.
"We really don't want to put a time frame on it because first and foremost our most immediate concern is public health and safety," he said.
Dragging a pool of senior-level police staffers away from their respective departments during a national emergency could further complicate the process, Hiltz said.
"Chiefs aren't going to want to leave their cities in the middle of a crisis," she said.
On a recent conference call in which city officials were briefed on the city's response to COVID-19, officials said recruiters have identified 13 candidates who are still in the running for the chief's job. None of those candidates are white males, officials said.
Aurora began its search for a new chief after the department's former top cop, Nick Metz, retired at the end of 2019. The transfer of leadership faced early hiccups after former Deputy Chief Paul O'Keefe, who was tabbed to serve as interim chief following Metz's retirement, abruptly removed his name from consideration on Christmas Eve.
O'Keefe retired from the department earlier this year after it was uncovered he bungled a prior investigation into an Aurora officer found passed out and drunk in his running cruiser. The officer was disciplined internally, but never faced criminal charges and remains on the force.
City Manager Jim Twombly eventually chose department veteran Vanessa Wilson to lead the department on an interim basis.
The new delay likely means Wilson will continue to serve as the head of the department well into 2020. She said she submitted an application to serve as permanent chief.
"I think Interim Chief Wilson is doing an excellent job, so we don't have concerns about the immediate day-to-day operations of the department," Batchelor said. "We continue to move this forward, but we'll do it in a way that fully recognizes the public health pandemic that's going on, and we'll bring it forward when it's appropriate to do so."
Batchelor said the delay is not expected to cost the city more money.
"We're not paying the recruiter per week," he said. "It's really based on the overall scope of the contract. We have not discussed at this point that this results in additional costs."
The online job listing for the chief's job closed on March 20, Batchelor said. Whomever city management eventually chooses for the role will inherit a salary of approximately $200,000.