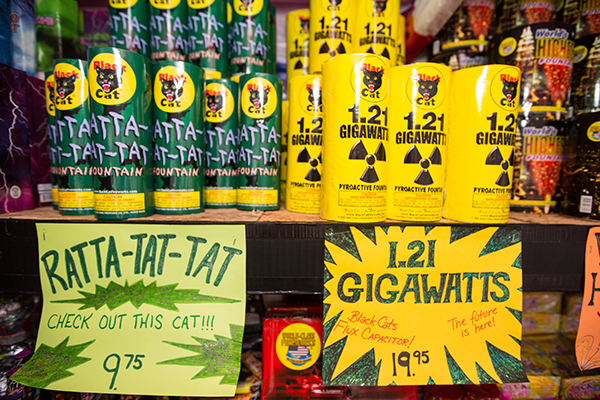 AURORA | Aurora firefighters confiscated a boon of bootleg fireworks earlier this month, with Deputy Fire Chief Caine Hills telling City Council members on Monday that between 250 and 300 pounds were seized July 1- July 5.
"It's very inappropriate. It's illegal," Hills said. "We have tried every facet and approach to curb the complaints and illegal usage."
While some fireworks are legal in Aurora, others, which explode or leave the ground, are banned in the city.
Hills said the amount was as much or more than the amount seized in 2021, while the total number of fireworks complaints decreased year-over-year, since a spike in 2020.
He said the city inspected all of Aurora's permitted firework vendors to make sure they weren't selling illegal products, though Councilmember Francoise Bergan and others acknowledged that scofflaws commonly drive to Wyoming and transport forbidden fireworks south.
In past years, when a fire ban has been implemented by the city, limiting sales of fireworks that would otherwise be legal, Hills also said vendors have also simply set up shop in unincorporated Arapahoe County to evade city regulations..
Hills said that, despite 82 online complaints and 485 calls being made to 911 and the city's non-emergency dispatch line regarding fireworks, only three summonses had been issued  around the time of the holiday. However, he said the city is still in the process of following up on complaints
"Every one of those complaints that's received is followed up on," Hills said. "We knock on the door. We make contact with the citizen. We ask for them to describe what's going on, are they willing to sign a complaint, are they willing to testify, etc. And typically, what occurs is no one is willing to file a complaint and certainly not testify."
He told Bergan that community members are expected to testify in court in order for the city to prosecute fireworks violations, which Bergan said many people find inconvenient. The penalties for illegal fireworks in Aurora include a fine of up to $2,600 and up to a year in jail.
Hills mentioned one specific criminal prosecution underway — that of a person who lit a faulty mortar shell that exploded on a driveway, igniting a nearby bush and a home, ultimately causing half a million dollars in damages.
It was one of two fires ignited by illegal fireworks, the other being a small vegetation fire. Hills said he has not seen a fire sparked by legal fireworks in his seven years with the city.
Bergan said she'd like the city to do a more concerted job of educating residents about legal and illegal firework use, and Councilmember Angela Lawson suggested the city could draw attention specifically to the risk of injuries and fires.
"We're always open to any suggestions of how to enhance this," Hills said. "We all know that this is kind of a no-win situation across the board."