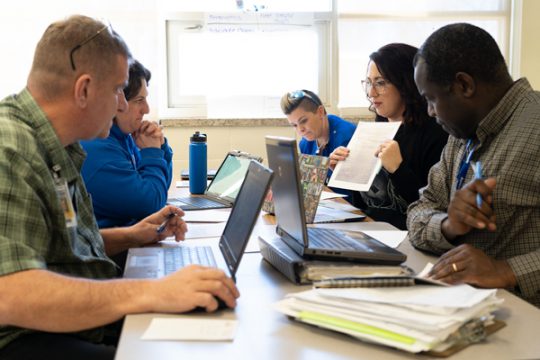 AURORA | In a first for Colorado, Aurora Public Schools will preemptively, but reluctantly, hire educational consulting groups to help boost performance in two struggling schools that could have otherwise faced state-imposed measures next year.
The APS Board of Education voted last week to approve proposals from two private educational consulting groups to work in separate schools: MGT Consulting Group would handle teacher instruction and professional development in North Middle School, under the plan. Virginia-based Communities in Schools would supplement social services, such as mental-health counseling, for students.
APS Superintendent Rico Munn presented the school board with the two proposals last month as a way forward for Gateway and North Middle schools. He and other school officials say they're seeking this kind of contract out only because state enforcement action is looming.
Under state law, schools and school districts rated as underperforming by the state Department of Education must improve in five years or face state intervention, including closure or conversion to a charter school. Barring improvement, North Middle will hit the fifth year of the lowest state rating next year, and Gateway will hit its fifth year in a row of earning the second-lowest rating.
At the school board meeting last Tuesday, Munn said hiring consultants would be the best option for the schools, which a district official said are improving but not fast enough to dodge state action.
"The reason we would hire an external person instead of doing this ourselves is that the law requires it," Munn said at the meeting.
Board member Kyla Armstrong-Romero took issue with Munn's recommendation of only one consultant group for each school instead of presenting proposals from different groups to fill the need. She voted against both proposals, joined by Marques Ivey against MGT's proposal.
The school board will consider whether to approve the final MGT and CIS contracts following a state Board of Education meeting in the coming months. CIS's four-year proposal requests more than $400,000 a year for compensation, plus more than $50,000 for this spring. MGT is requesting more than $1 million in its four-year contract proposal.
Teachers and some school board members were skeptical the district couldn't fix the problems themselves, and said school staff were not consulted with the proposals. MGT in particular could have some management over teaching strategies.
CIS is already working in APS with the superintendent's office and in five struggling schools to provide mental health staff and social services.
If approved, the group would place two full-time, master-level social work professionals and one full-time site manager in the school, in addition to the four existing counselors, two social workers and two school psychologists, according to Gateway's website.  Aurora Mental Health also provides mental health services there.
CIS would manage staff responses to events like a student suicide, but also facilitate motivational speaking, counseling, mentoring and even consulting on student nutrition.
DJ Loerzel, director of accountability and research in APS, said CIS would supplement what the district is already providing at the school.
He said students can't learn properly if they have unaddressed mental health issues or problems at home.
"So much of what our teachers do is focus on teaching, not necessarily bullying and trouble at home – internal barriers," he said. "That's really causing the students to close themselves off and shut down."
If approved, MGT would take over staff professional development and manage teacher instruction practices at North Middle. The group recently finished managing the district's Blueprint APS policy-making process.
Loerzel said the district spoke with staff at both of the schools before recommending the two proposals and heard good feedback.
Aurora Education Association union President Bruce Wilcox said he wasn't satisfied with the district's outreach to teachers and parents.
"Was anybody really part of the process? Not really," he said.
Even so, he called the preemptive action "the lesser of the evils" compared to state-mandated plans that can include school closures, conversion to charter schools, relaxed state rules or the status quo.
"Of the four options, it's a better one," he said.
The APS school board vote last week begins the first instance of a Colorado school bringing in external management partners without being forced to do so by the state school board, according to the district.
Other APS schools, including Aurora Central High School, have been on state-mandated turnaround plans for years already. In 2016, APS improved enough to dodge a state takeover of the entire district akin to its ongoing intervention in neighboring Adams 14 school district. Consultant groups and neighboring school districts are eyeing management roles there, according to media reports.