AURORA | Members of the Aurora SWAT Team on Thursday night chased, shot at, and arrested a person wanted for multiple felony charges in Denver, according to Aurora police.
No one was injured during the incident, police said.
Investigators with the Denver Police Department's Fugitive Unit contacted Aurora SWAT at about 7:40 p.m. March 28 alerting local officers Denver officials were following a fugitive into Aurora, according to Anthony Camacho, spokesman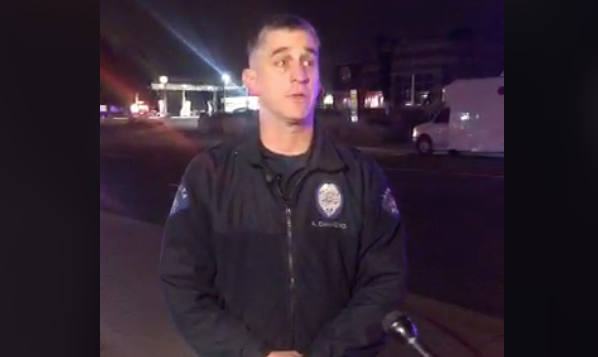 for the Aurora Police Department.
Aurora officers pursued the suspect, who was driving an unknown vehicle, into the parking lot of the McDonald's near the intersection of East Iliff Avenue and South Buckley Road, Camacho said.
The unidentified suspect then fled the area on foot, running south across Iliff. Aurora officers chased after the suspect.
During the pursuit, one Aurora officer fired at, but did not hit, the suspect, Camacho said.
"During that foot chase, some shots were fired by one of our officers," Camacho said around 11 p.m. Thursday night at a press briefing.
Police caught and arrested the suspect near the Shell gas station at the southwest corner of the intersection.
During the arrest, police discharged at least one Taser, Camacho said.
Neither the suspect nor police were injured during the incident, Camacho said. No members of the public were injured either.
The suspect, who was wanted on "several felony charges" in Denver, is currently being held in Aurora Municipal Jail, Camacho said. He did not specify the charges for which the person was wanted.
Camacho also declined to specify the approximate age and gender of the suspect, citing an ongoing investigation.
Police are questioning an unidentified passenger who was traveling in the suspect's vehicle to determine that person's potential level of involvement, Camacho said.
Investigators retrieved a weapon, possibly belonging to the suspect, from the scene, according to Camacho.
Per department policy, the Aurora officer who fired at the suspect will be placed on paid administrative leave. The Denver Police Department will aid in the investigation of the shooting event, per state statute.
The intersection where the suspect was arrested was closed for several hours Thursday night. Police said the area is expected to reopen around midnight.