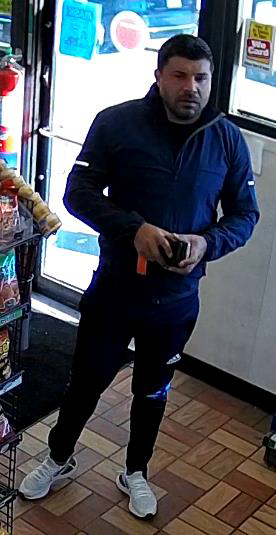 AURORA | Aurora police are asking for the public's help to identify a man accused of violently attacking a gas station cashier after he was asked to wear a face mask inside the business.
Investigators said the unidentified man entered the Sinclair gas station at 14401 E. Sixth Ave. at 10:45 a.m. on Jan. 4 and assaulted a clerk who had asked the unmasked man to cover his face.
The employee who was attacked sustained "serious bodily injury to their face," police said in a tweet.
The assailant fled the scene in a blue Audi A Series with a temporary license plate, security camera footage shows.
Investigators are asking anyone with potential information related to this assault to call the Denver Metro Crime Stoppers at 720-913-7867. Tipsters can remain anonymous and be eligible for rewards up to $2,000.
The battery earlier this month is the latest instance of violence or property crime  in Aurora prompted by social restrictions related to the COVID-19 pandemic. Several high-profile crimes related to COVID-19 restrictions were reported to Aurora police in May as officials asked residents to wear masks and keep their distance from others.
Aurora police accused a 37-year-old man of drawing graffiti on the facade of the Tri-County Health office at 15192 E Hampden Ave. and repeatedly throwing rocks through the building's windows, causing thousands of dollars in damage.
Days after recommending the criminal mischief charges tied to the Tri-County Health facility, local police asked for the public's help identifying a trio of young people accused of violently assaulting a Target customer who had asked the group to give her more space while shopping. The woman was paralyzed due to injuries sustained in the attack.
And on May 15, a Denver man was accused of shooting an Aurora Waffle House line cook in the stomach following a disagreement about wearing face coverings in the late-night restaurant, according to court documents.
Prosecutors have filed attempted first-degree murder and several other felony charges against Kelvin Watson, 27, for his suspected role in the shooting of Brian Guhler, a 25-year-old Waffle House line cook.