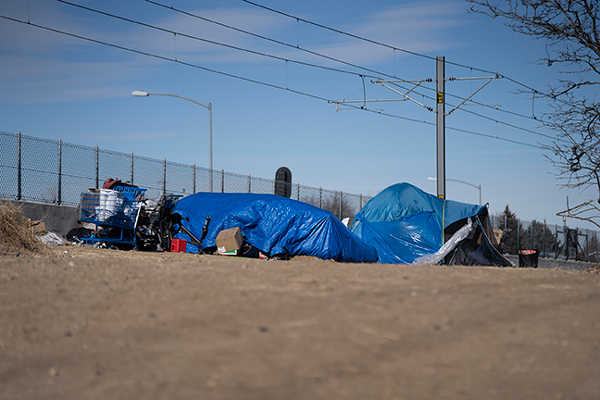 AURORA | Aurora's City Council finalized a new policy on Monday for storing some of the belongings of those displaced by homeless encampment sweeps.
The policy promises that people working on behalf of the city to abate encampments will "recover personal documents and identifications observed in the trash and debris and turn this property over to the Aurora Day Resource Center."
"City staff and City agents will not sort through the trash and debris to look for personal documents or identifications," the policy reads.
A spokesperson did not immediately respond Monday night regarding when the city would begin enforcing the ban.
Council members finalized a ban on unauthorized camping earlier this year, which included an amendment initially proposed by Councilmember Crystal Murillo that directed the city manager's office to come up with a policy for storing leftover personal property.
On Monday, Murillo said she believed more work was needed to treat homeless campers humanely in light of the new camping ban, but that she was comfortable voting on the policy as it was.
"This is not the most comprehensive way to address storage, but given the conversation at the last meeting, I think that a policy is better than no policy," she said.
Council members voted unanimously to introduce the policy. Items will be stored for up to a year at the Aurora Day Resource Center, which the city is also considering turning into a 24/7 shelter.
On May 2, Assistant City Attorney Tim Joyce told the group that the policy was the last thing standing in the way of stepping up enforcement to align with the goals of the camping ban, though the city is still in the process of creating more shelter space. Based on local and federal estimates, there may be hundreds more homeless people than shelter beds.
City spokesman Michael Brannen later said that the ban "will be enforced when (the) city manager signs new policy documents, and we anticipate that happening as soon as possible."