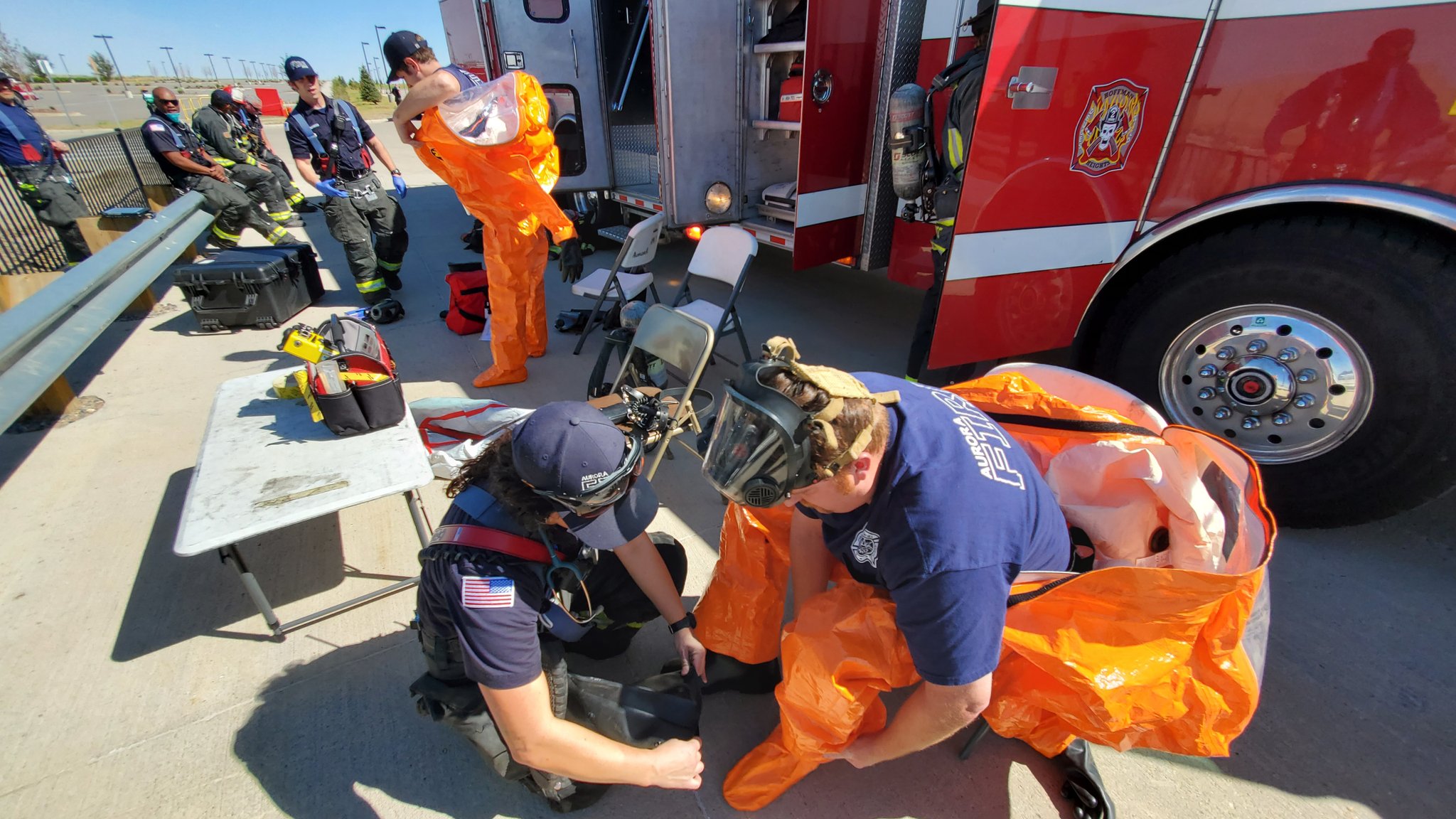 AURORA | As the city considers dealing in Aurora Fire Rescue on the $8,000 retention bonuses planned for police, local firefighters are preparing to make the case that there's more to their flat rate of turnover than meets the eye.
According to the city and fire service, attrition at Aurora Fire Rescue has leveled off from a 2018 peak, and the agency is close to fully staffed, with 453 of 459 full-time positions filled. That's accounting for the manpower needed to staff Ladder Company 8, which spokesman Michael Brannen said is due in service in the spring.
That's the good news. But Travis Pulliam, an Aurora firefighter paramedic and president of the city's firefighter union, said a disproportionate number of firefighters have left for reasons other than retirement over the past several years, citing several pressing threats to morale.
"I think it is a pay thing. It's a workload thing," he said. "Plus, we're living through a respiratory pandemic. As (advanced life support) providers, not only are we expected to respond to these calls, but we also have to treat these patients and get in an ambulance with them. … We've lost a lot more people than surrounding agencies, and we've lost a lot of people to surrounding agencies."
Councilmember Curtis Gardner announced earlier this month that he would sponsor a proposal to extend retention bonuses to firefighters and dispatchers after the City Council voted 6-4 in December to award $8,000 bonuses as a way of encouraging officers to stick with the city's troubled police department.
"Money isn't everything, but it certainly signals from a policymaker's perspective that we recognize how hard their job is, and that we'd like to keep them here in the City of Aurora," Gardner told The Sentinel when announcing his proposal.
On Jan. 13, John Schneebeck of the Aurora Police Department told members of the city's Public Safety, Courts and Civil Service Policy Committee that police lost 126 sworn employees in 2021, equaling an attrition rate of about 16.9%. In 2020, 87 employees departed, and in 2019, 58. Schneebeck said 717 out of the department's 744 billeted positions were filled as of December, including 29 recruits in training, translating to a staffing rate of 96.4%.
Bess Joyce, professional development manager for Aurora 911, told the committee that her dispatch center was less than 72% staffed, with 26 positions open out of a total hypothetical staff of 91. City spokesman Michael Brannen later said the agency plans to welcome five new recruits in February, and that applications are currently being taken for the next academy class. Aurora 911 lost 24 employees in 2021 — 26.4% of its total staff — and 17 employees in 2020, Brannen said.
Aurora Fire Rescue, meanwhile, lost 23 people in 2021 and 2020 — about 5.3% of its total staff and less than its five-year attrition rate of 6.3%.
When Gardner brought his proposal for bonuses up at a Tuesday meeting of the Management and Finance Policy Committee, one of his fellow council members, Dustin Zvonek, said he didn't see the same retention problems at Aurora Fire Rescue that he did at other public safety agencies.
"They have a tough job, and nobody denies that," Zvonek said. But, he added that he didn't "believe Aurora Fire has any real retention issues."
Zvonek said he wanted to bring forth a proposal that would address recruitment and retention problems within Aurora 911 but wouldn't support the bonus for firefighters as presented by Gardner.
"I know that the attrition rate is in practice a lot worse than they're saying," Pulliam said during a phone interview.
According to information prepared by Aurora Fire Fighters Local No. 1290, between 2014 and 2021, Aurora lost 101 firefighters for reasons other than retirement. Denver was said to have lost 45 firefighters before they reached retirement age during the same time period, despite its fire service being more than twice as large as Aurora's. South Metro Fire Rescue, which is also larger than Aurora Fire Rescue, lost 70.
Overwork and relatively low pay are among the challenges faced by Aurora firefighters, Pulliam said. He said the amount of mandatory overtime worked increased more than tenfold between 2020 and 2021, cracking 10,000 hours total. The union says Aurora's Engine Co. 2 responded to a whopping 5,990 calls in 2021, and that their Truck Co. 2 is one of the busiest in the nation. Firefighters start at $55,335 a year, according to the city's 2022 pay table for employees.
"If you're looking at the state picture, why would you run almost 6,000 calls when you could run half of that and get paid more?," Pulliam asked. "We don't have as many people as police … and we're providing a paramedic service on top of everything else."
Unlike some other agencies, Aurora requires its firefighters to become certified paramedics. Pulliam said the additional responsibilities of a paramedic have the potential to expose firefighters to greater liability, and with the high-profile case of Elijah McClain fresh on the minds of union members, Pulliam said many feel uncertain about the legal risks of doing their jobs.