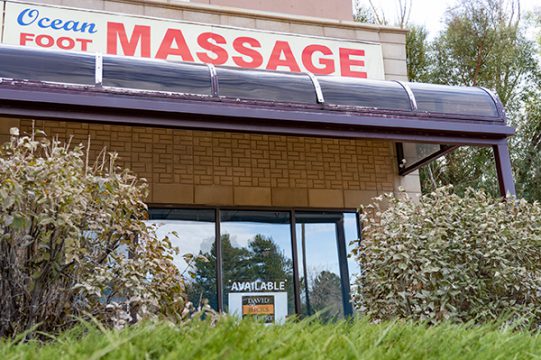 EDITOR'S NOTE: A previous version of this story inaccurately described the penalty for a prostitution charge in Aurora. A prostitution offense carries a penalty of up to a $2,650 fine and up to a year in prison, although the municipal court rarely hands down the maximum penalty in such cases.
AURORA | Nearly four months after the Aurora City Council shored up licensing requirements to try and crack down on illicit massage parlors in the city, new data suggest many of the businesses have closed up shop.
There have been no arrests made in connection with any of the suspected massage locations, according to Bill Hummel, spokesman for the Aurora Police Department.
"In working with tax and licensing, we determined that the severity of the penalties imposed by courts for tax and licensing issues, or imposed by the city, are far more significant, serious and substantial than, say, a prostitution charge," Hummel said. "We were looking at the long-term solution instead of the Band-Aid solution," Hummel said. 
In the past year, nearly 20 massage facilities in the city have either had their licenses to practice revoked or their applications to operate denied, according to Trevor Vaughn, manager of the city's tax and licensing division. 
Vaughn said 14 businesses were closed in the months leading up to implementation of the new ordinance, and two more parlors were instructed to close in the past month. All pre-existing businesses in the city were allowed to continue operating while the new licenses were administered, but each enterprise had to certify that they're complying with the new rules by Sept. 14.
Vaughn said another application denial was slated to be sent to a business, located somewhere in the city's south-central Ward IV, Oct. 19.
The new licensing ordinance, which took effect in late June, explicitly outlines a gaggle of prohibitions for owners of massage parlors. Owners are specifically barred from housing employees, keeping sex toys on the premises, and performing massages in the nude, among many other provisions, according to the city's new business license application for massage facilities. Applicants must also submit an additional permit request to keep a table shower or vichy shower at their business.
"When we look back a year ago … what we had in the city as far as reviews of these facilities on illicit websites, the number we had was pretty overwhelming," Vaughn said.
Previously, massage facilities in the city only had to purchase a city business license for about $40, according to Vaughn. He said a state law requiring additional credentials of masseurs sunset several years ago, and while the city had its own set of loose requirements, they were difficult to enforce due to a lack of statewide legislation.
Hummel said a recent FBI investigation targeting human trafficking operations housed in Aurora massage facilities highlighted the breadth of the issue in the city.
An FBI spokeswoman said she could not provide details on the case, but that the agency is making progress on the issue of prostitution in the region.
"We work closely with our partners to combat this serious and persistent problem," Amy Meyer, a spokeswoman for the local division of the FBI, wrote in a statement. "As a result of our combined efforts, we are seeing measurable improvement in this area."
City Councilwoman Angela Lawson began to shepherd the new regulations through the council committee process about a year ago after learning how many massage facilities in the area are fronts for prostitution rings and human trafficking organizations.
"I am very happy with the progress of it," Lawson said at a council committee meeting on the topic Oct. 18. "I know that we've only — since the ordinance has been enacted — there's been two more (businesses that have lost their licenses), but that's two more that's not here in the city."
Vaughn, too, said the new regulations are having an impact.
"Websites for advertising and for reviews of sex workers show that the number of illicit facilities in Aurora has drastically reduced," Vaughn wrote in a summary document for council members. "While difficult to demonstrate with figures, licensing has also seen a reduction in applications for businesses that are suspected of being illicit. The new application process as well as community knowledge of strict enforcement appears to have sent a message that it is too risky for an illicit operation to locate in Aurora."
A prostitution charge carries the same penalty as nearly all criminal offenses in the city code: up to a $2,650 fine and up to a year in jail, according to Julie Heckman, deputy city attorney.
"But it's very rare that you get the high end of either that fine or jail," she said.
Heckman said the city weighs various factors when prosecuting prostitution cases, including prior criminal history, substance abuse issues and location of the offense. She said the city in the past has issued "order-off" requirements in sentences, which prohibits defendants from returning to designated areas. She said that practice was often used in the areas around City Park off of East Colfax Avenue several years ago.
Heckman also pointed to a grant funded several years ago that established a treatment and recovery court for repeat offenders of sex work. She said the work that court accomplished has largely been rolled into the city's wellness court.
"It did really help recidivism," Heckman said.
Businesses that were already providing massages in the city prior to June 23 have been grandfathered into some of the new regulations, including a waiver for a $200 application fee.
Masseuses that practice alone, or provide various alternative therapies, are exempt from many of the new regulations. Vaughn said there are about 80 such solo practitioners in the city.
Vaughn said the city received 24 applications by the Sept. 14 deadline. The city has granted nine of those applications so far, and denied the aforementioned three. The remaining 12 applications were granted extensions. Vaughn said about half of the businesses that have been shuttered were closed with the help of local landlords, while the other half simply had their licenses revoked.
He said the city has "suspicions" about the legitimacy of three to five of the outstanding applications.
Some officials have voiced concerns regarding the new policy, fearing the city could pass the buck of illicit prostitution to neighboring municipalities. 
Vaughn said he knows of at least one massage facility that has been shuttered in Aurora in the past year and has since reopened in Denver.
To stem those fears, Vaughn said in February the city hosted a meeting regarding the new rules with the Colorado Trafficking and Organized Crime Coalition, which comprises law enforcement agencies from across the state and the Denver Division of the FBI. Additional municipalities have specifically contacted the city to ask about the new application rules in recent months, Vaughn said.
There are more than 9,000 illicit massage parlors across the country, according to a January report from the Polaris Project, a Washington D.C.-based nonprofit organization that advocates for anti-slavery policies. Those businesses net an estimated $2.5 billion annually.