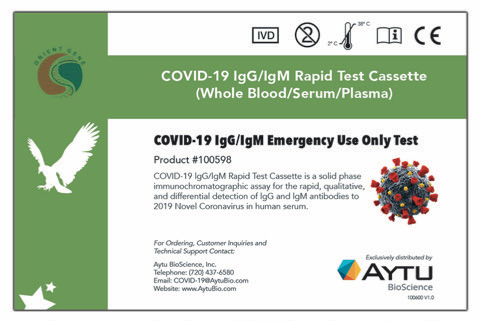 AURORA | The city of Aurora last week purchased 2,000 fast-acting novel coronavirus test kits for local cops and firefighters as COVID-19 continues to worm through the ranks of the city's public safety personnel.
Interim Police Chief Vanessa Wilson on April 2 brokered the procurement of the test kits from Aytu Bioscience, an Englewood-based pharmaceutical firm, according to Lt. Chris Amsler, spokesman for the Aurora Police Department. The tests were picked up April 3.
The testing materials will be split among the city's two public safety entities: 1,250 kits for police and 750 for fire, according to Sherri-Jo Stowell, spokeswoman for Aurora Fire Rescue.
At $25 a piece, the city paid $50,000 for the batch of tests, Amsler said.
The tests have yet to be put into use as Dr. Eric Hill, medical director for the local fire department, is still finalizing how the materials will be administered.
The tests are reported to be able to return positive or negative results in as few as two minutes.
The Englewood company behind the tests validated their efficacy in a recent 126-patient clinical trial, according to the firm's website. The tests were approved for distribution under an emergency policy implemented by the Food and Drug Administration, though the FDA has not reviewed Aytu Bioscience's clinical validation.
There were 61 Aurora police staffers either in self-isolation or quarantine as of April 7, according to Amsler. Of that total, 53 workers were sworn cops and eight were non-sworn staffers in the dispatch, records and property units. That accounts for roughly 7 percent of the sworn police force in the city.
Those totals are nearly double the numbers of police staffers who were out of work because of the virus last week, according to information provided to Aurora City Council members.
In an email, Amsler said the new test kits will ideally help reduce community spread among officers.
"It is extremely important to ensure that our police officers and firefighters are not only healthy, but are not contributing to the spread of COVID19," he wrote. " We have already taken steps to minimize their exposure to COVID19, but when fighting an 'invisible enemy,'  we can never be too cautious.  These tests are another tool to help us keep everyone safe."
Last week, Wilson issued a memo detailing protocols for when Aurora cops should isolate following possible exposure and when they will be allowed to return to work after any symptoms have subsided. The guidance generally follows federal guidelines.
Fire Chief Fernando Gray outlined similar protocols for fire workers last month.
The number of Aurora firefighters out because of COVID-19 has remained relatively steady for about a week, with 13 fire workers self-isolating or quarantining as of April 7, according to Stowell. That's down from 18 firefighters out on April 2. The current absences account for roughly 3 percent of the city's fire force.
Gray also lauded the recent procurement of the tests.
"These rapid tests are part of an enhancement to our comprehensive plan to manage the COVID-19 incursion into our community," he said in a statement. "This plan allows the department to make more informed decisions which ensures that we keep and get healthy employees back to work."