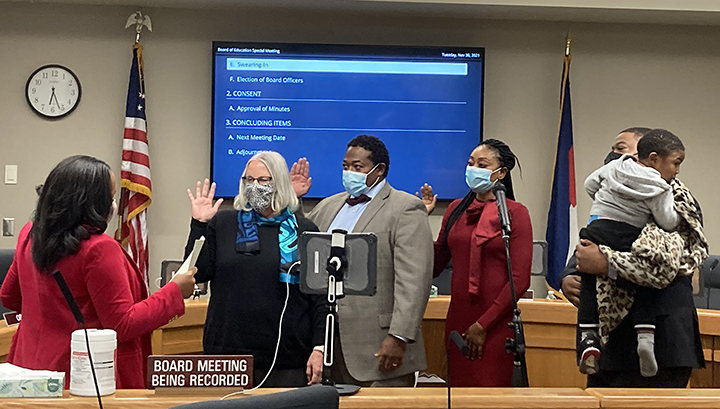 AURORA | Three new members and one incumbent were sworn into the Aurora Public Schools board of education at a special meeting Tuesday night.
Anne Keke, Tramaine Duncan and Michael Carter were sworn into their first term after being elected to the board in November, and Debbie Gerkin was sworn in for a second term after being reelected. She was the only incumbent in the race.
While the new school board did conducted only housekeeping business Tuesday night, the district faces a bevy of crises and challenges immediately.
Most recent, two Aurora high schools were connected to recent shootings that left nine teenaged students wounded and a community looking for answers. School District Superintendent Rico Munn this week announced increased school security, including closed campuses during lunch.
The district is also facing a large number of students who have fallen seriously behind expectations, largely because of the pandemic. Aurora Public Schools has also experienced severe staffing shortages, shifting and diminishing enrollment, forcing the district to close or convert some schools.
Gerkin was first elected to the board in 2017 and is a retired APS teacher and principal. Duncan is a middle school teacher in Denver Public Schools. Carter is a criminal defense attorney and the husband of an APS teacher. Keke is a teacher at Colorado Early Colleges with a doctorate in criminal justice.
At the meeting the district bid farewell to outgoing board members Kyla Armstrong-Romero, Marques Ivey and Kevix Cox. Board members Vicki Reinhard, Nichelle Ortiz and Stephanie Mason joined the board in 2019, and have two more years on their first term.
Cox was not present at the meeting, but Armstrong-Romero and Ivey both gave emotional farewell speeches, thanking the community for its support and wishing the new members well.
Ivey said that he was proud to see two of his children graduate from APS and is looking forward to the graduation of his third in a few years.
"I don't care what anyone says, APS is the number-one school district in the State of Colorado," he said.
Armstrong-Romero gave birth to twins last year and another baby this year, and she said that she struggled with pregnancy complications throughout her school-board term, including one night where she miscarried during a board meeting.
"I remembered hoping I would not bleed through my clothes," she said.
She thanked her family for making it possible for her to serve.
Munn presented Ivey and Armstrong-Romero with a plaque and thanked them for their commitment.
"It is incredibly difficult work, and often thankless work," he said of serving on the board.
After the official swearing in, the board voted in Gerkin to serve as the next president after she and Keke were both nominated and Keke declined the nomination.
Keke said that she was honored but for the sake of unity was going to go with Gerkin, whom she described as a friend. She said she believed Gerkin would do a good job, but that she would hold her accountable to her promises.
"I will be breathing down her neck," Keke said. 
Gerkin said she believed her experience on the board made her the best candidate for the position, especially as it navigates multiple crises including the ongoing pandemic and on-campus shootings.
"I don't have all the answers, and that's why there's all of us working together," she said.
She acknowledged that some people believe that she is "too soft" for the role, but said that was inaccurate and she knows how to have tough conversations.
Mason, who nominated Keke, was the one "no" vote to Gerkin's appointment.
Keke, Mason and Duncan were nominated for vice president, with Keke declining that nomination as well. Mason was ultimately selected.
"I want to be out there doing the work, not talking about it," she said.
Ortiz nominated herself for treasurer and Carter nominated himself for secretary, both uncontested.
The board will have no shortage of business to address, as the district continues to navigate the pandemic, its ongoing Blueprint APS building plans, youth mental health issues and now the aftermath of two shootings on or near district high schools the week before Thanksgiving that left the community shaken.
During the pandemic the board has faced criticism for an inability to take decisive action and for not focusing enough on student achievement, something several of the new members criticized during their campaigns.
The first meeting with the new members is scheduled for Tuesday, Dec. 14.