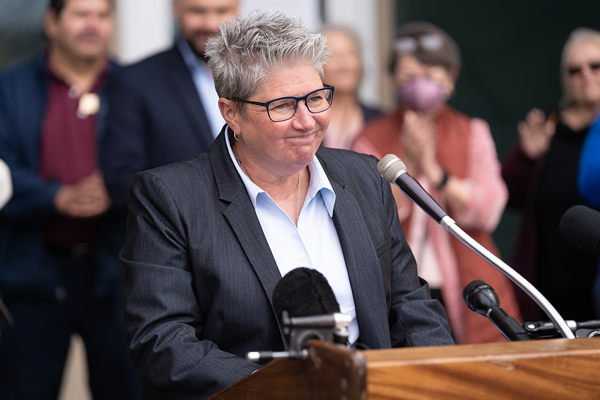 AURORA | An Aurora police lieutenant has countered allegations made in a federal lawsuit that ex-Chief Vanessa Wilson interfered in a domestic violence investigation between her former romantic partner and that woman's ex-girlfriend, an allegation that a city spokesperson called "news to city management."
The 67-page complaint filed Wednesday in U.S. District Court on behalf of Kristin Nichols accuses Wilson's ex-girlfriend, Robin Niceta, of framing Nichols for domestic violence and using her relationship with Wilson to have Nichols arrested.
"Upon information and belief, Ms. Wilson used her power as the Police Chief of APD to ensure Nichols was arrested," the complaint says. "Ms. Wilson called the Assistant District Attorney for Adams County to ensure Nichols was arrested."
Lt. Bob Wesner of APD told The Sentinel that he interviewed Wilson as part of an investigation into her involvement in the domestic violence case. He said the chief was not found to have involved herself and that "she allowed us to do our investigation free of any influence from her office."
"I checked to see if there was any interference from her as a supervisor," he said. "I did not find any."
Wednesday's complaint cited no evidence to support allegations that Wilson interfered in the Nichols case.  The complaint also names an Aurora detective, the City of Aurora and others as defendants.
Niceta has been accused separately of fabricating an allegation of child abuse against Aurora City Council member Danielle Jurinsky, for which Niceta was charged with multiple crimes and ordered in December to pay $3 million in civil damages. The child abuse tip came a day after Jurinsky criticized and insulted Wilson on a regional talk radio show.
A lawyer representing Niceta in her criminal case did not answer a request to comment on the lawsuit filed this week.
Nichols' complaint says she and Niceta talked on a dating website and met for the first time in person in March 2017. They started dating soon after, and moved in together shortly after that.
The complaint claims Nichols moved out of their shared home in November 2018 due to Niceta's "verbal, emotional, and psychological abuse." Over the following years, Nichols alleges that Niceta used her shared custody over Nichols' young child to manipulate Nichols into an abusive relationship.
Even after their relationship reportedly ended in January 2021, Niceta continued to try to frame Nichols for crimes and threatening behavior, Nichols alleges.
In August 2021, Niceta was hospitalized after she was reportedly attacked in her home while sleeping. Just after the attack, Niceta called Wilson, who, the complaint says, called an assistant Adams County district attorney to facilitate the arrest of Nichols.
Property records show Niceta owned a home in Arapahoe County until June 2022, which a source close to the matter said was her residence, placing the attack outside of the reach of the 17th Judicial District Attorney's Office. The filing did not explain why the district attorney for that county would have been contacted, having no jurisdiction over the case.
The 17th Judicial District Attorney's Office and a lawyer representing Wilson in a wrongful termination lawsuit against the City of Aurora did not respond to emails seeking comment.
The complaint also says that Wilson advised police officers who called her from Niceta's phone while Niceta was in the hospital that Nichols was "dangerous" and later "bragged about getting her current girlfriend's ex arrested to other officers in APD."
The Aurora Police Department said in response to a request for related officer body-worn camera footage and other records associated with the August incident that those records had been sealed.
Nichols' lawsuit says charges against Nichols for assault, burglary and other crimes were later dropped. 
An Aurora detective, Nathaniel Moss, was also named in the lawsuit, which alleged that he arrested Nichols solely on the basis of comments by Niceta, Wilson and Nichols' 5-year-old child. He also allegedly did not mention the age of Nichols' child to the court, and police named Wilson as a witness without describing her relationship with Niceta.
An arrest warrant for Nichols obtained by The Sentinel shows that Moss did include the age of the girl. 
"Officers swore out an arrest warrant for Nichols without having physical evidence that she was at Niceta's home that night, such as fingerprints or DNA, without having Crime Scene Investigators process the scene, without testing the bed sheets, or canvasing Nichols' neighborhood for camera footage," the complaint reads.
In the arrest warrant, Moss wrote that Niceta said Nichols had access to the home after not returning a key and garage door opener after the two broke up. Niceta told officers that she was awoken during the middle of the night to Nichols' voice, but couldn't recall seeing her due to the attack, which left bruising, scratches and "strangulation marks" on Niceta's neck.
The city was accused of having "a custom, policy, and practice of accepting, condoning, ratifying, and even encouraging unlawful omitting of important material information in swearing out affidavits for arrest" and was further criticized for its training of police officers.
In a statement attributed to city spokesman Ryan Luby, the city did not address the specific allegations in the lawsuit but reiterated that Wilson had been fired because City Manager Jim Twombly "lost trust and no longer had confidence in her ability to lead the Aurora Police Department."
"Mr. Twombly stands by that decision," the statement says. "We have not been served with the lawsuit nor have we had the opportunity to fully review it to determine next steps. Nevertheless, the reported allegations are news to city management."
More than once city agency and employee are named in the suit, and the city did not offer whether and how it would provide legal counsel for Wilson and others, customary for government employees who were employed at the time of legal allegation.
The Adams County Department of Human Services' Division of Children and Family Services, county commissioners and individuals involved in the county's child welfare work were also named for alleged missteps that impacted Nichols' custody of her child.
A scheduling conference is tentatively slated for April 4.
— Managing Editor Kara Mason contributed to this report