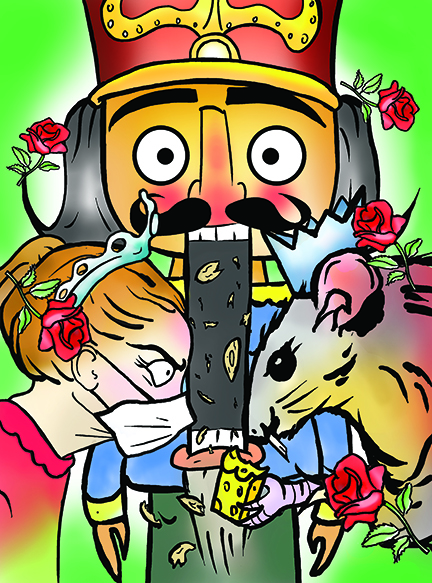 Who among us hasn't lamented that 2021 was everything we didn't think it would be after 2020?
Now, with more unsettling pandemic news on the horizon, the call to celebrate or call it off is in the mix — again.
Sentinel staffers have got you covered for making this holiday season as festive as you want or can tolerate, no matter how done or undone you are by almost two years of life in the pandemic.
Get outside, and stay outside, ogling incredible holiday lights displays, or skate on someone else's thin but solid ice at an outdoor ice skating rink.
Vaxxed to the max and ready for something inside and resembling the old normal before the pandemic? We've got the top list of shows and exhibits to make the holiday more like the old ones.
Check out all you can do in the next few days and weeks to get out of the pandemic mode and into 2022.
To do at the crest of '22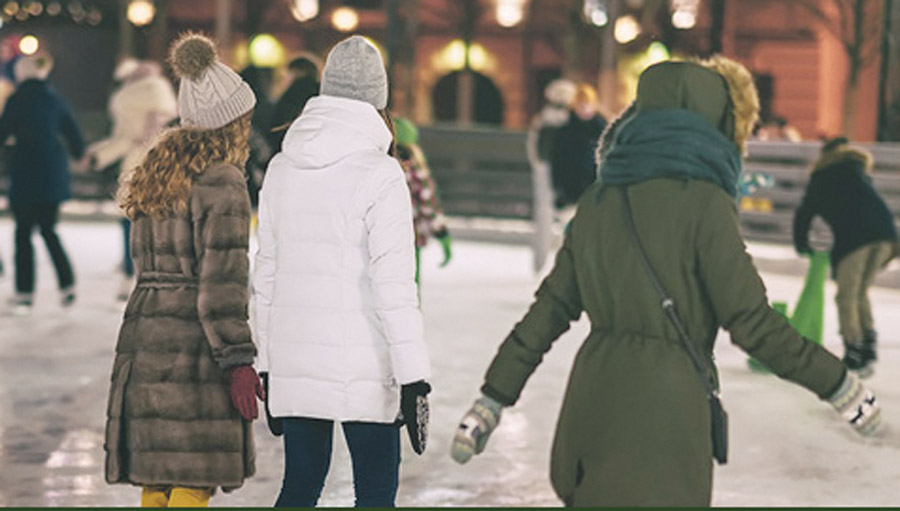 Ice Skating at The Pond Ice Rink at Southlands Mall
Now through Feb. 20, 2020 Ticket information can be found at www.shopsouthlands.com/eventprograms/thepond
Few things scream winter activity more than ice skating. The opening scene of A Charlie Brown Christmas taught us that. Luckily, Southlands Mall has again opened their ice skating rink The Pond for another year of lacing up the skates and moving throngs of others as one unit, counter-clockwise. And even with the unseasonably warm weather, the fine people of Southlands Mall have found a way to bring this tried and true tradition to life once again. Given the social distancing protocols resulting from the ongoing pandemic, reservations need to be made this year and tickets can be purchased well in advance through the website above. As well as taking social distancing into account, due to the Tri-County Health mandates, masks are required inside the skate rental building. But that small requirement shouldn't hinder the fun times you are sure to have on the ice. So, after you return that ugly sweater you are sure to get this holiday season, make sure you take some laps around The Pond.
Winter Wanderland
at Cherry Creek North
2401 E. 2nd Avenue, Denver
If you want to enjoy some Christmas lights without having to wander too far afield, look no further than Cherry Creek north. The mall's "Winter Wanderland Light Walk'' is up through Dec. 31. The nearly one-million light display is completely free to enjoy (provided you don't get sucked into doing some shopping while you're there) and even comes with the opportunity to win a $1,000 gift card. Along with lights there are eight sparkling trees choreographed to music and "Domino Effect," an interactive art installation featuring 120 giant dominoes.
Blossoms of Light:
Denver Botanic Gardens
Nov. 19 through Jan. 8. $16-19 for members and $18-20 for non-members. 4:30 p.m. to 9:00 p.m.
Tis the season to fill your senses… that's for sure. With the sweet smells of evergreens and a variety of potpourri in local shops, your sense of smell is getting quite a workout. But why stop with just one of the five? Let's give those eyes some excitement too, by filling them with thousands upon thousands of colored illuminated bulbs. You can find this aesthetically pleasing abundance of technicolor dreams by taking the fam on a tour of the Blossoms of Light at the Denver Botanic Gardens. The gardens say the tour takes roughly 60-75 minutes to complete. There is even a new feature this year that starts off the tour — a 200 foot long, 17 foot tall tunnel of animated lights. For more than three decades, this has been the featured event at the Denver Botanic Gardens and it is certainly worth checking out. It continues beyond the Christmas holiday into the first week of January, so be sure to book your tickets. These are literally the darkest days of the year, which seems reason enough to get out to the Botanic Gardens.
Glamp Christmas
Now through Jan. 2. Ticket prices vary, $8 – $25. Heritage Lakewood Belmar Park 801 South Yarrow Street, Lakewood, CO 80226. www.denvercenter.org.
Creator Lonnie Hanzon is at it again with Camp Christmas, but this year it's bigger and better than ever. In 2019, the show was contained to Stanley Marketplace's Hangar, but the over-the-top Christmas immersive experience grew and grew and now calls Lakewood home. The exhibit takes on two meanings of camp: like if summer camp was dreamt up by the big man in red and also if his fashion taste was so bad it was actually kind of good (see: Met Gala 2019).
Sip seasonal cocktails, surround yourself with all the holiday spirit (yes, all of it) and visit Santa's "glampsite" each day from 10 a.m. to 10 p.m. until Jan. 2 when Mr. Claus packs it up and heads north and Hanzon starts dreaming about what to add to next year's event. For more information on tickets and time, visit www.denvercenter.org.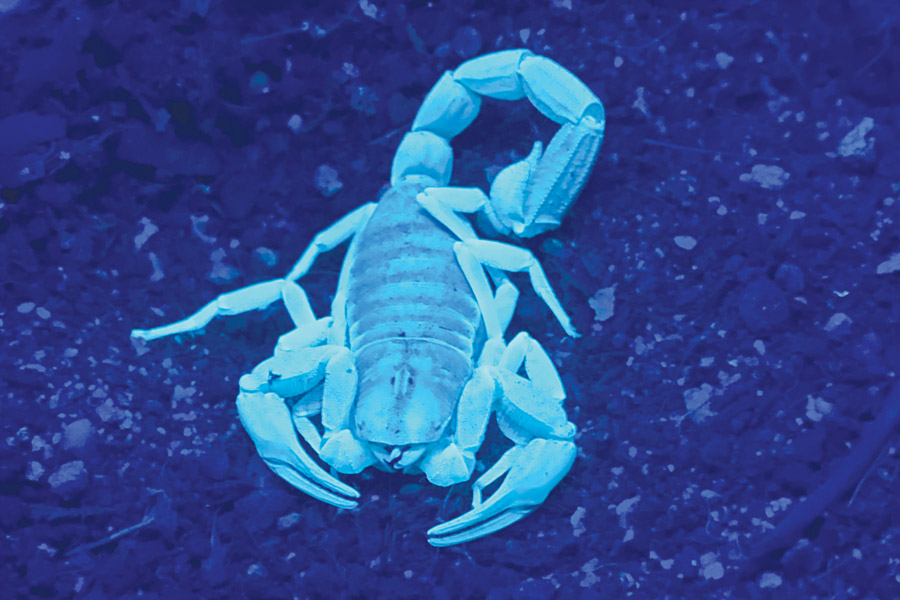 Living Lights
at the Butterfly Pavilion
Dec. 17 through Jan. 2. Adults: $15, children $10 and seniors $11. 6 p.m. to 10 p.m. Last entry at 9:15 p.m. Reservations required. www.butterflies.org.
If you don't think "holiday magic" when you hear the words "biofluorescent invertebrate," then it's time to visit the Butterfly Pavilion in Jefferson County for its new Living Lights immersive experience. Glow in the dark scorpions, a firefly forest and even a dark dance party and aerial performers are all part of the experience. It's like if bugs had a holiday laser show extravaganza.
Catching a glimpse at the creepy crawlies isn't just entertaining, "but also helps foster an appreciation for invertebrates and their integral role in ensuring a healthy planet," the organization says.
To attend, visit www.butterflies.org for tickets and a reservation.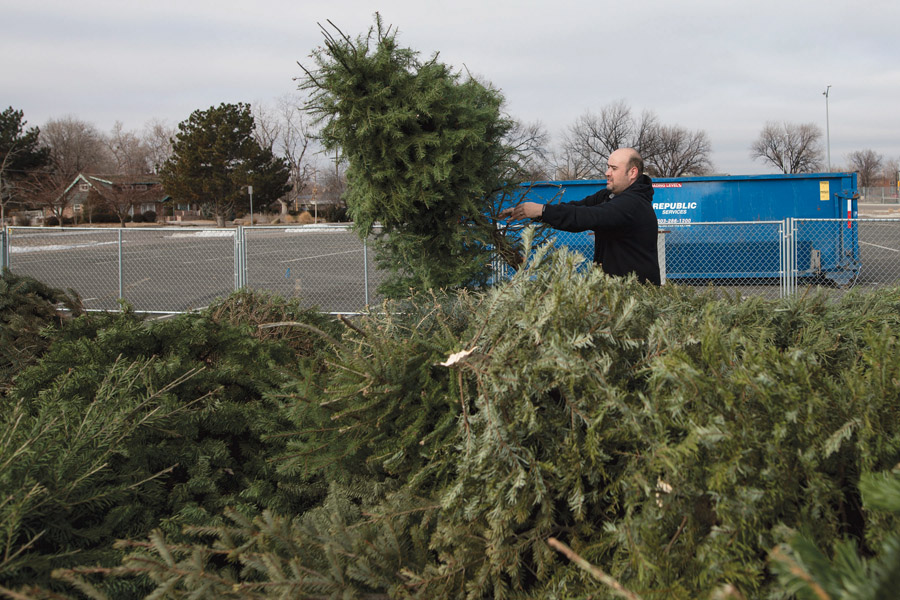 Christmas Tree Recycling
Dec. 27, 2021, through Jan. 10, 2022
Del Mar Park, 12000 E. Sixth Ave., Saddle Rock Golf Course,  21705 E. Arapahoe Rd. or Olympic Park, 15501 E. Yale Ave.
For some it is tradition to keep their tree up until Jan. 6, which is known as Epiphany. Some keep their trees up until the Stock Show leaves town at the end of January and others just want it out of their house, celebrating the end of stress season. No matter what you prefer, the city of Aurora makes it easy to get rid of your live tree once you're all Christmassed out. Why not have one last hurrah and take the whole family to recycle the tree? There are three locations throughout the city where you can drop your tree to be recycled. Just make sure it is stripped of ornaments, nails or any other accoutrements you may have decorated your piney friend with. What's more? It's free! That's right, for the nominal fee of nothing, the city will safely dispose of your tree.

Denver Art Museum exhibits
100 W. 14th Avenue Parkway Denver 10 a.m.-5 p.m., closed Christmas. Tickets $13 for Colorado residents, purchase in advance online at denverartmuseum.org
The Denver Art Museum is back with several gorgeous displays of art and sculpture. Whistler to Cassatt: American Painters in France explores the impact that French painting styles had on American artists, and features over 100 paintings from the 19th and early 20th century by standouts such as John Singer Sargent and Mary Cassett. The exhibit only runs through March 13, so don't miss out. If traditional art isn't quite your thing, also on display are two collections about design and a collection about women's fashion. The renovated Martin Building is host to an exhibition of Latin American art. Currently, masks are required inside the museum for all visitors regardless of vaccination status.
Upcoming theater productions
The explosion in live theatre brought on by the holidays has died down, and you've probably missed your chance to see A Christmas Carol or The Nutcracker this season. But not to worry — there are still plenty of other plays and musicals on the horizon. In Denver, the comedic musical The Other Josh Cohen is running at the Garner Galleria Center. The 90-minute romp is described as "life-changing laugh-fest that will leave you feeling better about the world." If you're in the mood for something more hair-raising, Who's Afraid of Virginia Woolf? is running at the Singleton Theatre beginning Jan. 7. The ultimate story about a dysfunctional family will be sure to make any strained moments over the holidays seem blissful in comparison. Buy tickets to both online at denvercenter.org. In Aurora, the Spinphony quartet will be serving up an eclectic New Year's Eve performance that mashes up contemporary favorites with traditional classical songs. Tickets are $28-$40, and can be purchased online at aurorafoxartscenter.org. Masks are required to be worn during performances at all venues.
Children's Museum
Noon Years Eve
Fri. Dec. 31 at 10 a.m., noon and 2 p.m. General admission applies. For more information, visit www.mychildsmuseum.org/events/
What's better than celebrating the end of 2021 with a ball drop? Celebrating the end of 2021 with a ball drop at noon. The Children's Museum in Denver has the right idea. Get all the fun stuff out of the way early on so you can snooze right into 2022. The family-friendly event will be held in the museum's new exhibit SNOW DAYS!, which brings all the best parts of snow days into one place without, well, you know. Reservations for the event are now open. Watch the ball drop at 10 a.m., noon or 2 p.m. Music and treats from The Testing Kitchen will be included with the event. General admission costs apply.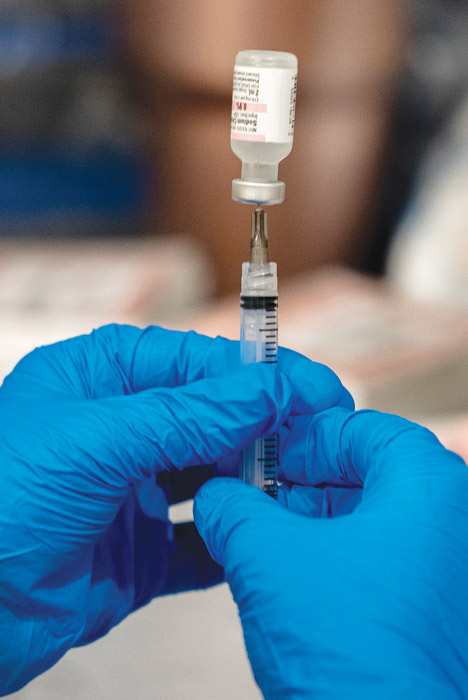 Get a Booster Shot
'Tis the season… to avoid the omicron variant.
A variety of vaccination clinics will be open and offering first, second and booster doses in an effort to help curb the pandemic. Colorado boasts 1,800 vaccine providers across the state and several pop-up clinics will be easily accessible at big events through the beginning of the year and beyond.
While you're picking up last minute gifts, swing through the clinic at the Aurora Municipal Center. Hundreds of appointments are available, as are walk-ins. If you're thinking of hitting an Avalanche game, make sure to wear layers. Not just because it's chilly ringside, but because your nurse will want a straight shot at your bicep. Clinics will be set up at the Dec. 29 game, the Dec. 30 Nuggets games and the Dec. 31 Mammoth game.
Other large vaccination sites will be operating across the state. Visit www.covid19.colorado.gov for hours and addresses. Need a ride? No problem. Dial 2-1-1 or visit 211colorado.org to get help making it to a vaccination appointment.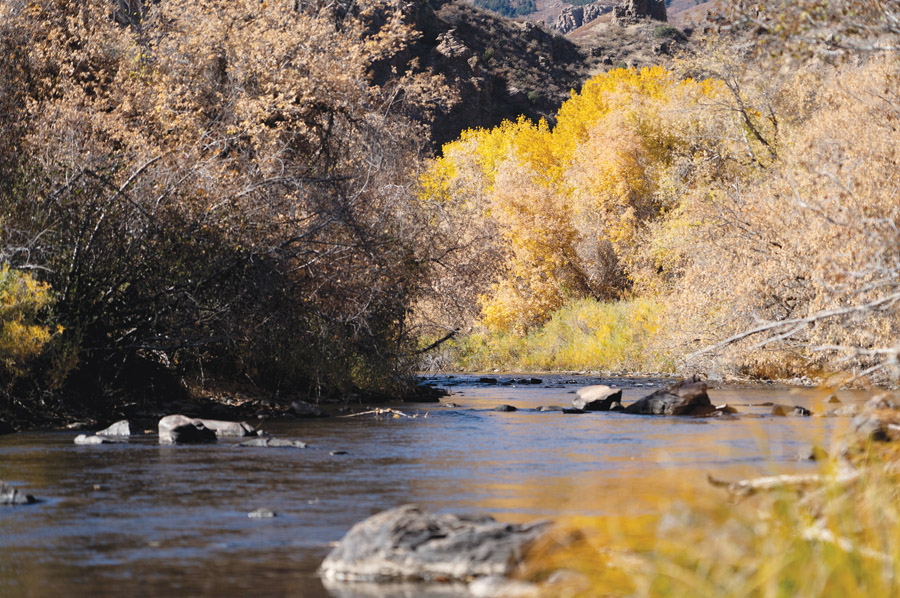 Hike Through Waterton Canyon
12437-12489 Waterton Canyon,
Littleton, CO 80127
Over the river and through the woods, to Waterton Canyon we go… This dirt road hike is as easy as it gets. Winding through Waterton Canyon you can hike all the way to Strontia Springs Dam, should you decide to trek the 6.2 miles, one way, to the base of the dam. But if you don't feel like schlepping the 12.4 mile round trip, take the leisurely approach and saunter along this trail that runs along the South Platte River, which, conveniently enough, feeds Aurora 50% of its water. Since this trail is used as a service road by Denver Water, the paths are wide and suitable for hiking and mountain biking. Should you just want a nice relaxing lunch outside to take in this unseasonably warm weather, there are riverside picnic tables littered throughout this canopied escape just 35 minutes outside of the city. And speaking of litter, always make sure you pack out what you pack in. Leave only footprints. Who knows, you may even spot a Bighorn Sheep or A Bald Eagle
Tour Colorado Springs' Gingerbread Houses
1 Lake Avenue, Colorado Springs, CO 80906
Forget gingerbread houses this holiday season (like the rest of the market, they're already spoken for by multiple cash offers from Californians). The Broadmoor Hotel in Colorado Springs has upped the ante and built a 2,000-pound gingerbread chateau. It took 10 pastry chefs more than 288 hours to build the 10 feet tall, 12 feet wide abode, according to the local newspaper. That's more than 400lbs of flour and 950lbs of powdered sugar.
You can catch a glimpse of the sugar plum mansion through the beginning of the year. After that it's being bulldozed for condos.
New Year's Eve fireworks
Can't wait for this year to be over? Join the club, buddy. For a festive way to say "good riddance" to 2021 and ring in the new year, head down to 16th Street Mall on New Year's Eve, where fireworks will once again be set off after being canceled last year. There will be one display at 9 p.m. for the early risers and another at midnight. Each display will be about eight minutes long and choreographed to music. The fireworks can be seen from anywhere on the mall, and DJs along the mall will be playing tunes from 8 p.m. to midnight. RTD travelers should be aware that light rail trains will not cross 16th Street Mall from 8 p.m. to 1 a.m.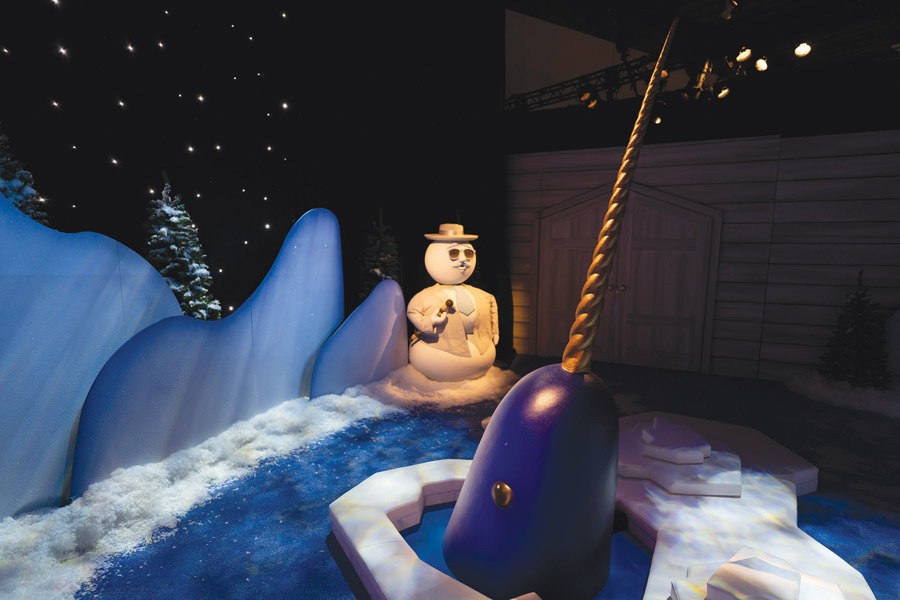 Christmas at Gaylord Rockies
Nov. 19-Jan. 2, 2022
https://christmasatgaylordrockies.marriott.com
The oasis that can be seen from Aurora from many places on a clear day is again a bustling site of winter activity, if you don't mind being around a bunch of other people this holiday season. The place has seriously gone over the top for Christmas this year, doing so even though Colorado is far from a Winter Wonderland this year with nary a sprinkle of snow. Snow doesn't come inside anyways (does it?), but there is plenty of cold-themed entertainment inside the doors, including the Holidaze show that promises a cast of holiday characters coming to life, all for as low as $19 per ticket (or as high as $109 depending on how much you have left in your wallet this season) for shows at 3 p.m. or 7 p.m., including two performances on Christmas Day that still have availability. A multi-sensory experience with Buddy the Elf, snow tubing, ice skating, gingerbread decorating, shopping and more can give any family ready to make the trek out near Denver International Airport hours of fun in tough times.
Christmas in Colorado
at Bandimere Speedway
Nov. 19-Jan. 2, 2022
Tickets $35-$40 (one per car) available at christmasincolor.net
The slowest cars to run at Bandimere Speedway — which carries the moniker Thunder Mountain and draw flocks of those with the "need for speed" — come during the Christmas In Colorado experience, which runs 5:30-10 p.m. daily through the second day of the new year (though it is closed Christmas night) and offers endless treats for the eyes. If you're not thrilled by the light displays in your neighborhood — many seem to think the lighting spirit is sorely lacking this year — then head to a venue that is set up to thrill with a boasted total of 1.5 million lights. Run the venue's musical broadcast through your FM radio and marvel at the giant candy canes, snowmen and arched pathways as long as your driver pays attention as nobody needs a holiday fenderbender. Pack as many people as you can (safely, of course) into the vehicle and only one ticket is required. Tickets (which require just one per carload) vary from $35 to $40 depending on the time slot purchased, which come in half-hour increments (enter any time during that window), and can only be purchased online to make it a contactless process.
Special Olympics Ski Coach
at Copper Mountain
Sign up now for January and beyond
Go to SpecialOlympicsCo.org
You know you want it.
A sunny day high in the trees, fresh snow, newly sharpened ski edges and that look on someone's face when they're loving the snow ride.
Now mix in the pleasure of coaching not just some local Olympic skiers, but Colorado's Special Olympic athletes and you've got the perfect mix to a perfect new year.
Colorado Special Olympics is looking for a few good coaches and now is the time to sign up if you think you've got the right stuff.
"Right now, we are going to need 20 or more volunteer Alpine Skiing coaches by the middle of January," says Special Olympics of Colorado Marketing Director Ben Theune.
To make the grade, you need to be an experienced skier, able to commit about 12 hours on practice days over an eight-week period, able to get to and from Copper Mountain  on Wednesday or Sundays, and support more than one athlete at once, who have intellectual disabilities.
Special Olympics specialists teach you how to train and coach these athletes.
What do you get? Free lift tickets at Copper for the days you're there training, bus transportation from Colorado Springs and Morrison on Wednesdays and the opportunity to bring Olympic grins and goals to life for everyone on the team. Interested? Go to SpecialOlympicsCo.org
Holiday happenings
at Stanley
Looking for some nearby post-Christmas fun? On Sunday Dec. 26 the Tattered Cover kids bookstore at Stanley Marketplace will be hosting a Kwanzaa story time at 5 p.m. Whether you already celebrate the holiday or want to learn what it's all about, the bookstore will have plenty to teach about Kwanzaa history and traditions so that you can create some of your own. And if you're looking for more of an adult outing, several days later Cheluna Brewing Co. at Stanley will be holding a New Year's Eve pre-party on Thursday, Dec. 30 from 6-9 p.m. The brewery will have a live DJ, tamales, prize giveaways and, of course, plenty of beer.