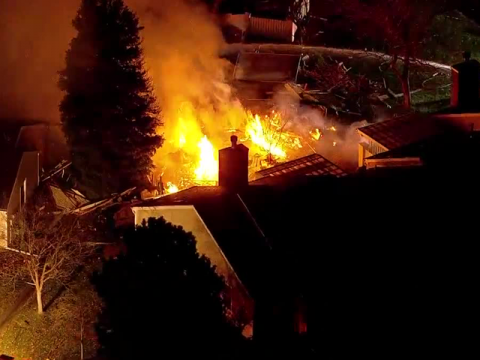 AURORA  |  Aurora firefighters say one person died in an explosion and large fire at a Heather Gardens senior community in Aurora.
Aurora Fire Rescue says the body was discovered early Saturday as they continued to investigate the fire that began on Friday evening about 5:30 p.m. Officials have said the fire at Heather Gardens involved a gas line in an area of the community, which offers single-family homes for those 55 and older.
Firefighters were at the scene among a group of patio homes investigating a suspected natural gas leak when one of the homes exploded into flames, officials said.
After determining one resident was unaccounted for, firefighters called in a canine search team  from Colorado Task Force One.  A body was discovered early Saturday morning.
"Our hearts go out to the many residents who are impacted by this tragedy and our department offers our deepest condolences to the family of the victim on this very sad day," Aurora Fire Chief Fernando Gray Sr. said in a statement. "We will continue to investigate the cause of this incident."
No information has been released about the deceased person. Aurora Fire Rescue says the body was found inside a home.
One firefighter was injured and has been released from a hospital. A resident also was injured but is expected to recover.
Other homes Heather Gardens were affected by the explosion and fire, and residents have been forced out at least temporarily because utilities were shut off to parts of the complex, officials said.  The American Red Cross has provided aid and housing.
— The Associated Press contributed to this report