AURORA | Aurora Mayor Steve Hogan told President Barack Obama and others that the nation needs to address video game violence and other issues as the country focuses on ways to end mass shootings. His comments came during a Denver roundtable discussion with Obama about gun issues April 3.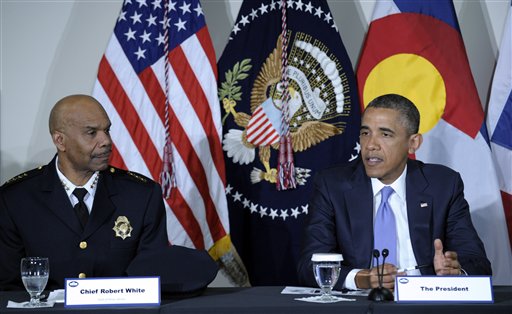 About 20 people attended the discussion ahead of Obama's public speech on gun control, including Aurora Police Chief Dan Oates, victims of the July 20 theater massacre, gun rights advocates, U.S. Sen. Michael Bennet, church members and representatives of the Bureau of Alcohol, Tobacco and Firearms.
Hogan said he spoke at the meeting about his concerns that violent video games and prescription drug abuse are contributing to violent shootings.
He said the conversation at the national level should also include mental health issues.
"We all agree that there's a problem of violence in society, and the answer is not just gun legislation," he said.
Hogan said Obama took notes during the roundtable discussion, which he appreciated.
Hogan also told the president that Aurora is split almost evenly among Democrats, independents and Republicans, and a majority of Aurora City Council members supported the universal background legislation at the Capitol. Hogan said the mood was respectful, and turned somber when theater shooting victims spoke.
"There was a candor, an honesty, and I thought it was good," Hogan said.
After the meeting, Obama thanked the group, Hogan said.
"He said it was clear there were going to be different views and different issues but it was the dialogue he hoped for," Hogan said. "He wanted people to start talking to each other instead of past each other."