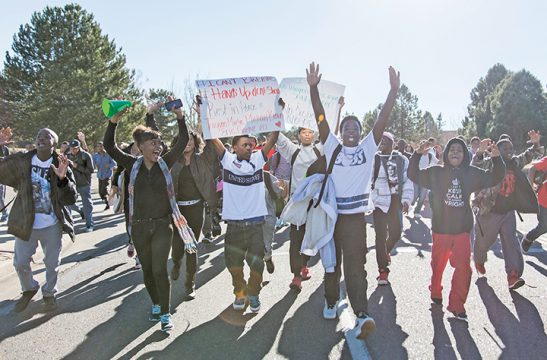 For teacher Karen Balutowski, the biggest challenges facing many of her first-grade students aren't in the classroom, but in the outside world.
Balutowski teaches at Lansing Elementary. The school is filled with mostly low-income students, refugees, English learners, and students receiving free or reduced lunches.
Recently, Balutowski discovered that one student of hers was being raised by drug addicts – on meth, she thinks – living out of a car with two other children, including a baby.
Expectedly, Balutowski's student wasn't focused on reading. She mostly kept to herself and would sometimes be nearly catatonic, even refusing to speak.
The children were usually dirty, and Balutowski had to give them clothes.
In other instances, other children would become angry and "blow up" for reasons she didn't understand.
"It's not so much kids hurting kids, but kids hurting themselves," Balutowski said, "Throwing chairs, we have holes punched in our walls, and rooms completely torn up."
Ines Barcenas, a sixth-grade math teacher at East Middle School, said she works with traumatized students every day.
"We have students that come in with all different types of issues or backgrounds," she said. "Whatever they may be facing, the hardest thing is to get them focused on school itself. Most of our students are in fight or flight mode when they come to us."
Trauma and mental health issues aren't limited to Lansing school, or even Aurora, despite high student populations of impoverished children and refugees in the Aurora Public Schools district.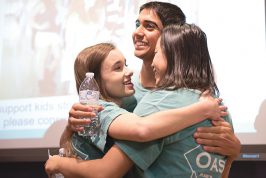 Across the state, there's growing agreement that students can't learn, or become healthy adults, if mental health issues aren't addressed. Programs tackling juvenile mental health are critical.
In APS, voters will consider a tax increase on Election Day that would land more social workers, counselors, therapists, and trained teachers in schools.
It's a sorely needed measure, said Barcenas, because teachers spend so much time being therapists instead of teachers. She said one student, who was living in motels, struggled at school.
"There were days where you would just hold him and say, 'We're going to get you through this,'" Barcenas said. "But he was a great kid, with lots of potential."
At East Middle School, there are two counselors and one psychologist serving 950 students, plus one social worker and a psychologist who work with special needs students. Barcenas explained the current process to help a student with trauma.
She said teachers usually notice if there are behavioral issues with students — especially if the teacher has been trained to identify mental health disorders like post traumatic stress syndrome.
When a student is acting out — or shutting down — and mental health seems to be a factor, a teacher will bring in one of the two counselors. From there, the counselor and teacher work together to figure out the best course of action for the student.
The problem is, there are too many troubled students and not nearly enough mental health professionals, school district officials and teachers say.
Depending on how traumatized or afflicted a student is, there are different courses of action. East doesn't currently have one of the 19 therapists provided by the Aurora Mental Health Center as part of their close link with APS.
If a therapist was available, said Aurora Mental Health Chief Operating Officer Kathie Snell, they may check-in with the student and recommend daily practices for the teacher, like strategies to de-escalate anger.
School staff may also meet with the student's previous teacher to learn what worked and what didn't in the classroom, or with the parents to better understand the student's life at home.
Parental issues can be an enormous factor in student well-being, said Bruce Wilcox, head of the Aurora Education Association teachers union. In Aurora, where about 20 percent of the population is foreign-born, kids may have witnessed atrocities in their former countries or are brought up by parents who have otherwise "brought trauma here."
Inside the classroom and out
Snell said a crucial aspect of Aurora Mental Health's work with APS is ensuring that students and parents can get smooth referrals to see a therapist or get other treatment. For example, the East student could substitute a therapy session for one science class a week — with a qualified mental health professional.
But if the problem isn't identified, this process won't even get off the ground, Wilcox said. There's also the real possibility that teachers, many of which already work 10-12 hour days, simply don't have the bandwidth to help all of the kids who need real care.
"It is difficult for a classroom teacher to be both a classroom teacher and provide services they aren't meant to provide," Wilcox said. "We need trained professionals. It isn't the same society it was 20 years ago."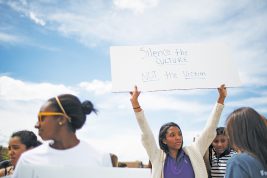 Barcenas said, in her experience, many teachers are themselves traumatized by what they learn about their students' lives, making it even harder to address students' needs.
APS Director of Mental Health and Counseling Jessica O'Muireadhaigh said there are currently about 150 mental health staff in all 63 schools.
That makes a ratio of about one professional to 490 students. Plus, many staff are limited to working with special needs students in individualized education programs. Many elementary schools don't even have a counselor, said APS Superintendent Rico Munn.
Munn said a long-running conversation about these needs prompted district leaders to propose ballot measure 5A, a local proposed tax increase that would fund mental health resources in schools if approved on Election Day.
He said the measure was also inspired in part by the mass shooting at Marjory Stoneman Douglas High School in Parkland, Florida, where 17 were killed this year. Munn and others including Wilcox, the teacher union president, said the local conversation has been colored by mass shootings like Parkland.
"You can't discuss mental health without in the background discussing school shootings," Wilcox said. "That's the extreme."
5A would raise $35 million for a broad student safety measure that would put seat belts on new school buses, raise teachers' wages and benefits, and place mental health professionals like social workers, psychologists and counselors in elementary through high schools.
The measure would be funded by raising property taxes about $8 a month for every $100,000 of home value. The homeowner of a $300,000 home would pay an additional $25 in property taxes each month.
About $13.4 million would go specifically into a broad category of spending called Aurora CARES, which helps fund everything from mental health resources to fire drills and security personnel in schools.
With the money, school staff and teachers like Balutowski and Barcenas would receive training to recognize behavior from students who may be experiencing trauma or other mental health issues before they become a crisis. The district-wide ratio of mental health staff to students would be increased as well, said O'Muireadhaigh, and staff would be placed where they are needed.
Snell said Aurora Mental Health could look at areas like those concentrated with Medicaid recipients as having a greater need for new staff, training and resources — not necessarily impoverished neighborhoods or areas with violence.
"That's probably a part of it, in part because those incidents get so much attention," Snell said. "But there is really a raised awareness of mental health issues generally."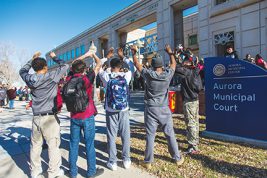 Mental health is personal for Mia Hayden. She's a student at Thunder Ridge High School in Highlands Ranch, and last year, her friend committed suicide.
Hayden and two other Thunder Ridge students joined Attorney General Cynthia Coffman this week at the Anschutz Medical Campus, when Coffman announced a $2.8 million grant for mental health research and treatment.
"As much as politicians use the word 'crisis', it fits," Coffman said.
This year, calls to the statewide crisis hotline Safe2Tell increased by 74 percent from the prior school year, mostly on suicide and drug issues. The Denver metro has also been rocked by a recent spate of student suicides, which is now the top cause of death for 10-24 year-old Coloradans.
Hayden, along with Rohan Nipunge and Melanie Zhou, had won a $10,000 grant of their own for a mental health nonprofit agency, Oasis, which aims to put more counselors in Douglas County schools.
"We hear about kids all over in news stories and things like that, but no one really feels the effect until it happens to them," Hayden said. "And all three of us went through that last year."
Getting political
Andrew Romanoff, former state House Speaker and now president of Mental Health Colorado, also joined Coffman at the press conference. He said mental health touches most people's lives. He pointed to the Thunder Ridge students as well as mental health initiatives in Pueblo, Westminster and counties including Denver as indicators that people are beginning to think differently about mental illness. 
"I think a lot of communities are realizing the importance of funding mental health care," he said. "Turns out it is a lot cheaper and effective to treat mental illness than ignore it or criminalize it."
Mental health is now a top issue in many statewide elections.
In the race for governor, Republican candidate Walker Stapleton has prioritized integrating mental health care into primary care for insurance providers in the state.
On his website, Democratic opponent Jared Polis said he aims to build better mental health resources in schools.
Romanoff and Mental Health Colorado recently surveyed all candidates for Governor and the state General Assembly, finding 94 percent of the 100 responders supported increasing availability for mental health services in schools.
State Sen. Rhonda Fields, a Democrat representing much of Aurora and the plains to the East, sponsored a bill earlier this year requiring the Colorado Department of Education to research evidence-based strategies to reduce bullying in schools.
The bill, SB 151, was inspired by the suicide of Ashawnty Davis, a 10-year-old student living in Aurora who reportedly killed herself because of bullying. The education department will present new guidelines to Fields in the coming weeks, which could then become statewide policies.
Fields also said the Legislature set aside $30 million to put more social workers in schools along with more school security personnel. That means helping students get the help they need before they end up in the school to prison pipeline, or worse, she said.
Democratic Rep. Dafna Michaelson-Jenet said her engagement in politics was inspired by her son, who has autism and struggled in school, but he didn't have access to a mental health professional in his school.
At one point, she said, he felt so frustrated at school that he tried to jump out of a window.
Michaelson-Jenet said she will sponsor a bill to address suicide in schools by placing one social worker for every 100 students in a school. The social worker would continue  to work with students as they age, forming relationships and preventing kids from getting off path.
"That focus will reduce both suicide and youth incarceration because it is that group of kids who are being missed by the system," Michaelson-Jenet said. She supports ballot measure 5A and said the two programs would fit together.
At a press conference on Tuesday, Hayden and other students were lauded for their advocacy. They said that students have to advocate for each other, or the stigma of coming forward with mental health issues will be too much of a barrier for kids who need treatment.
Coffman said many politicians are using mental health as a campaign slogan, but underscored the severity of Colorado's mental health crisis.
"From a cynical, political perspective, there is a lot of excitement — politically — to help them," Coffman said. "If it does that's great."