While police-worn body cameras have been hyped as a way to magnify accountability in police departments, including in Aurora and across Colorado, they're also adding costs that weren't necessarily forecasted when departments took on the tools.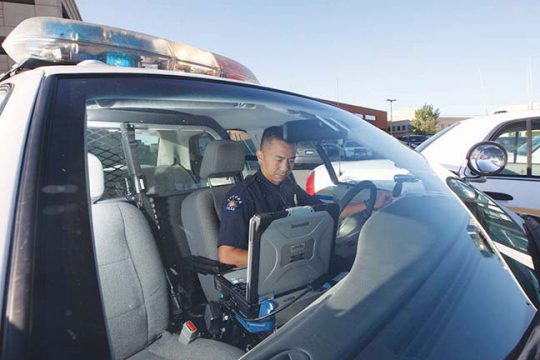 The prosecutor division in the Aurora City Attorney's Office told city lawmakers earlier this year it needs more attorneys and more help in the police department because it can't keep up with all the police body camera footage being produced in the field.
"We've had some unanticipated workload," Deputy City Attorney Julie Heckman said plainly after her department made the ask at a city council work session.
Her office requested four additional prosecutors to keep up with the amount of footage police are taking with body-worn cameras. Since 2014, the number of videos prosecutors say they've had to review has increased upward of 30 percent some years.
Aurora City Council members recently heeded Heckman's request, approving a budget calling for four new attorneys at an annual salary of $70,261, plus benefits.
Heckman said in 2014 prosecutors made 3,739 requests for body worn camera footage. There was a 33 percent increase the next year, with 4,971 requests. Last year, there were 6,809 requests. And all of those videos requested, Heckman said, have to be reviewed by attorneys.
That's just a fraction of what officers are actually capturing. In Aurora, 495 officers wear body cameras, and in May the department reported officers recording more than 41,000 videos for the month.
Typically, according to Heckman, each case the city prosecutes has about 11 videos — that depends on how many officers were on a scene. But more complicated cases can easily have double that number of videos.
That average was calculated with the exception of a few extraordinary cases. One homicide case this year had 159 videos, and another had 101 videos.
Attorneys go through every frame of each video, analyzing each detail and every angle captured at the scene. That then gets passed on to the defense attorneys, who also analyze every frame.
"Part of the problem is that our court is not electronic yet," Heckman said. "… that makes things a little more difficult."
Essentially, the office has to burn a CD and physically hand the video evidence over to the defense attorneys — it isn't transferable electronically.
But in the 18th Judicial District, being all-digital has its own set of problems when it comes to body camera footage. Vikki Migoya, a spokeswoman for the 18th Judicial District Attorney's Office, said storing all of that video has become expensive. But because the court is digital, Migoya said staffing hasn't become an issue for the court when it comes to reviewing footage. It was already prepared for that because police departments started using body cameras about the same time the court went electronic.
According to a 2016 report state lawmakers mandated, about 28 percent of the state's law enforcement agencies utilize body cameras and several more are considering using the devices. The goal of the report was to identify and recommend best practices on body worn cameras, but the report acknowledged there is a great deal to still learn about using the cameras.
"Law enforcement agencies are using BWCs for a variety of reasons, including improving evidence collection, evaluating and strengthening officer performance and accountability, enhancing transparency, documenting police-public encounters, and investigating and resolving complaints," the report said. "However, it is important to note that the deployment of BWC systems is in its infancy and much remains unknown about their operational and total cost of ownership impacts."
Indeed, Aurora Sen. Rhonda Fields, who often works on criminal justice issues, said police body cam footage and the amount of work and resources it takes to utilize the tool hasn't been a big conversation at the state Legislature.

The Colorado Association of Chiefs of Police President John Camper told the Sentinel it wasn't something his organization hears often either.
In Aurora, police first began looking into the implementation of body-worn cameras in late 2011. A small group of Aurora police officers — mostly with the traffic and motorcycle units — were later outfitted with cameras through a pilot program about five years ago. The number of cameras has slowly ticked up in the ensuing years, with about 150 cameras budgeted for officers in the city's northern District 1 in 2015, and several hundred more devices added in recent years. A handful of code enforcement and animal protection officers in Aurora also began wearing body-worn cameras in 2016. City council earmarked $32,000 to fund some three dozen more cameras for code and animal protection officers in 2017.
Provided by VIEVU, a subsidiary of a Florida-based company that distributes law enforcement equipment, the cameras used by Aurora cops cost about $900 each.
Roughly 175 Arapahoe County Sheriff's deputies and sergeants also wear body-worn cameras, according to Arapahoe County Sheriff Dave Walcher. A self-proclaimed proponent of the recording devices, Walcher said his office has also hired additional staff to handle video data in the roughly two years the program has been extended to all of his patrolmen.
"What a great investigative tool, when it comes to watching a guy with a weapon come up on our deputies, and hearing gunshots and how we respond to all of that," he said. "I think it makes for a better and clearer investigation."
Walcher said his office is looking into expanding the program to officers who work in booking at the county jail, civil deputies who serve court orders, and deputies work security in the court house.
Both Wacher's office and the Aurora Police Department spent years crafting their body-worn camera policies and practices through research, requests for proposal and pilot programs. Aurora police currently outline the department's body-worn camera policies in a nine-page document housed on the city website.
The rules and regulations detail how and when officers should use the cameras, as well as what punishments can be imposed on cops who misuse the devices. Punishments can stem from incidents in which officers turn the cameras off, turn them on late, fail to record a use of force incident, or neglect to turn a camera back on after a citizen asks to turn it off.
Officers are permitted four such violations in a 24-month period before their behavior is brought before the department's internal affairs bureau for investigation, according to the rules document, which was last updated about a year ago.
With few exceptions, cops are instructed to turn their cameras on whenever they contact citizens, think audio or video could help in gathering evidence, or are involved in a pursuit, according to the directive manual.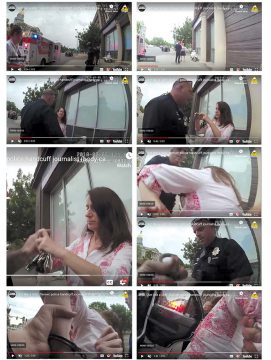 Officers can review the footage from their own cameras before they file police reports, and their supervisors have access, too. Officers have to upload footage within 72 hours of recording, according to department policy, but supervisors can delay the download for an extra 24 hours. Supervisors can also demand an immediate upload of data in high-priority cases.
Lieutenant Dan Mark, who helps manage the department's body-worn camera program, said the upload policies are designed to ensure officers have time to upload videos after their weekend — Aurora police typically work four days on, then get three days off. He said the vast majority of videos are uploaded to the cloud the day they're recorded.
"I would guess that over 95 percent of the time it's uploaded at the end of their shift," he said.
Aurora police body cam video has had a serious impact in at least a handful of cases, some which garnered international attention.
The American Civil Liberties Union says a graphic cop body cam video of a black Aurora man Tased in the back by police in 2016 illustrates a serious misuse of force by Aurora police.
Mark Silverstein, legal director of the ACLU of Colorado, said the cop-cam video was useful in pushing for what he said are needed police policy changes.
"If what you saw on video is compliant with Aurora police policies, the policies need to be changed," he said.
The edited video graphically depicted a man being violently Tased and then made fun of.
The incident occurred in February 2016 on Dallas Street near East Colfax Avenue when officers were racing to a report of a man who allegedly pointed a gun at a 6-year-old child.
Police had no description of the suspect's race, age or size, the ACLU said, only that the person with a gun was a man.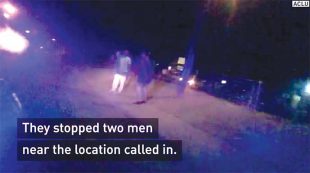 Officers spotted two black men —  Darsean Kelley and another man who was not named in the legal motion — walking along Dallas arguing with each other.
In the video, the officers demand that Kelley and the other man sit on the ground, but Kelley says he can't sit because of a groin injury. It's unclear from the video whether the officers held the pair at gunpoint, but the ACLU said an officer had a Taser pointed at them.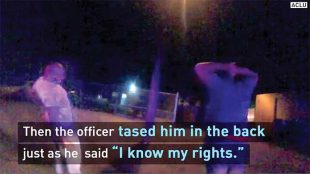 Kelley raises his hands in the air and continues to argue with the officers, demanding to know why he is being detained.
While Kelley has his back to the officers and his hands up, he drops his right arm slightly, at which point an officer shoots him in the back with a Taser.
In their motion, the ACLU says Kelley had a right to know why he was being stopped and posed no threat to the officers.
"The officer asserts that Mr. Kelley dropped his right hand toward his chest and the officer believed Mr. Kelley might have been reaching for a weapon," the motion said. "This alleged belief was patently unreasonable."
After being Tased, Kelley falls to the ground, wailing in pain. When Kelley begins to recover, he asks to talk to the officer's supervisor.
"Hey, look right here," the officer responded while pointing to what appears to be his body camera at Kelley.  "It's all on video, sweetheart."
Kelley was charged with misdemeanor disorderly conduct, the ACLU said, but those charges were dropped. A few days after charges were dropped, the ACLU released video of the incident.
Police never reported the incident to the public, but the event was reviewed by the department's new Police Force Review Board, according to police.
In a statement posted to the department's facebook.com page shortly after the ACLU shared the video, Aurora police Chief Nick Metz said that board cleared the officer, whose name has not been released.
"The (board) determined the force applied in this incident was within policy," Metz said.
The video has been viewed on Facebook more than 1 million times.
Police settled the case with Kelley for more than $100,000, but did not accuse the officers of wrongdoing.
Police currently have 88.8 terabytes of video footage — the equivalent of about 18 million digital photos in .jpeg format — stored on a cloud-based system, according to Mark. He said officers tallied 5,875 gigabytes of data with 46,161 videos in October.
To manage all of that data, the new city council budget also includes funding for four public safety technicians in the Aurora Police Department to manage all of the incoming footage from the cameras.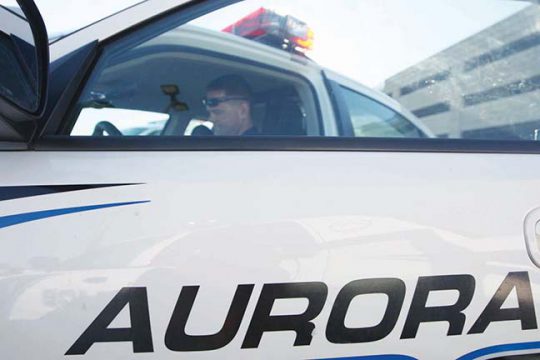 "A lot of people don't realize the scale or the amount of video that's produced by a police department," Mark said. "That kind of (speaks) to why the police department and the courts are looking at additional staffing and personnel just to manage that volume and that video."
Currently there is only one such technician at the department, "and one patrol officer temporarily detailed to manage the BWC footage, and others officers help out when they can," according to a presentation given to city council members this year.
"This is not an efficient use of officers' time, and they are barely keeping up with the workload," the presentation said.
"If the additional FTEs are approved, the workload would be centralized, more efficient and restructured into a digital evidence unit."
The department's current policy says footage from the cameras will be saved for at least 60 days, and supervisors can ask to extend a video's lifespan.
However, Mark said police typically hold on to videos for much longer than the 60-day minimum requirement. He said the department keeps footage of typical interactions for 90 days. If a summons is issued for a particular case in which video was recorded, the department holds on to the video for 180 days. In criminal cases, the department keeps the footage in correspondence with the statute of limitations for the crime. For traffic tickets, officers keep footage on-hand for nine months, Mark said.
But the city's body camera policies haven't been immune to criticism.
The Leadership Conference on Civil Rights, a Washington D.C.-based lobbying group, pilloried Aurora's use of body cameras in a report released last year that examined the body-worn camera policies of 75 departments across the country. While the group praised APD for clearly outlining its body-worn camera policies online, it condemned the department for allowing officers to review footage before filing a report, being opaque about some deletion policies, and not easily allowing people lodging misconduct complaints to view recordings, among several other factors. Police later clarified a person filing a complaint would be able to retrieve the relevant footage through an open records request.
— Sentinel Staff Writer Brandon Johansson contributed to this story.