Golden leaves. Pumpkin spice. Political ad nauseam.
Fall brings the inescapable carousel of political muck-slinging on radio, television and online.
Politicians across the state have been ramping up the annual, fall blitz of political mud-slinging on TV and Radio, inundating the airwaves with the expected slate of vitriol and black-and-white melodrama.
An attack released just days ago has created a firestorm of controversy due to allusions to a real school shooting in Colorado.
But are this season's ads, the likes of which work to uplift their bankrollers and besmirch the opposition, more prevalent or nasty than in years past?
Not really, according to Pavielle Haines, a postdoctoral fellow with the Center on American Politics at the University of Denver.
"I think it's pretty standard," Haines said. "Every election, the media tends to focus on how negative the ads are and … how attack ads are becoming more common in each election cycle, but really the scholarly evidence suggests that's not true."
Haines, who graduated with a PhD in political science from Princeton University this spring, said that while there is ample evidence showing negative ads can bolster a candidate's campaign, the tone of any compelling ad must be a meticulously blended cocktail of fact and craftsmanship.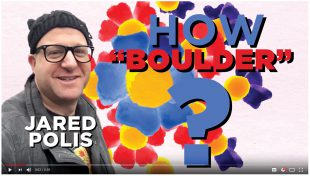 "It's a very smart strategy," she said. "There's so much research to show that when people are anxious or fearful and they think they have something to lose, when something is really at stake, they are much more likely to go to the polls.
" … But people actually have a very low tolerance for those blatantly derogatory or pejorative attack ads."
Haines said attack ads, which have dominated the political zeitgeist in this year's races for governor and the state's 6th Congressional District, are likely to gin up support among partisan die-hards, but they must strike a carefully constructed timbre to get moderates and independents to the polls.
"Undecided voters are the most likely to be persuaded, but also the most likely to be demobilized by an attack ad," Haines said. "Attack ads are not particularly effective at getting new supporters, but they can mobilize and get additional votes from partisan (viewers)."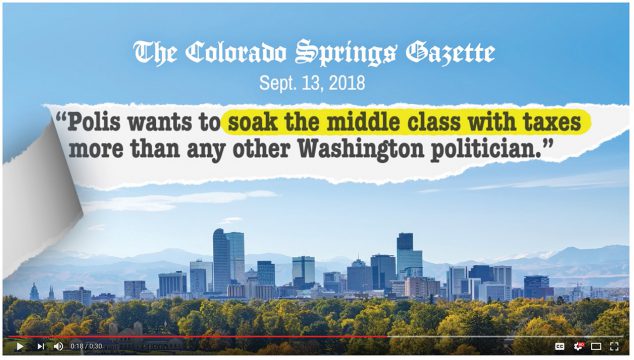 For the past half-century, political candidates have leaned into political ads for one key reason, according to Haines: they work.
"There have been over 20 studies since the early '90s, where one candidate goes negative and the other doesn't," Haines said. "The candidate who goes negative tends to be better liked by voters."
A notable exception to that trend was highlighted in Gov. John Hickenlooper's first gubernatorial bid in 2010. The former Denver Mayor was adamant about keeping negative ads out of the governor's race, and went so far as to air a now-famous ad condemning the practice of political finger-pointing.
This year's race for governor has been a far cry from Hickenlooper's staunch white flag (Negative ads run on Hickenlooper's behalf were run in his later races for governor). Gubernatorial candidates Walker Stapleton, the state's current Republican treasurer, and Democratic U.S. Rep. Jared Polis have been launching rhetorical salvos at one another for the better part of 2018, cranking up the bombast as Election Day nears.
Last month, the Polis campaign announced a nearly $3 million ad-buy for the end of October, a sum that dwarfs the total amount of money the Stapleton campaign has netted throughout the race.
The story is no different in Colorado's 6th Congressional District, and it's big money on a regular basis.
The most recent buy announced was a six-figure campaign for Republican incumbent Mike Coffman.  No Labels Action said it will spend that money on direct mail and television ads, but it's unclear if those ads will go negative.
This month Giffords PAC, the campaign arm for former Representative Gabrielle Giffords, said it'd spend $1.5 million in campaigning against Coffman, specifically to his stance on gun legislation.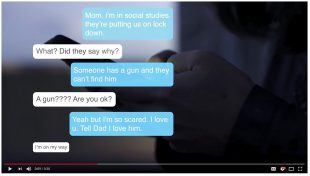 A 30-second ad released this week by the PAC shows a student, named Emily, texting her mom about a shooter in her school.
The mom asks Emily if she's OK.
"Yeah but I'm so scared. I love u. Tell dad I love him," Emily replies.
For parents, the ad could be a harrowing message.
Coffman's campaign responded to the ad, saying it exploited an incident from 2016 at Platte Canyon High School. Emily Keyes last texted her parents, "I love u guys."
After Keyes family asked for Giffords to take the ad down, officials there edited out the name "Emily," but said they still plan to run the ad.
"I respect Gabby Giffords," Coffman said in a Tweet, "but exploiting the name and horrible death of one of our own to try to win an election is beneath basic human dignity. I can take criticism, but this is gross. This ad should be pulled and someone should be fired."
Denver TV stations: Sorry, but we're going to run them
Political ads have taken different forms throughout their history — the original rules governing how broadcasters can interact with political candidates stem from the Radio Act of 1927.
Haines said the latest iteration of ads online is more likely to fuel the echo chamber of congruent voices than spur people to adopt a new point of view.
"You go to content that will reinforce your world views, you're not going to click on an article that displays your preferred candidate in a negative way," she said. "But what (internet advertising) does is, for partisans, it reinforces opinions and it's probably going to be mobilizing because with each negative article or ad that they select … they see the opposition as potentially being an existential threat. Moderates and undecided voters are probably not going to select these things at all, so, in that sense, they may not really be impacted by online political information."
Many voters agree they don't like them, and the want to know why they have to endure them.
When the national gun control group Giffords ran an attack ad this week with similarities to a 2006 Colorado school shooting, many saw the ad as in bad taste.
Some viewers saw the ad between a 9News news segment and demanded that the station remove it from programming.
In a September 25 newscast, 9News anchor Kyle Clark told his audience that it wasn't so simple to pull a political advertisement.
"I do not have the power to do that, whether or not the station could do that, courts do not look kindly on free speech violations in terms of stations taking down ads," Clark said on-air. "I think the Keyes family understands that. That's why they were clear in their conversation with me they want the group running the ad to take it down."
Giffords' PAC has changed the ad, but from the debacle you wouldn't know that 9News had no obligation to air the ad in the first place.
TV stations are required by the Federal Communications Commission to give federal candidates access to time slots for ads produced directly by the campaign. Even state or local candidates must have an equal opportunity to get an ad between news segments if an opponent already has.
Plus, stations have to charge the lowest possible market rate for the advertising, to keep access open to all candidates for an office.
Often, political advocacy groups will run attack ads on against a candidate to influence public opinion, ideally getting voters to the polls for a preferred candidate.
But FCC rules don't apply to this "Emily" brand of political ad, called a non-candidate ad in the FCC regulations, which can seem inescapable on TV in a modern election cycle.
"Non-candidate ads can be refused entirely, but they rarely are, just because (TV stations) can make a lot more money on them than non-candidate ads," said Dan Kirkpatrick, a Washington, D.C. lawyer specializing in FCC election regulations with the firm Fletcher, Heald & Hildreth.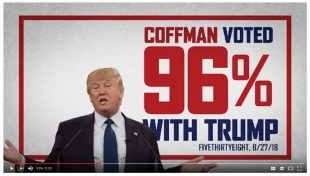 In Colorado, networks can choose not to place the Giffords ad, or one from the Republican Governors Association attacking Gubernatorial candidate Jared Polis, but not a similar ad paid for by the opposing Walker Stapleton campaign.
Kirkpatrick says the ad revenue can be "very significant" for an individual news network. "If they are in a market with a very competitive race in an election year, the revenue can be twice what it is in a non-election year."
Clark, the 9News anchor, said he wasn't implying the station couldn't remove the ad – just that he couldn't. Clark said decisions are made in the advertising department and referred the Sentinel to station leadership, which has not respond to requests for comment.
"I'm not blind to the fact that advertising is important to our newsroom," Clark added.
Kirkpatrick says there isn't much incentive for network affiliates to stop taking third-party ads, which are even coming in on big national topics like the Senate confirmation process for Judge Brett Kavanaugh. One ad, paid for by Washington, D.C. group Demand Justice, draws parallels between sexual misconduct allegations against Kavanaugh, President Trump, and former Alabama Senate candidate Roy Moore.
And non-candidate ads can wage nasty attacks, Kirkpatrick said, because there isn't a campaign linked to the ad. Often, viewers only hear the name of the group flash by at the ad's end.
Think "Weekend Passes," the 1988 attack that helped sink Massachusetts Gov. Michael Dukakis by linking him to the brutal rape of a white woman by a black man. The in-your-face ad was produced by an independent group on behalf of the George H.W. Bush campaign.
Per the FCC regulations, anyone can go to a TV network website, scroll to the bottom, and access a record of all of the network's political ads. For ads produced by a candidate's campaign, you can even see how much they paid to get their messages on the air. But non-candidate ads aren't part of the public record; Coloradans can see who paid for an ad, but not how much the network made in the final deal.
Danielle Farren, a CBS4 staffer, said her station has a policy to not discuss advertising. According to public FCC filings, the network has run many non-candidate ads from groups across the political spectrum, including the League of Conservation Voters and the Koch-funded Americans for Prosperity.
"We just don't talk about that, because some of the advertisements come from national and things like that," Farren said, referring to the parent network CBS.
Denver7 General Manager Dean Littleton said the station's parent, E.W, Scripps, "is a strong supporter of the First Amendment and supports the open discourse of the political process."
"We treat each and every political and issue advertiser fairly and by the rules set forth by the FCC," Littleton added, "Any specific information you need is available in the FCC public file."
Littleton did not address why the station chooses to run non-candidate advertisements.
Local station Fox31 did not respond to requests for comment.
With TV stations refusing the turn the worst of the worst down, political pundits say all TV viewers can do now is buckle up for a bumpy landing on Election Day.