These bar cookies are everything! They are loaded with texture, flavor and just enough salt to make them addictive. They are packed full of pecans, toffee bits, chopped white chocolate and dried coconut but the sprinkling of bourbon is what really takes them over the edge.
The flavors come together and deepen with the bourbon accenting and accentuating the buttery vanilla and caramel notes. This is a brownie for people who don't like chocolate and that is how I came to make it.
My friend, David, was coming to dinner and I wanted to make a homemade sweet to go with his favorite store-bought dulce de leche ice cream. Ordinarily, brownies of some sort might come to mind, but David is not a fan of chocolate so I thought about a blonde brownie filled with coconut_his favorite sweet ingredient, and pecans.
I added the Heath toffee bits because I have had great success with them. They melt into the batter as it bakes, leaving behind a more complex sweet caramel flavor that elevates a simple butter, flour and sugar cookie. Finally, I chopped up a bar of good white chocolate to add more texture and another flavor to the bar.
The beauty of these bars is that you can add a different nut_toasted hazelnuts or walnuts would be great, and different chocolate_a combination of chocolates or even butterscotch morsels would work well.
I like to chop a high-quality chocolate bar into pieces instead of using morsels because the flavor melds into the bar seamlessly where the morsels are sometimes too much_too sweet and too large which upsets the ratio of batter to add-ins.
The only add-ins that I wouldn't change would be the toffee bits and the sweetened shredded coconut. The coconut makes the texture of the bar cookie so much moister and chewier while adding to the complex flavor. And, don't omit the bourbon. That addition makes all the difference in the world. In the same way that a splash of bourbon or wine enhances savory foods, these bar cookies are so much better for the bourbon.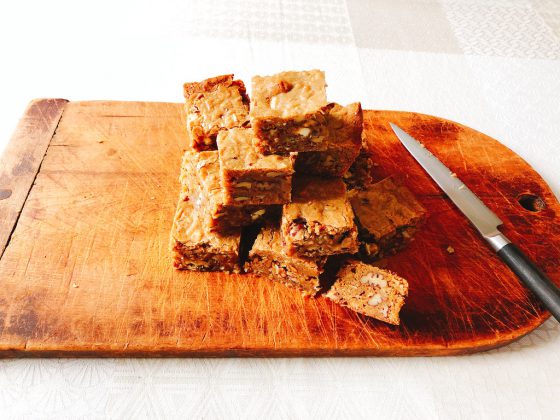 TIPSY TOFEE BARS
Servings: Makes 20-22 bars
Start to finish: 60 minutes, plus additional cooling time
2 cups all-purpose flour
1 teaspoon baking powder
1/2 scant teaspoon fine-grain sea salt
1 generous cup pecans halves
1/2pound unsalted butter, melted
1 cup packed light brown sugar
1 cup packed dark brown sugar
2 large eggs, mixed together
2 teaspoons vanilla extract
2 tablespoons of your favorite bourbon
2/3cup Heath toffee bits
1 generous cup sweetened dried coconut
1/2 4-ounce bar of real white chocolate, chopped
Chef's Note: Use a 9-by-11-by-2-inch baking pan, the smaller version of the classic 9-by-13 pan. I think the 9-by-13 pan makes a bar cookie that is too thin, but if you use it, note that your cooking time will be shorter.
Preheat the oven to 350 F.
Whisk together flour, baking powder and salt. Set aside. Toast pecans in a preheated oven for 10-15 minutes at 250 F. When cool, chop the pecans and set aside.
Melt butter and pour into a bowl. Add sugar, eggs and vanilla and mix well. Add Bourbon and mix again. Stir in the flour mixture and mix well, turning the batter several times to make sure that all the flour is incorporated.
Add the chopped pecans, the toffee bits, coconut and white chocolate. Stir together with a blending fork to make sure that the add-ins are equally incorporated.
Prepare your baking pan with non-stick cooking spray. Spread batter into the pan by dropping equal spoonfuls all over the pan and joining them together by spreading the surface with an offset spatula.
Bake for 20 minutes and check the bars. In my oven, the bars took a full 35 minutes, but every oven is different. I tested them at 20 minutes and every 5 minutes thereafter and they were perfect after baking for 35 minutes. The sides will be crisp and browned and pulling away and the top with be shiny and dry. You want the center to still be soft but not runny.
Let cool completely. I usually make these the night before or in the morning so they are completely cool. Remove the entire block of bar cookies and cut into squares with a dough scraper or serrated knife. Once the bar cookies are cut, they can be wrapped in foil and placed in a re-closeable plastic bag and frozen for up to a month. Thaw before serving.
Nutrition information per bar: 320 calories; 158 calories from fat; 18 g fat (9 g saturated; 0 g trans fats); 46 mg cholesterol; 134 mg sodium; 38 g carbohydrate; 1 g fiber; 27 g sugar; 3 g protein.
EDITOR'S NOTE: Elizabeth Karmel is a barbecue and Southern foods expert. She is the chef and pit master at online retailer CarolinaCueToGo.com and the author of three books, including "Taming the Flame."