George Zierk is certain about what justice is and how to get it. As the city's top prosecutor, he knows it's not revenge.
Justice must be meaningful to criminals and their victims. Other than his family and his faith, everything else in George's world pales in comparison to his daily quest for justice — even recent news that he has Lou Gehrig's disease.
He's 62 now. His thick, sandy hair has turned mostly gray. He's deeply tanned, making his hair look even lighter. He smiles with his eyes. That and his natural animation is disarming. It's easy to see how handy it would be in a courtroom. And despite the disease that has first affected his legs, making them feel heavy, weak and unstable, he hustles across rooms pretty much like he always has at the city's municipal justice center for the past 30-some years. In those decades, George has served as a civil attorney for the city, a prosecuting attorney, and for the last 25 years, he's run the city's criminal prosecution division as deputy city attorney, guiding a department that sees about 60,000 traffic and criminal filings each year.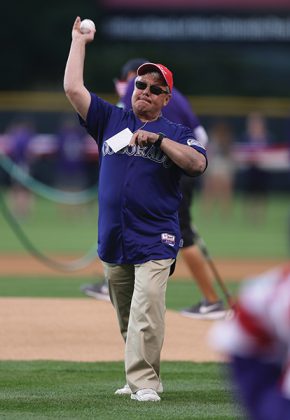 George loves his work in an unconditional way only a parent could understand. It's certainly not an easy job. The city courts handle thousands of ugly domestic violence cases, juvenile delinquency, car thefts, prostitutes, vagrants and a gazillion mundane petty offenses each year. Every day, he listens intently to stories about women afraid for their lives who inexplicably lie passionately in court to defend the man who might beat them to death. Every day, he's enthralled with the pursuit of revealing justice in those cases.
He hesitates trying describe what that is, but he knows what it isn't. It isn't vengeance. It isn't something thugs or child-abuse victims have coming to them. It doesn't come easy. George and his ever-changing staff of mostly young prosecuting attorneys sift through each case, working with Aurora police to find out why a woman stole baby formula from a convenience store, or what might happen to a teenager whose father beats him if the court puts the dad in jail instead of letting him go to work.
As it turns out, George has learned as a father, a boss, himself a young victim of an alcoholic family member, as a prosecuting lawyer that justice is fair and it's reasonable. That suits him because as a Midwesterner who landed at CU Boulder in the 1970s, practical and reasonable were qualities that have served him well in his life.
"Now, I'm wise," George says as he talks in conference room at the Aurora Municipal Justice Center. He points out that wisdom, intelligence and knowledge are all very different things. He doesn't claim to be smart, just wise, something a smart man would say.
The wisdom makes a job that he has long loved a near-obsession: studying the pragmatic body of case law and finding ways to help troubled people put their lives together and move forward.
"It's the most wonderful and rewarding job in the world," George said. And he's not going to let Amyotrophic Lateral Sclerosis force him to give it up. He's not naive. He knows what's likely in store for him. He's one of the 30,000 Americans each year who get nearly the worst news you can from a doctor. ALS is an incurable disease that destroys the nerve cells that control voluntary muscles. The disease systematically robs people of their ability to walk, lift, sit, write, then speak, and, eventually, breathe. After diagnosis, most victims live about three to four years. Some live eight years. A few live 10 or more. Every case is unique. Some have symptoms that move quickly, others slowly, a few even see periodic remissions.
CLICK HERE TO DONATE OR GET INVOLVED IN ALS PROGRAMS IN COLORADO
Initially, George's doctors thought sudden weakness in his legs that came on last fall might be heart problems. It wasn't. In April, his diagnosis was made official. He knows what he has, but he doesn't know what the future holds. But he never really did.
He knows that his wife, children and his Lutheran faith are just as critical now as they have always been. He's hesitant to say that God moves in mysterious ways, but says he's turned the entire thing over to God to play out. Things always connect for George. His father sent him to CU after high school, but the family ran out of money and George had to work full time to stay in the program. At one point, he had to take a year off and move to Colorado Springs for work.
It's there that he met his wife, Dorene. If he hadn't gone to CU, hadn't had to work, hadn't had to take a year off, the best part of his life, Dorene and his children, would never have happened.
He rattles off a list of coincidences and events that always seemed to turn out in some great, unexpected way. At this point, it's hard to see whether George is the beneficiary of kismet or some guiding force, or whether he's the type of person who finds good in anything and everything.
That's what George brings as the man at city hall often willing to give someone another chance. He decides which plea deals to negotiate, which endlessly repeat offenders to force into jail or send to the district attorney.
In another recent coincidence, he knew someone involved in the Rocky Mountain ALS Association chapter. As it happens, it's the 75th anniversary of Lou Gehrig's famous, emotional farewell speech. During the nation's July 4 national baseball games, people from all over the country would take turns reciting the speech on jumbotrons and on TV. They needed someone to throw out the first pitch for the Colorado Rockies' most popular game of the season. That was George.
"It was incredible," he said. It wasn't a dubious honor, throwing out the pitch as a victim of a disease named after a man whose reputation was never diminished by his fate. George said it was just the chance of a lifetime, and a chance to promote a local organization working feverishly to raise money and awareness of the need to speed promising research, and to aid victims of a disease that can cost families about $200,000 a year.
And here he is now. Between his passionate pursuit of justice at city hall, and his pursuit of ringing the alarm for all of us through the local ALS Association, he's busy.
Things are still working out well for him, he said. The weakness in his legs is alarming and worrisome. Being pragmatic George, he's making plans to get an electric scooter because he refuses to be forced indoors. He and his wife are taking a "last hurrah" cruise to Italy soon, but he's getting a handicapped accessible cabin just in case.
His only complaint, he said, may also benefit him. He told his doctor he's worried that he's been gaining weight. Since the weakness has attacked his legs and not his appetite, the lack of his routine walking, golf and more has added to his waistline. His doctor told him that the excess weight will serve him well when he can no longer swallow.
George accepted that, seeing the benefit. But the guy who hunts justice at city hall each day? The man who looks for something fair and reasonable in everything? He seemed empty handed — for now. He's confident that either his faith or his fate will answer that question. The outcome might not be what he wants, but it'll be something he embraces.