AURORA | After just a few hours of deliberation, jurors in the Aurora theater shooting trial unanimously decided James Holmes will proceed to a third and final sentencing phase — where an ultimate decision on the death penalty will be made.
The jury's quick deliberation and verdict meant they rejected the defense's argument that the mitigation evidence outweighed the four aggravating factors proven during the first phase of sentencing. Jurors deliberated for about an hour last week and 90 minutes this morning before reaching their verdict.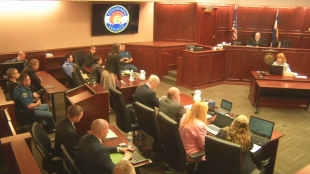 Judge Carlos Samour, Jr., announced the jury's verdict shortly after 12:38 p.m. In another example of the scope of the case, it took Samour 13 minutes to read the 24 counts — two murder charges for each of the 12 people killed.
The court now prepares to enter the third phase of sentencing, during which prosecutors are expected to call several of the victims' relatives to testify. That process is slated to start Tuesday at 10 a.m.
As Samour read the verdicts, Holmes' parents, Bob and Arlene Holmes, held hands. About 10 minutes in — as Samour read the charges connected to Gordon Cowden, who was at the theater that night with his teen daughters when he was killed — Bob Holmes put his arm around his wife.
On the other side of the gallery, Sandy Phillips, whose daughter, Jessica Ghawi was killed in the theater, took off her glasses to dab away tears as Samour finished reading.
Last week, Holmes' lawyers pleaded with jurors to sentence him to life in prison instead of death, arguing that his mental illness caused the July 2012 attack.
"But for this mental illness, that shooting would not have occurred," public defender Tamara Brady told the jury, noting that every doctor who examined Holmes said he was seriously mentally ill.
Brady said Holmes was a normal child and young man until his mental illness — each doctor has said he has a serious illness on the schizophrenia spectrum, but they disagree on what exactly it is — took control when he was a graduate student in 2012.
But District Attorney George Brauchler said Holmes' mental illness isn't enough to outweigh the horror of the crime, which left 12 dead and 70 others wounded.
"Is this mental illness a shield to treat him differently?" he asked the jury.
Brauchler told the jury that even if Holmes stopped after killing three people, or six or 10, his crime would still be so heinous that the death penalty would be appropriate.
Holmes launched the attack not because he was mentally ill, but because he wanted to be famous, Brauchler said. In his jail cell, Holmes didn't post the family pictures his parents gave him, but instead the pictures of scantily clad women who wrote to him.
And, Brauchler said, Holmes acted rationally in the lead up to the shooting.
"Every decision he makes is purposeful and rational towards an outrageously evil goal," he said.