AURORA | The Aurora Sentinel picked up 13 awards for outstanding journalism Saturday during the annual Colorado Press Convention in Denver.
Sentinel staffers took coveted honors for public service, editorial writing, and stories and photos explaining the Aurora community to its readers. The awards were in addition to similar awards the staff garnered from the Associated Press Friday night.
"Our unusual brand of dynamic journalism is a reflection of the vibrant community we cover, and our changing role in the media," said Aurora Sentinel Editor Dave Perry.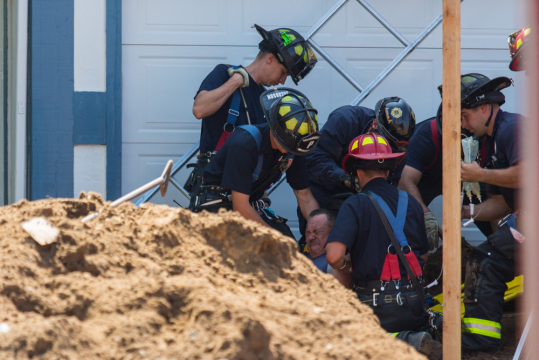 Staff reporter Rachel Sapin won top honors for a story focusing on the wildly over-budget and over-due Veterans Administration hospital in Aurora. The story analyzed how the project has become so dysfunctional.
Dave Perry took top honors for "strong editorials using some terms not often seen on the editorial page, such as 'temper tantrums,' 'Grumpy county officials' and 'bullies in Colorado are going to eat your lunch.'"
Perry was also tabbed for writing headlines and signed columns. "Agree or not with Perry's conclusions, his columns are written with a wallop of wry humor and anger that keeps you reading."
Photographer Marla Keown won first-place honors for a news photo of a man being dug out from a collapsed tunnel, catching the moment he was pulled free to safety.
"The emotion on the victim's face is what earned the photo first place," judges said. Keown and Perry were also tabbed for a series of photos of the 2013 Aurora flood.
Reporter Brandon Johansson was honored for stories focusing on health care issues faced by poor residents and a story highlighting a unique teen mother program in Aurora.
The Aurora Sentinel online daily edition was honored for its strong and expansive news content and clean, simple design that plays on desktop, tablet and mobile devices without an app.
"Strong news flow with a variety of local, state and national content," judges said.
Aurora Sentinel staffers also garnered a coveted public service award for coverage of the Aurora theater shooting trial as it has moved toward jury selection and a trial in earnest.
The Sentinel was also honored for comprehensive 2013 flood coverage on its daily online edition.
Friday, the Aurora Sentinel staff was honored by the Associated Press during its annual awards event in Denver.
The Aurora Sentinel won seven AP awards this year, including top honors for editorials and signed columns by Perry.
Perry received first-place awards for writing hard-hitting editorials and his often controversial news columns.
"Mr. Perry minces no words," judges said. "Indeed, he wields them like a sword."
Judges for the Colorado Associated Press Editors and Reporters awards said the Aurora Sentinel's provocative opinions were compelling arguments that also pulled no punches.
Johansson was honored for his story on wage theft, focusing on how day laborers in the Aurora-Denver area are regularly ripped off of their pay. Reporter Quincy Snowdon was honored for his story about a local brew pub, Coda, combining local bands and craft beers: "Brewed Force."
Managing Editor Aaron Cole, Rachel Sapin, Courtney Oakes, Marla Keown, as well as Johansson, Snowdon and Perry, were honored for daily news coverage of the Aurora-Denver metro area, especially Aurora's 2013 flood.
In addition, The Aurora Sentinel received the General Excellence Award for its online daily edition.
Perry was also honored for headline writing.