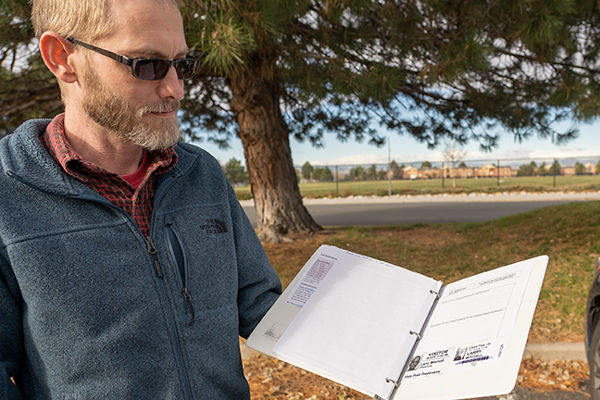 AURORA | Staff in an Aurora school office mistakenly flagged a man as a registered sex offender when he and his family went to his son's middle school for a recent event.
Larry Mitchell said he was humiliated Oct. 27 when Aurora Hills Middle School office staff scanned his driver license into a software system used to screen visitors to Aurora Public Schools district schools.
The system, provided by a private company, flagged Mitchell as a potential match with a registered sex offender in a nation-wide database. Staff compared Mitchell's information with the potential match and determined that match was correct, even though there are no offenders in the national sex offender registry with his exact name and date of birth.
Mitchell was then offered a security escort to accompany his wife and child for a literature reading in the school, but he declined, according to Mitchell and an APS spokesperson.
"It's weird," Mitchell said.  "My son goes to that school, and I'd really like to be there. I'm barred from the school, and now there is this cloud hanging over me."
Corey Christiansen, a spokesperson for APS, said all schools in the district check every visitor against a national sex offender registry by scanning their driver license. He said district policy allows for those "matched" with a registered sex offender to enter the schools but with a security escort.
"Safety is a top priority," Christiansen said. "This was just a matter of us following our district protocol. Unfortunately the parent who showed up this morning declined the escort and left."
Neither local school or state public safety or education officials could point to data showing how many registered offenders try to seek access to schools, or if a registered offender visiting a school has ever harmed a student in Aurora or Colorado.
Christine Harms, director of the Colorado School Safety Resource Center, part of the Colorado Dept. of Public Safety, said her office does not have any documented instances of a sex offender assaulting students while a visiting a school.
"It may be our more resource-rich Front Range schools that may have something that like that," Harms said of the Raptor screening system.
A search on state and federal databases clearly revealed Mitchell is not a sex offender on either registry. Mitchell provided his date of birth to the Sentinel for a Colorado Bureau of Investigation background check, which also yielded no criminal results.
Mitchell said he was adopted, and his birth name is Lawrence Michael Evans. The Sentinel did not find a match with that or his legal name and date of birth in the national sex offender registry.
The misidentification became an issue at his work. Mitchell said he was compelled to tell his employers what had happened, because his work involves working with students in schools. He travels across the state to coordinate art in-school programs,  such as a playwriting contest he is facilitating with the Denver Center for the Performing Arts.
"Initially there was talk of pulling me from all of my classes," Mitchell said. He said his employers conducted background checks when he was hired but did so again after the incident, finding nothing either time.
"I've not been charged with anything close to a sexual assault, ever," Mitchell said.
His job is not at risk at this point, he said.
The security system, provided by Houston-based Raptor Technologies, scans a driver license and compares the name and date of birth with entries in the national sex offender registry.
Eileen Shihadeh, senior vice president of Raptor Technologies, said the screening system is used in schools across the country and has falsely labeled only one visitor in the last year.
She said the likely issue in Aurora was that Mitchell's last name and date of birth matched with the known alias of a registered sex offender. There are about 1.4 million aliases for 750,000 registered sex offenders, Shihadeh added, so it is possible that middle-aged men with common names could be matched.
School officials nor those from Raptor commented on why photos of registered offenders and Mitchell stopped him from being suspected as a match.
If a visitor is matched with a sex offender, the system compares the visitors' driver license photo and the offender's photo side-by-side on the screen for staff to compare. Shihadeh said that if school staff scrutinized Mitchell's information with the sex offender match, there are likely differences such as eye color or height.
Mitchell said staff at Aurora Hills Middle School quickly compared his face to the sex offender match and loudly accused him in a crowded room.
At the Sentinel, entering the same data in the same databases yielded no results that approximated Mitchell's driver license picture.
"I think it really hurt my wife that there was such a lack of discretion,"  Mitchell said. "There were quite a few people around — they had just finished a lock-down drill."
He said his employer, DCPA, printed off his clean background check for him. He intends to set up a meeting with Aurora Hills school staff and work the issue out.
The Raptor visitor management system has been used in all APS schools since the beginning of the 2017-2018 school year. Parts of over a dozen metro-area school districts also use the systems, according to Raptor Technologies.
Christiansen, the APS spokesperson, said the system cost $92,000 to install plus about $30,000 in annual maintenance and operation costs.
Of 175,000 visitors in the 2017-2018 school year, eight people were denied entry to Aurora schools, officials said. Parents and legal guardians who are flagged, like Mitchell, can still enter the schools, but only with a security escort.
All schools in the Cherry Creek School District also use the Raptor visitor management system, which was implemented with the 2012-2013 district bond measure.
Executive Director of Communications Abbe Smith said the screenings are part of the district's "overall safety and security plan," but she did not say whether there was a specific instance that led to the screening system.
Some Jefferson County and Denver Public Schools staff use the technology, according to spokespersons, but neither districts uniformly use the technology.
"They're really expensive, and no one really has money to buy these," said Cameron Bell, a Jefferson County Schools spokesperson. "It was thousands of dollars, though I'm not sure if that's still the case."