AURORA |An Aurora man has been sentenced to four additional decades in state prison for shooting and killing an acquaintance who owed him $20 in 2017, according to the 18th Judicial District Attorney's Office.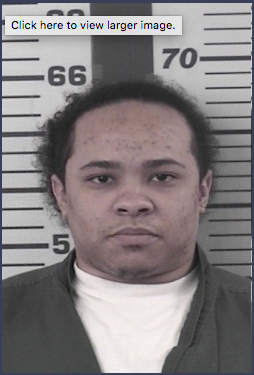 An Arapahoe County District Court Judge on Jan. 12 sentenced Jacob Shockey, 28, to 40 years in prison for the shooting death of Terrence Davis, 44, in a north Aurora alleyway on Aug. 24, 2017. Jurors convicted Shockey of second-degree murder at trial in October.
Police found Davis with multiple gunshot wounds in the alley between Boston Street and Chester Street just south of East Colfax Avenue, records show. Investigators eventually determined he was shot twice in the chest and once in the jaw, with one of the bullets penetrating both of his hands, "possibly from putting his hands up in front of his face," according to an analysis from the Arapahoe County Coroner. He died after undergoing emergency surgery at University Hospital.
While conducting an autopsy on Davis in August, pathologists discovered a fourth bullet encased in scar tissue near his right lung. Officials determined the smaller projectile was from a separate shooting earlier in Davis' life, according to court documents.
Police eventually accused Shockey of shooting Davis after reviewing surveillance video footage from nearby businesses and conducting extensive interviews with witnesses and people to whom Shockey had sold crack cocaine. At an interview at the Arapahoe County Jail, one of Shockey's former customers told detectives that he heard Shockey shot and killed Davis over a $20 debt.
The informant, whose name was redacted in court documents, later specified that Shockey was a known Bloods gang member and Davis — who went by the nickname "Bam" — was affiliated with the Crips, though their rival affiliations had little to do with the fatal encounter.
"(The informant) advised that 'Bam' was a Crip and always referred to other people as 'Cuz,'" police wrote in an affidavit filed against Shockey. "(The informant) didn't think that the shooting was over 'Bam' calling them 'cuz,' but that it was over the $20 'Bam' owed them."
The same tipster said Shockey and a confederate beat Davis up twice earlier the same day he was killed over the outstanding payment.
Aurora police filed an arrest warrant against Shockey nearly two months after the shooting following continued interviews and analysis. One woman police interviewed said she intentionally misidentified Shockey in a photo lineup because Shockey told her he would assault her if she spoke to the police and she was "f***ing terrified," according to the affidavit. She eventually correctly identified Shockey as the shooter.
Shockey was already in custody in Denver on suspicion of attempted murder charges when Aurora police recommended their first-degree murder charges against him tied to the Davis killing. Denver police had arrested him at an Aurora apartment leased to his wife on Oct. 2, 2017.
Shockey, who has used multiple aliases including Tiny, TK and Tiny Da Goon, has a lengthy criminal history spanning several states, according to court records. He was on probation in Adams County for car theft when he shot and killed Davis.
Shockey was sentenced to 20 years in prison in his Denver case in June 2018. He is currently incarcerated at the State Penitentiary in Cañon City, according to state records.
The new sentence Shockey was handed in Arapahoe County this week will run consecutive to his current stint, meaning he will serve upwards of 60 years in prison, according to the local DA's office. Records indicate he will be eligible for parole in November 2061.
Another man who was with Shockey at the time of the shooting, Parus Mayfield, 23, was sentenced to a decade in prison in 2019 for his role in the killing, according to state records. Mayfield, who told police he was a member of the Bounty Hunter Bloods gang and used the name Tiny Looney Toon, is eligible for parole in March.
Shockey's sentencing was delayed seven times due to the COVID-19 pandemic. Newly sworn-in District Attorney John Kellner noted the protraction but praised the sentence.
"Justice delayed is not always justice denied," Kellner said in a statement. "In this case, a vicious murderer who callously took the life of another man is going to spend a long time in prison. This does not bring back the victim, but hopefully it brings some measure of relief to his family."
Davis is survived by multiple children.
"I have been left to stand in the gap and do all that I can for our kids," the mother of his children told the court at Shockey's sentencing hearing. "It is not fair for someone to take another person's future. … My kids and I are still hurting."