AURORA | Recent years have seen a trend on Aurora's streets that leave many worried and wondering: Traffic crashes are up while tickets are down.
But last week, Aurora police launched some minor tweaks that they hope, in the long run, can help make the city's roads and highways a little safer.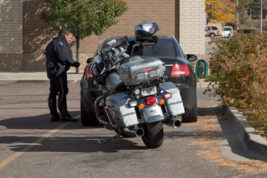 The department's Motorcycle Enforcement Team — the officers on motorcycles who write the bulk of Aurora's traffic tickets and investigate many of the city's car crashes — are shifting some resources from highway enforcement to surface streets.
Lt. Jad Lanigan, who oversees the department's traffic section, said the shift will mean two officers who had been assigned to the department's Highway Enforcement of Aggressive Traffic Unit will be deployed to surface streets. That means they focus more on red light infractions, speeding and other traffic infractions.
The HEAT unit is tasked with going after dangerous highway drivers and focusing on crashes on Interstate 225 and Interstate 70.
Lanigan said it isn't so much that the highways are seeing a dramatic reduction in traffic issues of late, but with officers in that HEAT unit shifting from 10-hour shifts to 12-hour shifts — a move that already will add a couple more officers to highway a few days a week — he saw a chance to add some resources to other parts of town.
If problems spike on the highway, he said the officers will shift their focus back there.
"It just all depends on what the highway does," he said.
Lanigan said that with the city's steady growth, he doesn't expect motorists to notice the added officers working surface streets. Instead, the officers can help keep up with new growth and the added cars on the road that come with it.
He also said he doesn't expect a significant spike in tickets from the two officers, but hopes having them issuing warnings, writing citations and just being visible helps keep some traffic issues down.
"We are trying to correct driver behavior so it's not necessarily just tied to tickets," he said.
Aurora police statistics show a spike in traffic crashes over the past decade, but also a decrease in traffic tickets.
Crashes increased substantially in 2017 with 13,357 compared to 9,543 in 2008. Citations were down from 40,622 in 2008 to 26,447 last year.
Police say a variety of complex factors — mainly an increased focus on limiting the worst highway crashes and motorcycle officers tasked with special assignments like guarding presidential motorcades — have combined for the head-scratching stats.
Lanigan presented the most-recent crash and citation data to Aurora City Council's Public Safety Committee during a meeting Thursday.
City Councilman Charlie Richardson said during the meeting that the dip in citations is a sign that the city needs to hire more officers.