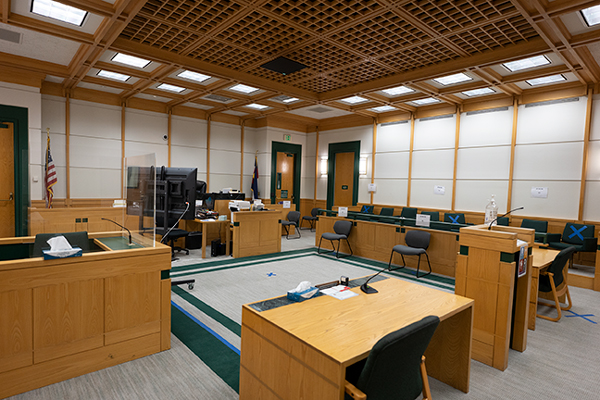 As jury trials in courts across the region begin to slowly reappear on local dockets after a months-long hiatus due to virus-related concerns, the majority of people in Aurora's legal ecosystem remain unvaccinated.
Most of the judges, attorneys, clerks and defendants who permeate Aurora's two largest state court jurisdictions in the 17th and 18th Judicial Districts, as well as many in the Aurora Municipal Court, remain without inoculations despite more people beginning to appear in-person at local courthouses. Meanwhile, a veritable tsunami of backlogged cases looms.
The lack of shots in the arms of those who have jockeyed to keep the local legal system humming for the past 11 months comes at the consternation of those at the helm. The newly elected district attorneys in Adams and Arapahoe Counties, Democrat Brian Mason and Republican John Kellner, have spent weeks wading through communications with local health officials as their counterparts in slightly less populated pockets of the state have already received their first and sometimes second doses of the COVID-19 vaccine.
"So far, we have not had a comprehensive vaccination program for the staff of the 17th judicial district, to my frustration, candidly," Mason said. " … I don't understand why some staff in certain places who are doing the exact same work to keep the criminal justice system afloat are being vaccinated when my staff is not."
Prosecutors in Aurora's largest jurisdiction, the district that covers Arapahoe, Douglas, Elbert and Lincoln Counties, have also so far struck out in their attempts to organize vaccine distribution plans for their workers. 
"While some district attorney offices around the state have already been offered vaccines for members of their offices, that is not the case for many DA offices in metro Denver, including ours," 18th Judicial District Attorney John Kellner said in a statement. "We continue to work with Tri-County Health and state officials to clarify the situation under the vaccine priority protocols."
Most workers in the neighboring Denver District Attorney's Office have found themselves in a similar conundrum, a spokesperson for the office said earlier this month.
Contrary to the protracted process unfolding across the metroplex, some of the state's more rural jurisdictions, like the 16th Judicial District Attorney's Office headquartered in La Junta, saw workers receive their first shots more than a month ago.
Will Culver, the newly elected Republic District Attorney for Bent, Crowley and Otero Counties said he's had an ongoing and fruitful relationship with the pair of public health departments in his jurisdiction. He told The Sentinel anyone in his office who wanted the vaccine recently received their second dose. 
"My heart goes out to my colleagues in the districts where public health is not working with them, especially in the larger metro districts where you've got a wide variety of attorneys at all experience levels, health levels, ages, etc.," Culver said. "I'm sorry to see they have not had any cooperation with local public health organizations."
The Colorado District Attorney's Council declined to comment on the disparate rollout. Michael Teague, spokesman for the council, deferred questions to individual prosecutors' offices. 
The incongruous vaccine distribution scheme is, at least in part, tethered to varying interpretations of current state guidelines, officials have said. The current phase of the state's vaccine distribution plan includes "select members of the executive and judicial branches of state government," according to the state's distribution plans.
"As much as I empathize with the extraordinary burden that this pandemic has been on Tri-County Health, what frustrates me is to see the different interpretations of state guidelines depending on the jurisdiction," said Mason, who oversees a jurisdiction that covers the most serious crimes prosecuted in Adams and Broomfield Counties.
A spokesperson for the Tri-County Health Department, the local public health entity for the three counties Aurora touches, deferred questions on vaccine proliferation among the legal workers to the state Department of Public Health and Environment. 
In an emailed statement, representatives for the state health department said officials are relying on a market-driven "honor system" for much of the vaccine rollout and pointed to the limited supply to describe the discordant distribution to people who technically fall within the current phases.
"Generally, we depend on the honor system for people and providers to implement the prioritization in the spirit it was created," a CDPHE spokesperson said in a statement. "If we found proof of widespread disregard of the prioritization, we would consider ceasing future supply to those providers. The being said, we expect some Coloradans will receive access outside of the prioritization in order to prevent waste of any doses and that is appropriate — an arm is better than no arm … Because vaccine supplies are limited, not all current recipients will have access to the vaccine at the same time."
The department said discrepancies in provider prioritization have been quickly remedied in recent months.
"Anytime we have had a concern with vaccine administration, we've been able to contact the provider and resolve it quickly with minimal to no delay," a spokesperson wrote in an email.
Still, the scattershot definitions have resulted in legal workers seeking vaccines on their own time, sometimes forcing prosecutors to argue they are members of the judicial branch, though they are technically members of the executive sector. Court workers such as clerks, stenographers and magistrates have largely found themselves in the same position, regularly combing through availability for their eligible peers at local clinics and pharmacies.
Workers across the Colorado Judicial Department who want a shot will likely have to continue to wait for their turns, according to Jon Sarche, spokesman for the department.
"Coloradans age 65 and older, along with PK-12 teachers and staff, will have the highest priority within that phase and in most cases will come before Judicial Department personnel," Sarche wrote in an email.
He said data on how many employees are vaccinated is not currently tracked at a state-wide level.
Indeed, many local legal workers agree that older residents, first responders and health care workers should be at the front of the proverbial vaccination queue. Though several cited the re-launching of local jury trials as a reason to clarify standing ambiguities surrounding who can get the shot and when. 
"With our courtrooms beginning to re-open for limited trial settings this month, the issue becomes more urgent," Kellner said. " … Our deputy district attorneys, victim advocates and support staff will be meeting regularly with members of the public, defendants and their attorneys. Just one positive could result in an extensive quarantine affecting our ability to proceed on these cases where victims and defendants have already waited more than a year for justice."
A smattering of jury trials were allowed to proceed last week in Kellner's district after a months-long pause spurred by the holiday spike of virus transmissions. The court in Mason's Adams County jurisdiction is expected to welcome jurors back to the premises March 1. 
Limited in-person hearings aside from jury trials have continued at many courts throughout the pandemic, though most proceedings have transitioned to WebEx.
But just four of the 104 felony trials that were originally set for Aurora's 18th judicial district this month will be allowed to move forward under the current guidelines, according to staff in the district attorney's office. An equally small percentage of cases will be able to be heard before a jury next month.
Upon their return, attorneys will be wading through some 14,000 cases set for trial across the state this year, which marks a five fold increase over a typical year of Colorado settings, the state's chief supreme court justice told state legislators last week. The swollen dockets are a result of cases waylaid by the pandemic.
Aurora's Municipal Court faces a similar legal bear with jury trials slowly again coming to fruition with masks, sanitation and social distancing measures in place. But workers there also remain unvaccinated, officials said, with little clarification from health authorities.
"We are very concerned for the safety of our employees, not just in the city attorney's office, but many employees throughout the entire courthouse," Deputy Aurora City Attorney Julie Heckman said. "… Our attorneys and other staff are coming into contact with the public and have been throughout this entire pandemic other than a very short time of closure."
Aurora's Chief Public Defender Doug Wilson and several other public defense entities across the region sent Polis' office a letter last month asking him to bump such legal workers into a higher phase of vaccine distribution. Wilson said he never received a response from the governor's office. 
"The muni bench, staff, prosecutors and (public defenders), in the trenches, have been completely ignored by Tri-County (Health Department) and (Gov. Jared) Polis," Wilson wrote in an email.
In a statement, a spokesman for Polis' office did not address questions regarding the governor's lack of response, and instead pointed to guidance from state and federal authorities to explain the state's vaccine distribution plan. 
"The state has harmonized its (prioritization) with (the Advisory Committee on Immunization Practices') and (The Centers for Disease Control and Prevention's) guidance," Conor Cahil, spokesperson for the governor's office, wrote in an email.
David Beller, a Denver-based criminal defense attorney who penned the letter the various defense groups sent Polis, said he, too, is frustrated by the lack of clarity surrounding vaccine availability for legal workers. He pointed to his need to frequently meet with incarcerated clients in detention centers where the disease can run rampant as a particular concern. 
"I think it puts both the lawyer, the client and the public in danger by pushing for the court's reopening without vaccinating the people most at risk," Beller said. "That being the defendants, and the people standing between the judge and the defendant, or the government and the defendant."
Vaccination for Colorado inmates morphed into a political football in recent months after Polis said in December incarcerated individuals should not be a priority to inoculate despite growing calls to vaccinate local inmates from groups like ACLU Colorado.
Both of Aurora's largest regional jails are currently listed as active outbreak sites, according to the state health department. An outbreak first reported at the Arapahoe County facility in Centennial on Dec. 3 has resulted in more than 250 cases of the virus among inmates and staff. Another surge at the Adams County jail in Brighton also reported in December has seen 150 confirmed cases of COVID-19. And the U.S. Immigration and Customs Enforcement processing Center on Oakland Street currently has more than 260 detainees and staffers infected with the virus, according to health department statistics.
The police officers and sheriff's deputies who first interact with those who eventually end up in local jails, however, were offered vaccines in the first phase of distribution in December. Any member of the Aurora Police Department or Adams and Arapahoe County Sheriff's Offices who has wanted a vaccine has thus far been able to receive a dose, department spokespeople confirmed. 
About half of Aurora Court Administrator Zelda DeBoyes' staff — those who work in the city's 72-hour jail — has received the shot, per state guidelines, she said. Those who work in courtrooms are still on the list, according to DeBoyes. 
"I see people working for me as essential workers, but we are working with our HR department and the office of emergency management and they're inquiring with Tri-County and the (Centers for Disease Control and Prevention)," she said. "We have to wait our turn."
Slightly more than three quarters of a million Coloradans had received at least one dose of vaccine as of Monday, according to state data. Some 388,000 people have been fully inoculated with both doses.