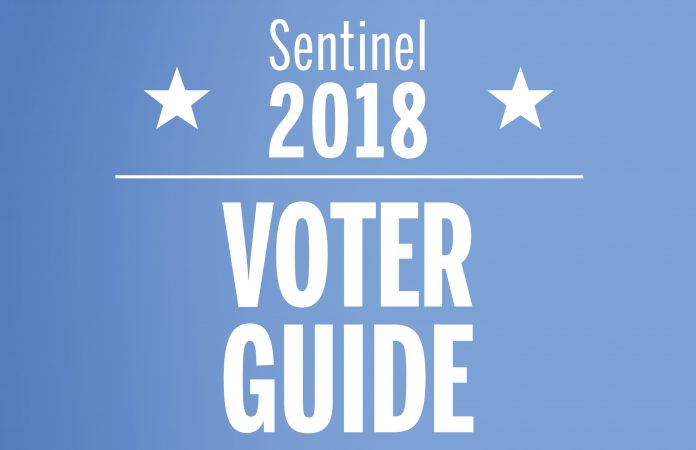 Political pundits have dubbed the 2018 Midterm Elections as the most important election of our lifetimes. Now's your chance to prove them right.
Several key issues highlight this year's ballot that could affect the quality of life for residents across the state.

CLICK HERE FOR COMPLETE ELECTION COVERAGE AND INFORMATION
Among the most notable issues are:
• Amendment 73: creating the Quality Public Eduction Fund in support of funding public schools
• Proposition 97: changing the existing distance requirements for new oil and gas developments to be located at least 2,500 feet from any occupied structure and any area designated for additional protection
• Proposition 153: increasing state taxes by $766 million annually for 20 years to raise funds for state and local transportation projects
• Proposition 111: placing limitations on payday lenders regarding interest rates and excessive charges and fees
This year's election also features contentious races in some of the state's most high-profile positions.
Candidates are vying for the following offices: US House Districts 1-7; Governor; Lieutenant Governor; Secretary of State; State Treasurer; State Board of Education Districts 2 and 4; CU regents board (State and Districts 3 and 5); State Senate (13 various districts); State House of Representatives (all 65 districts); District Attorney (Dist. 20); and seven districts of the RTD operation.
All registered voters will receive their ballots in the mail. However, residents can still cast a traditional vote at the polls. To do so, they would be required to surrender their mail ballot in person at the voter service and polling center.
POSTAGE FOR THE BALLOT THIS YEAR IN ARAPAHOE COUNTY IS 71 CENTS OR 2 FOREVER STAMPS.
And by law, voters must be granted time off from work without loss of pay if they do not have sufficient time outside of their regular working hours to vote.
In Adams County, 24-hour ballot drop-off locations will be open starting Oct. 15. Early voter service and polling centers will open on Oct. 22. Their hours of operation will be: 8 am to 5 pm, Monday through Friday; 9 am to 2 pm, Saturday; and from 7 am to 7 pm on Election Day.
To view a comprehensive list of polling locations in Adams County, go to www.adamsvotes.com/
In Arapahoe County, 24-hour ballot drop-off locations will also open on Oct. 15 with early voting centers opening on Oct. 22. Hours of operation for each voting center vary; residents are encouraged to contact their local voting center to confirm their hours.
For a detailed list of polling locations in Arapahoe County, visit www.arapahoevotes.com/voter-service-polling-centers.
Mailed-in ballots must be received by the county clerk and recorder no later than 7 pm on Election Day. Voters are encouraged to drop off their ballots at designated drop-off sites or mail them in time to be properly counted.
Those who have not yet registered may do so online at GoVoteColorado.com by Oct. 30.
The Colorado Secretary of State has issued the following tips for voters who cast mailed-in ballots:
• Fill in the bubble completely to mark your choice
• Vote for only one answer or candidate per race; if you select multiple options, your vote in that race will be discounted
• Do not draw or write outside of the arrow, except to print the name of a write-in candidate
• Remember to sign your ballot envelope; every signature will be compared to the voter's registration record to ensure the correct person has marked the ballot
For more information in Adams County, call 720-523-6500 or visit www.adamsvotes.com. For more information in Arapahoe County, call 303-795-4511 or visit www.arapahoevotes.com.
CLICK HERE FOR COMPLETE ELECTION COVERAGE AND INFORMATION