An open seat on the Regional Transportation District board seat representing north Aurora and east Denver has three contenders all focused on fares and a plan to raise them.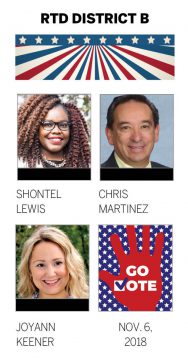 Former RTD District B director Barbara Deadwyler will step down at the end of her term, leaving the position open to candidates Shontel Lewis, Chris Martinez and JoyAnn Keener Ruscha.
If elected, Lewis said she would focus on making RTD more connected to the communities it serves; ensuring fares remain affordable and available; and keep the communities RTD serves involved in the decision-making process
"In terms of connections to RTD, I have two ideas in which we could implement," Lewis said. "One is an equity stakeholder group composed of RTD employees and community members."
She added that the team of mixed stakeholders could evaluate RTD policies, practices and protocols and ensure they are equitable.
"I would also propose directors simply meet communities where they are and I propose that their leadership guides staff to do the same," she said.
Lewis is opposed to recently announced fare increases, saying they prevent access to the transit system for lower-income riders.
SHONTEL LEWIS

As a former RTD employee, I served as the Transit Equity Specialist fighting to ensure the best outcomes for communities of color and low-income families. Performing at that capacity enabled me to recognize priorities and opportunities for improvement. This in turn has over time built strong internal and external partnership that allow the opportunity to build the bridges necessary to elevate voices.

Serving on the Community Think Tank for the Denveright process, I was exposed to a community-driven planning process that challenged us to shape how we want to evolve in four key areas: land use, mobility, parks, and recreational resources.

 CHRIS MARTINEZ did not submit bio

JOYANN KEENER RUSCHA

Ruscha grew up in rural Iowa and was raised by her mom, a housecleaner and bartender who later became a paramedic. A former high school dropout, she later became the first in her family to graduate. She obtained her B.A. in Political Science from the University of Northern Colorado in 2007.
Martinez's campaign has also focused on keeping fares affordable, forming equitable partnerships between municipalities, the public school system and other non-profit organizations, and finishing the build-out of FasTracks, a funded plan to expand light rail in the metro area.
"Affordable fares are the objective of public transportation and the RTD Board should do a sincere, top-to-bottom examination of administrative costs and begin realizing savings by paring back on administrative staff," Martinez said.
"During a time of growth, RTD rightly staffed up to meet critical needs — but in these times, where needs are expanding, and we have finite resources — cost savings can come about through reasonably paring down administrative staff and utilizing those savings to keep fares affordable."
Ruscha said, if elected, she would focus on reducing the base rate for all riders, raising the cap on low-income discount fares for non-profit programs and offer free bus passes for low-income transit riders with disabilities, youth and seniors.
Of concern is that the new fares increase will go into effect in January, while the low-income fares pass will not be active until July," Rusha said.
She said she's concerned that the new discounts may be hard for some teenagers to get if they pay in cash. Those details are still waiting to be fleshed out.
Ruscha believes that directors must remain active participants in the budget planning process so that riders benefit the most out of fair transit services.
"As director, I will fight to create budgets that are responsible, transparent and that serve the public."
JoyAnn worked with children with special needs at Laradon Hall before attending graduate school at the University of Colorado Denver to earn a teaching license. She completed her student teaching at Montbello High School before becoming a teacher in a program for expelled and dropout recovery students in Aurora Public Schools.
Today, JoyAnn works as a communications and policy advisor for campaigns and non-profits that advance the rights of women, LGBTQ people, and working families. She has successfully advocated for policy changes at every level of government and has worked on human rights campaigns nationally and abroad.