AURORA | Former Arapahoe County Commissioner Rod Bockenfeld will represent House District 56 in the legislature come January. 
The Republican beat out Democrat Dan Rose Tuesday, earning 57 percent of the vote in Adams County and 55 percent of the vote in Arapahoe County.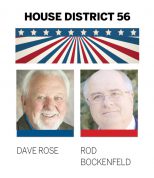 Bockenfeld also defeated GOP Rep. Phil Covarrubias, who currently holds the seat, during the June primary.
HD56 includes parts of Aurora, Brighton and Watkins. 
Bockenfeld was elected a county commissioner in 2004. Rose, in addition to his experience on RTD, is on the board for the Colorado Air and Space Port Advisory Board. The Watkins airport was most recently designated a spaceport, and is slated to bring thousands of jobs, top researchers and economic development to the region just east of Denver International Airport.
The race attracted just about $37,000 in donations. Nearly $26,000 of that was donated to Bockenfeld, according to Colorado campaign finance records. 
Bockenfeld describes himself as a pro-life, pro-Second Amendment, pro-main street business candidate. He writes on his website that he will fight for agriculture, water, senior citizens and the tourism industry.