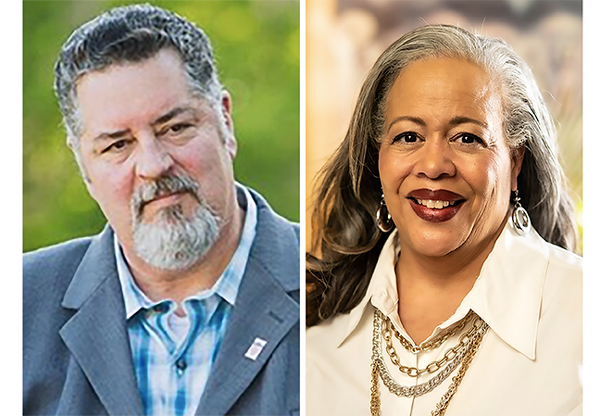 Democrat Leslie Summey and Republican Bob Roth are the candidates running to represent Arapahoe County's District 4 on the Board of County Commissioners. Both would be new to the seat, which is currently held by Democrat Nancy Jackson, who is term-limited.
A U.S. Navy veteran and small business owner originally from Colorado Springs, this would be Summey's first elected position. Roth is a previous Aurora city council member, having served from 2011 to 2019. In 2020 he made an unsuccessful bid to represent Colorado's 26th State Senate District, losing to Democratic incumbent Jeff Bridges. This is the first campaign for Summey, who eked out a primary win after at one point being exactly tied with opponent Regina Edmonson.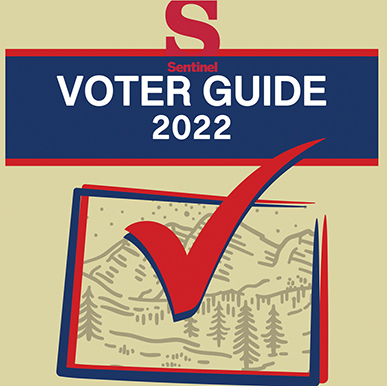 Both candidates say that their previous life and work experience make them well-equipped for the job. Summey's campaign website states that being a parent to an LGBTQ child and a child on the autism spectrum, along with being raised by a veteran father and a mother who worked in El Paso's election division, informed her views on public service.
"It is central to not only my campaign, but my values that I represent families, veterans, women, and children–those who were born here in Arapahoe County to those newly arrived immigrants," the website states. "The community must have a voice at the table where decisions are made."
Summey expressed that most recently as part of a group of Black Aurora leaders who criticized the city's process of selecting a new police chief for a lack of transparency and a lack of involvement by residents of color. After initially selecting several finalists, the city is now continuing its search after two of the three candidates dropped out of the running.
Roth's campaign website states that his upbringing as the son of cattle ranchers and farmers and his decades of experience in construction have given him a strong work ethic and an understanding of fiscal responsibility that he has carried with him as an elected official.
Roth's time on Aurora's city council was marked by questions about a construction consulting business he founded, which some viewed as an ethical breach for being a conflict of interest. He told The Sentinel in 2018 that his business and his involvement in local government did not cross over.
At press time, Roth had not responded to inquiries from The Sentinel. His campaign website states that public safety, education, the economy and ensuring "that Arapahoe County is well run and efficient, serving the needs of all of its citizens" are his main priorities.

Summey's website states that helping veterans, protecting women's and LGBTQ rights, addressing homelessness and improving access to mental health care are some of her key platforms. In response to a Sentinel questionnaire, she said she believes investing in infrastructure and standing up the county's new health department are some of the biggest challenges of the next decade.
"Key parts of the infrastructure challenges are first and last mile issues with transit and multimodal connectivity, which are difficult to address due to suburban sprawl," she said. "We also need to prep for the climate impacts growth brings in our county."
Addressing the county's anticipated growth, she said that development should be balanced with sustainability.
"We need to address water use and greenhouse gas emissions,  which means we should prioritize mixed-use, infill development where possible, and find conservation measures where this approach is not possible," she said.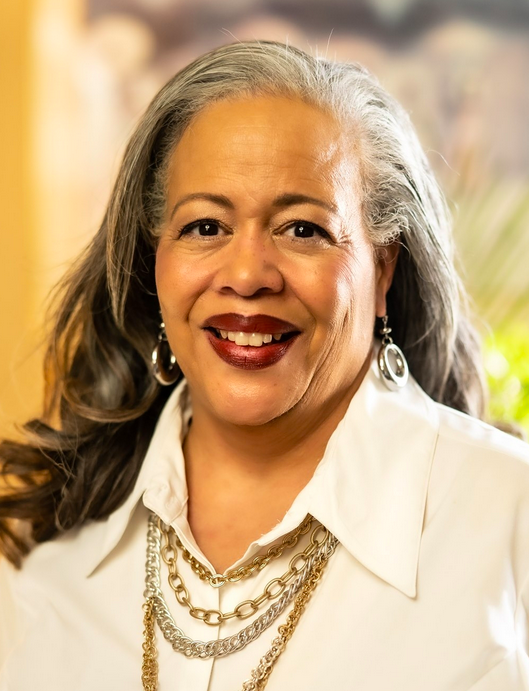 Leslie Summey
Leslie Summey is a Democrat running to serve as the district 4 representative on the Arapahoe County Board of Commissioners. A U.S. Navy veteran from Colorado Springs, Summey is a mother of five and a small business owner, according to her campaign website. She has been endorsed by Aurora city councilmembers Alison Coombs, Juan Marcano and Ruben Medina.
What are the biggest challenges Arapahoe County faces in the next 10 years?
In the next ten years we must ensure our stand alone Arapahoe County Health Department is fully ready to address myriad public health issues. These go beyond the pandemic to include mental health and addiction, homelessness, and the social determinants of health. I also see infrastructure as a priority and challenge for our county. We need to ensure that existing roads and facilities are maintained and that will take building strong relationships with our state legislature. Key parts of the infrastructure challenges are first and last mile issues with transit and multimodal connectivity, which are difficult to address due to suburban sprawl. We also need to prep for the climate impacts growth brings in our county.
What is your philosophy in how the county should approach growth, especially as Arapahoe County is expected to surpass 700,000 residents by 2025?
Growth is inevitable as our state continues to provide a good quality of life. However, our government should approach this growth with sustainability and our environment in mind. We need to address water use and greenhouse gas emissions,  which means we should prioritize mixed-use, infill development where possible,  and  find conservation measures where this approach is not possible.
At the beginning of the year, the Tri-County Health Department will dissolve leaving three separate agencies to take its place. How can the board of county commissioners ensure a smooth transition so that residents can continue to rely on needed services?
Outgoing Commissioners Jackson and Sharpe have been on the Foundational Board of Health since its inception this past June to make sure that as of January 1, 2023 the transition from Tri-County Health to Arapahoe County Health Department is as seamless as possible. They have put so much work into the creation of our Arapahoe County Health Department and  I will continue supporting the transition set in place.
Should the county pursue additional open space and trail acquisitions, slow them down or stay the course?
Stay the course; we already have an extensive network in the county and in                partnership with member municipalities. The current program has been very effective, and we can maintain and expand parks, trails, and open spaces with open space mill levy funds.
How should the county handle the problem of homelessness and homeless campers?
Housing first with wraparound services has proven to be the most cost-effective approach,  and also has a very high success rate. The county should partner with other jurisdictions to increase the supply of deeply affordable housing and use our existing staffing and staff from other partners to provide case management,  vocational training, behavioral health and other support.
What one thing could the Legislature do to solve a perplexing problem in the county?
Following through with the governor's plan to create affordable healthcare for all to reduce our unhoused population. Right now the Arapahoe County jail is the number one provider of mental health services in the state.  Addressing healthcare, especially mental healthcare, would reduce suicide rates with our youth, and diminish gun violence rates. We know preventative care is cheaper in the long run. At this point the county is footing too much of the bill.
If you could persuade other metro counties to get on board with a single project, what would it be?
Improving RTD service outside Denver. We need access to first and last mile connections, and frequent enough service to ensure that public transit is a viable option for Arapahoe County residents.  This will help address greenhouse gas emissions,  reduce wear and tear on our roads, and increase our economic viability.  Access to transit throughout the county will increase the number of workers who can come to our county for jobs, which will in turn increase our ability to attract the businesses we want to our communities.
Would you support Aurora creating its own city-county? I think logistically it would be challenging for Aurora to create its own city-county.
The most recent study indicated that it was not financially feasible for the city. However,  the city has grown in size and revenues, so it may be more feasible now. My concern is that Aurora would be in the middle with Arapahoe County to the east and west. It would also have a huge impact on the county budget and services. I am open to the conversation, but we would need to address these significant issues.
Counties such as Adams hire a professional county manager to run the county and ensure continuity of mission. Would that be better than having elected, partisan officials running the county, as is the case of Arapahoe County?
I've heard folks say that Arapahoe County would benefit from a county manager. I'm open to exploring the idea. My initial questions are 1) how would we prioritize the hiring financially, and 2) would a professional county manager have the same care and concern for the county as a member of the community, or would they treat the position as just another job? Knowing your Board of County Commissioners all live in the districts they serve and are elected by a majority of the district voters means to me that there's a level of passion for the position and care for our districts and for the county.
Do you trust the election process in Colorado? And will you accept the outcome of this election as announced?
The Colorado Secretary of State's Election Security Team is an award-winning team of excellence. I didn't say it, the US Attorney's Office for the District of Colorado did in 2020. Yes, I trust the election process and am confident the results of this election will be true.
Do you believe the 2020 Presidential Election was absent of widespread fraud and fairly won by Joe Biden?
The 2020 Presidential Election was won fair and square by Joe Biden.
Get to know Leslie Summey
What's the most Colorado thing you've done recently? Eaten a Rocky Mountain oyster
What is the last concert you attended? The Five Points Jazz Festival. LOTS of great bands.
What restaurant do you frequent most? Lately it's been Texas Roadhouse…for the rolls!
If you had a superpower, what would it be? The ability to snap my fingers and have dinner appear.
What was the last book you read? "Allow Me to Retort" by Elie Mystal
What is your least favorite household chore? Dishes
If you had to pick one television show to watch forever, what would it be? Judge Judy or The People's Court w/ Judge Marilyn Milian
Did you have any New Year's resolutions? What were they? I don't remember the last time I made a New Year's resolution.
What were you most excited to do after pandemic restrictions eased? To socialize with folks!
What fun fact about you would most surprise people who know you? I've sung background vocals for Barbra Streisand.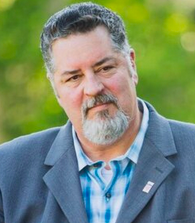 Bob Roth
Bob Roth is a Republican running to serve as the district 4 representative on the Arapahoe County Board of Commissioners. From 2011 to 2019 Roth was a member of the Aurora city council, during which he served two terms as mayor pro tem. He has served on a number of board, including executive board of the Colorado Municipal League and the Aurora Economic Development Committee. A third-generation Coloradan, he has 30 years of experience in the construction industry, according to his campaign website.