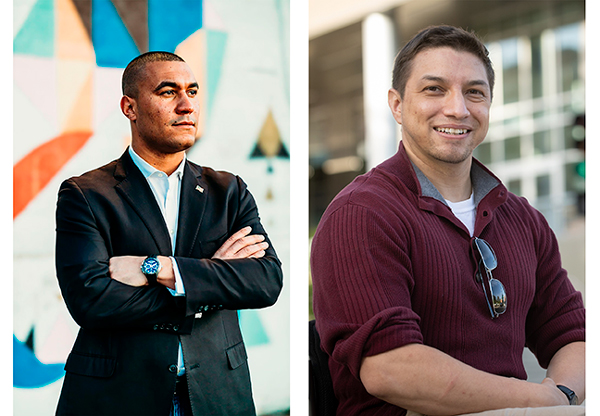 AURORA | Incumbent Democrat David Ortiz will face Republican Jaylen Mosqueira this fall for the future of the Colorado House of Representatives seat serving Littleton, Centennial and Columbine.
In their Sentinel surveys and other campaign materials, Ortiz and Mosqueira described different priorities for public safety, economic development and the state's tax system.
On the topic of crime, Ortiz described his involvement in expanding special courts serving veterans accused of nonviolent offenses that stem from untreated post-traumatic stress disorder and other mental illnesses, which keeps vets out of jail as long as they accept treatment, peer-to-peer mentorship and other support.
"Colorado's largest expenditure is putting people in cages," his website reads. "Rep. Ortiz believes that we tackle crime by bringing down recidivism, the rate at which a prior offender re-commits crime and enters back into the criminal justice system."
He also promoted funding for mental health care workers to respond to nonviolent mental health crises in the place of police and mentioned the importance of promoting "transparency and accountability" within the criminal justice system.
Mosqueira said his priorities if elected include making sure law enforcement is adequately funded, pushing back against anti-police rhetoric, changing sentencing laws and reforming bail bonds "to keep violent criminals out of our community."
"We cannot sit idly by as crime ravages our state," he said on his website. "Our elected leaders have failed Colorado by putting criminals back onto the street."
Mosqueira also said he would help businesses by rolling back unnecessary regulations, cutting taxes and fees and promoting workforce development.
"Businesses across Colorado have struggled over the last few years. Colorado's leaders must get out of the way and allow the entrepreneurial spirit of Colorado to thrive," he said.
Ortiz called labor unions "the key to growing a healthy economy that works for all" and said the entities were critical to strengthening the country's middle class. He also wrote about cutting taxes for small businesses through the SALT Parity Act, which he co-sponsored.
He wrote in his response to the Sentinel survey that he believed the Taxpayer's Bill of Rights should be eliminated from the state's constitution, as it "posed significant barriers to being fiscally responsible and funding our most essential and needed resources here in the state." Mosqueira vowed on his campaign website to protect the amendment.
Colorado's general election is Nov. 8.
[accordions id="571636″]
[accordions id="571638″]