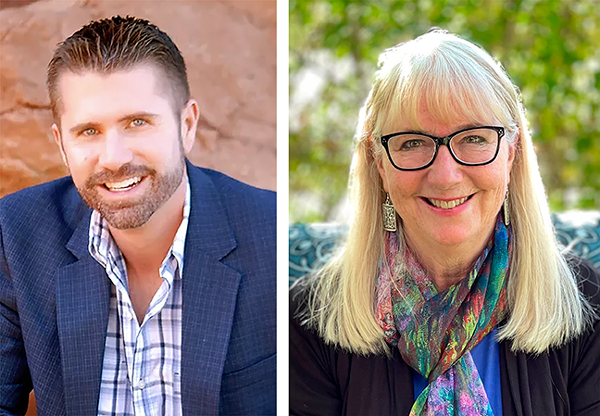 AURORA | Educators Eliza Hamrick and Dave Woolever are running against each other for a seat representing House District 61, which is centered on Centennial and touches south Aurora, this fall.
The two identified public safety, education and the region's economy as being among their top concerns this fall. Hamrick wrote about her experience as a teacher engaging in active-shooter drills and said she believed it was important the state pass "common-sense gun laws."
She also said she would "fight to ensure that our police, firefighters, and other first responders are supported and given the resources that they need, so that our community members are cared for, safe, and valued."
Woolever said he would increase training, staffing and resources for police officers to keep them and communities safe.
"These men and women who wear the blue put their lives on the line for each of us every day, and now, more than ever, they need our support to help with training so they can be better equipped to do their jobs to the best of their ability," he said on his campaign website.
In his Sentinel survey, Woolever said he supported some aspects of SB20-217, like the requirement that officers use body-worn cameras, but said he did not support calls to "defund the police." Hamrick spoke positively about the law, but said she wished it included more mental health resources.
On the topic of education, Hamrick advocated for more resources for schools and cooperation between teachers and parents in the schooling of their children, touting her "more than three decades of experience teaching the next generation honestly with age-appropriate material and without causing harm."
Woolever advocated for raising teacher pay, increasing parent participation by making more details about school curriculum public and supporting opportunities in technical and vocational education.
He also wrote about cutting taxes and fees, and investing in the state's CLIMBER loan fund to help small businesses, and advocated for including oil and gas alongside renewables in the state's energy portfolio, while incentivizing electric vehicle purchases by corporations.
Hamrick said she would incentivize small business through "programs that honor the hard work and ingenuity that is woven into the fabric of our wonderful community" and "advocate for policies that value and support our workers and families."
[accordions id="571157″]
[accordions id="571159″]