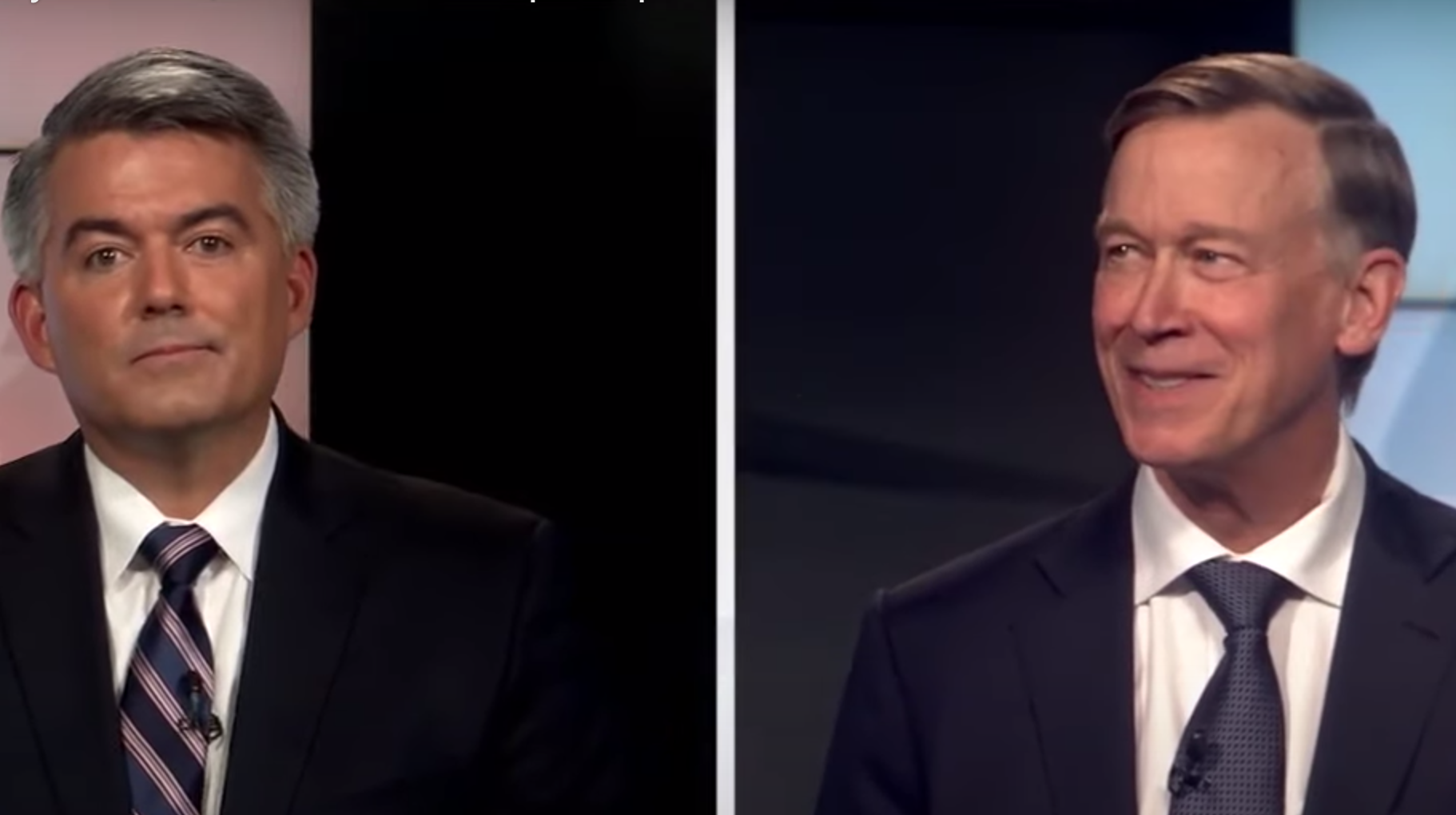 If the U.S. Senate becomes controlled by Democrats in November, it could be in part because of Colorado. 
Sen. Cory Gardner, who won the seat from Mark Udall in 2014, is up against John Hickenlooper, the geologist-turned-brewpub-owner who went on to be the mayor of Denver and governor of Colorado. He most recently had a failed bid for president. 
The two politicians are both veterans of the state's political scene and known for their sunny public dispositions, but this race has largely been defined by jabs the two have taken at each other through political ads and at the first and only debate prior to press time.
Gardner, 46, is the rare incumbent-underdog in the race because Colorado has shifted to the left since he narrowly won his first Senate race in 2014 by two percentage points. Opponents point to his trailing polls as also being the result of his endorsement and continued support of President Donald Trump. Trump did not win Colorado in 2016 and is trailing in polls against former Vice President Joe Biden. Rather than focusing on policy differences between the two candidates, much of Gardner's campaign is spent attacking Hickenlooper.
Gardner opened a debate earlier this month by calling Hickenlooper "the first governor to be convicted of violating the state Constitution" for a pair of ethics violations during his eight years in office.
The nonpartisan state Ethics Commission this summer found Hickenlooper, a 68-year-old self-made millionaire and brewpub magnate, improperly took a private plane flight and a limousine ride in during a meeting in Rome. Hickenlooper dismissed the violation as "minor reporting errors." The complaint rose to the attention of the commission after a dark-money group filed for an investigation.
"I paid the 2800 bucks, I took responsibility," Hickenlooper said, and he then proceeded to attack Gardner for the senator's efforts to repeal the Affordable Care Act, noting Gardner ran for Congress in 2010 vowing to roll back the law and supported Trump's effort to end it in 2017.
Gardner has tried to defend his votes by pointing to a 117-page bill he wrote that says it protects pre-existing conditions, but legal experts call it a political stunt. He also slammed Hickenlooper for supporting "government-run health care" that he said would devastate Colorado's rural hospitals.
Colorado's stark rural-urban divide has become fodder for Gardner's campaign. At the debate Gardner, a native of Yuma, noted he's the only statewide elected official who is not from the Denver area. He slammed Hickenlooper for trying to end coal, noting that such policies kill jobs in places like Craig in the northwest. The Democratic candidate is a former petroleum geologist who wants to expand the renewable energy industry to speed the transition off fossil fuels.
"He wants to put you out of work," Gardner warned energy workers of Hickenlooper.
Health care and the future of the Affordable Care Act is a hotspot in the campaign. Hickenlooper warned of the speedy confirmation of President Donald Trump's U.S. Supreme Court nominee Amy Coney Barrett, who Gardner supports. Hickenlooper said she might be the vote that repeals the Affordable Care Act.
But during the debate Gardner was quick to highlight himself as a bipartisan problem solver. touting his support of a massive conservation bill and role in creating a national suicide hotline. Throughout the campaign, Gardner has tried to maintain a delicate balance of not bucking Trump and alienating conservative voters, while touting a can-do pro-Colorado attitude.
"If (Gardner) does anything that turns off the Trump base in Colorado, that's more dangerous than anything from the other side," Dick Wadhams, a veteran GOP strategist in the state, said during the Trump impeachment trial.
Democrats need to net four seats to take back the Senate — or three seats plus win the White House to have a tie-breaking vice president.
By some polls, Gardner is the most endangered Republican on the target list. He won by less than 2% of the vote in 2014, elected largely on the midterm backlash to President Barack Obama. In one ad, Gardner pledged that "when my party is wrong, I'll say it."
Gardner was the only Colorado Republican to win a top-of-the-ticket race in the past 15 years, as an influx of white, college-educated transplants has shifted the state's politics to the left. In 2016, Trump lost Colorado by 5 percentage points, and in 2018, Democrats won every single statewide race.
Gardner is hoping he can squeeze every vote out of Colorado's diminishing share of Republican voters. He also wants to appeal to the state's long tradition of pragmatic centrists with Colorado-specific efforts like allowing marijuana businesses to access the banking system, expanding Rocky Mountain National Park and moving Bureau of Land Management headquarters to western Colorado. His strategists think that combination could secure him reelection.
"There's a lot of factors that are going to make things very difficult for Cory," said Floyd Ciruli, a nonpartisan pollster based in Denver, told the Sentinel earlier this year. Gardner's support of Trump during impeachment was just one factor.
Gardner's alignment with the president has been gradual. The senator rescinded his endorsement of Trump in October 2016 after Trump was caught on tape bragging about sexually assaulting women. But, after Trump's election, Gardner's criticism of the president has been muted.
He chastised Trump after the president appeared to blame "both sides" for violence at a white supremacist march in Charlottesville, Virginia. But Gardner has been careful not to be personally critical of the president on any number of issues. 
Hickenlooper said during the debate Gardner supported Trump "100% of the time" and had been in Washington too long.
"Nothing's going to change if we don't send new people to Washington," Hickenlooper said.
— Sentinel Staff and the Associated Press
Meet Republican Cory Gardner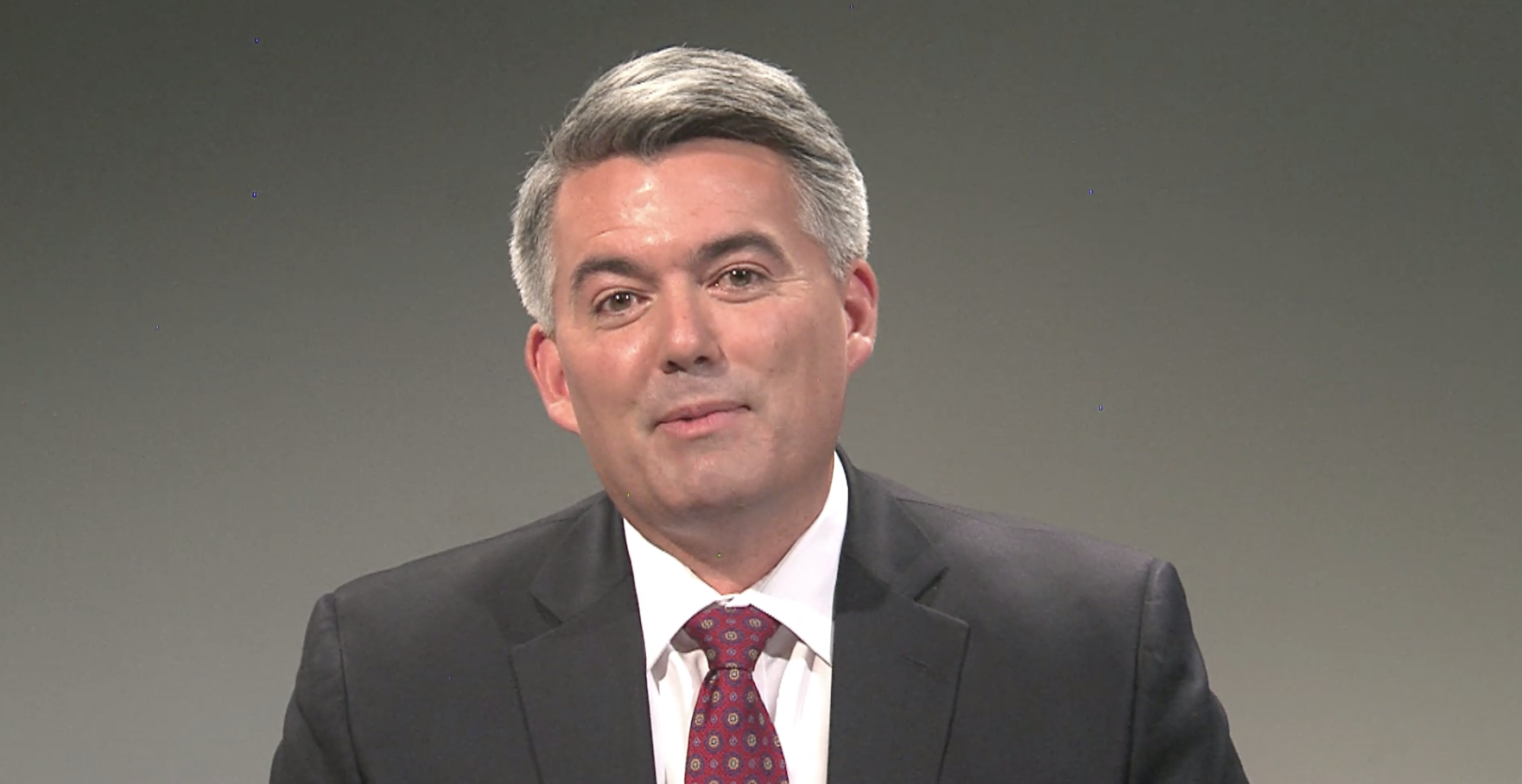 REPUBLICAN CORY GARDNER
Cory Gardner, the 46-year-old junior Senator from Colorado, was elected by a slim margin in 2014. He beat former Sen. Mark Udall by just two percentage points, riding a wave of backlash against former President Barack Obama during a midterm year. In one ad, Gardner pledged that "when my party is wrong, I'll say it."
A fifth-generation Coloradan and resident of Yuma in eastern Colorado, Gardner served in the Colorado state legislature from 2005 until 2010 when he was elected to Congress, where he was a member of the House Energy and Commerce Committee, working on what he calls a "true all-of-the-above energy strategy that promoted traditional resources as well as renewable energy." Since joining the Senate, he's served on the Senate Energy & Natural Resource Committee, the Foreign Relations Committee,  and the Commerce, Science, and Transportation Committee. He also serves as Chairman of the Subcommittee on East Asia, the Pacific, and International Cybersecurity Policy.
He points to recent work on shepherding the Great Outdoors Act through the Senate, a measure pulling wide bipartisan support for shoring up public lands across the nation, especially in the West.
Gardner's family has owned a farm implement dealership for more than 100 years in eastern Colorado.
Cory Gardner policy questions
Cory Gardner did not respond
Meet Democrat John Hickenlooper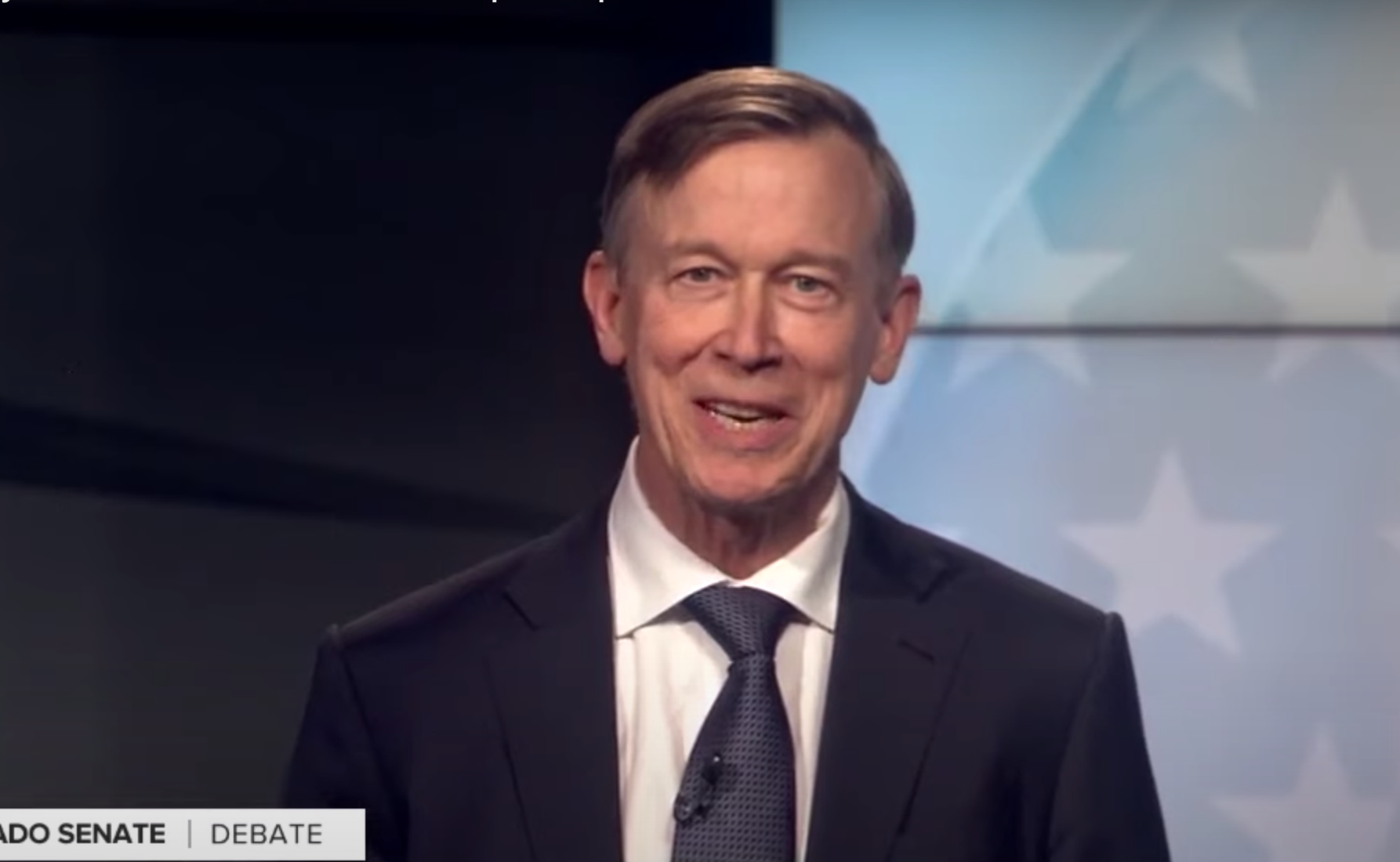 Democrat John Hickenlooper
John Wright Hickenlooper Jr., the 68-year-old former governor of Colorado and mayor of Denver, has been a pervasive face in Colorado politics for nearly two decades. Often presented as a banjo-playing, beer-swilling eccentric, the moderate democrat has for years pinned his political reputation to purple policies. 
The year after the Aurora theater shooting in 2012, he signed bellwether legislation that curbed gun sales in the state with the family members of massacre victims at his side. Later in his tenure, he halted the execution of Nathan Dunlap, who was convicted of murdering four people at an Aurora Chuck-E-Cheese in 1993. Hickenlooper punted the decision to commute the sentences of Dunlap and a pair of other Aurora murders, Robert Ray and Sir Mario Owens, to current Gov. Jared Polis, who granted the former Overland High School students life sentences earlier this year.
Following a failed presidential bid last year, national democratic leaders eventually goaded Hickenlooper into challenging incumbent Republican Cory Gardner for his seat. He announced his bid to become Colorado's next U.S. senator one week after ceasing his campaign for president in August 2019.
John Hickenlooper policy questions
VID-19 relief bill?
We are facing this crisis of epic proportions because of the incompetence and negligence of President Trump, enabled by Senator Gardner. Instead of working to pass a COVID bill to help struggling small businesses and get relief to working families, Cory Gardner and the rest of the Senate are focused on ramming through a Supreme Court nominee in unprecedented time. The Senate should be working around the clock to extend emergency unemployment insurance, help people make their rent and mortgages, and expand assistance for small businesses. These aren't new ideas, and yet for five months, Cory Gardner and the Senate have failed to provide relief to the families and small businesses that need it most.
Would you support a bill that would limit or eliminate qualified immunity for police officers?
Videos of Black and Brown Americans being shot and brutalized should awaken outrage in every individual. I stand in solidarity with those who seek justice. In communities of color, playing in the park, asking for roadside assistance, relaxing at home, or even reporting on live television—raises the specter of discrimination and violence at the hands of police in a way it never does for other Americans. There are tangible steps Congress can and must take to stop the violence, including requiring body cameras for all police officers, swiftly disciplining officers who use excessive force, increasing transparency in policing data, funding programs to heal the trauma of communities living in fear, and ending the practice of qualified immunity for police as Colorado has done.
Calls to dismantle the U.S. Immigration and Customs Enforcement Agency have grown louder over the past two years. Do you support eliminating ICE?
We need to reform ICE. I support ending the inhumane practices that divert focus from actual threats to the community and create widespread fear in the immigrant community. In addition, I support increasing oversight, strengthening agencies' internal inspection processes and independent inspections, and ensuring speedy resolution for citizenship claims.
Do you believe that Colorado's voting system is safe and secure?
As Governor, I was proud to implement vote-by-mail in Colorado, an issue that has taken on a whole new level of importance during COVID-19. Colorado has been called the safest and most secure state to vote. Meanwhile, Senator Cory Gardner has refused to stand up to Donald Trump's lies about vote-by-mail and has opposed efforts to make vote-by-mail nationally available.
What should Congress prioritize in fixing the health care system?
I support protecting and strengthening the Affordable Care Act. As Governor, I helped implement the law, expanding health care coverage to 500,000 Coloradans. Their coverage could end if President Trump and Senator Gardner's dangerous lawsuit to overturn the ACA succeeds. As senator, I will fight every day to protect coverage for the 2.4 million people with pre-existing conditions in our state and make sure that everyone can get covered. Colorado deserves a Senator who is committed to bringing down the cost of health care, who will reduce the cost of prescription drugs, and end surprise medical billing.
Should the U.S. rejoin the Paris Agreement?
Yes. Climate change is a global challenge that will require global cooperation to address. The Paris Climate Agreement was a watershed moment in the fight against climate change, which is why building bipartisan support for rejoining the Paris Climate Agreement will be a priority of mine from day one. As governor, I committed Colorado to meet the requirements of the Paris Climate Agreement after the Trump Administration withdrew the United States from the deal. In the Senate, I will continue in this effort by being a strong voice for the Paris Climate Agreement and will fight for the United States to rejoin.
Do you support a nationwide ban on fracking?
Climate change is the defining challenge of our time, and our state is on the front lines of this crisis, with shorter winters, catastrophic floods and wildfires, and continued air pollution. While Colorado continues to lead on combating climate change despite the Trump Administration's destructive rollbacks of environmental protections that Senator Gardner has supported, we must do more. My climate plan calls for moving away from carbon emissions and making fracking obsolete in the transition to a 100% renewable energy economy with net-zero emissions.
Would you support a bill that would essentially nullify Roe v Wade and have states regulate abortion rights?
No. I am, and have always been, a strong proponent of reproductive health and justice, and will fight for legislation that expands access to comprehensive reproductive health
care for all who need it. I support the constitutionally-protected right to an abortion, as well as measures to repeal the global gag rule and overturn the Hyde Amendment.
What could Congress do to address what some say is a student loan debt crisis?
Education is one of the most important investments we make in our children and our nation. Yet, student loan debt is a crushing burden for tens of millions of Americans and today it is larger than the GDP of 175 countries. As Senator, I support making community college accessible to all regardless of ability to pay, expanding Pell grant eligibility, investing in minority-serving scholarship programs such as TRIO and Gear Up, streamlining FAFSA, reducing the cost of student loans by allowing borrowers to refinance at a lower rate, strengthening protections for students and their families from predatory lenders, and accelerating the consideration by the Department of Education of federal student loan forgiveness requests. I believe that a stronger, more inclusive education system is possible and look forward to getting it done in the U.S. Senate.
How would you compel a Congress unwilling or unable to pass a DACA bill?
The fact that we haven't passed comprehensive immigration reform to modernize our immigration system is an embarrassment and one of the reasons I'm running for Senate. It's time we end the gridlock in Washington and focus on getting results. As mayor and governor, I've built my career on bringing people together to get things done. As governor, I signed historic legislation granting in-state tuition to DREAMers — one of the first such bills in the nation. I initiated a new program to make our roads safer by granting driver's licenses to undocumented immigrants, which makes it easier for people to have car insurance and pass the same safe driving tests required of everyone else.